Celebrating the life of
Irene (Emma) Doyle
April 07, 1927 - November 28, 2022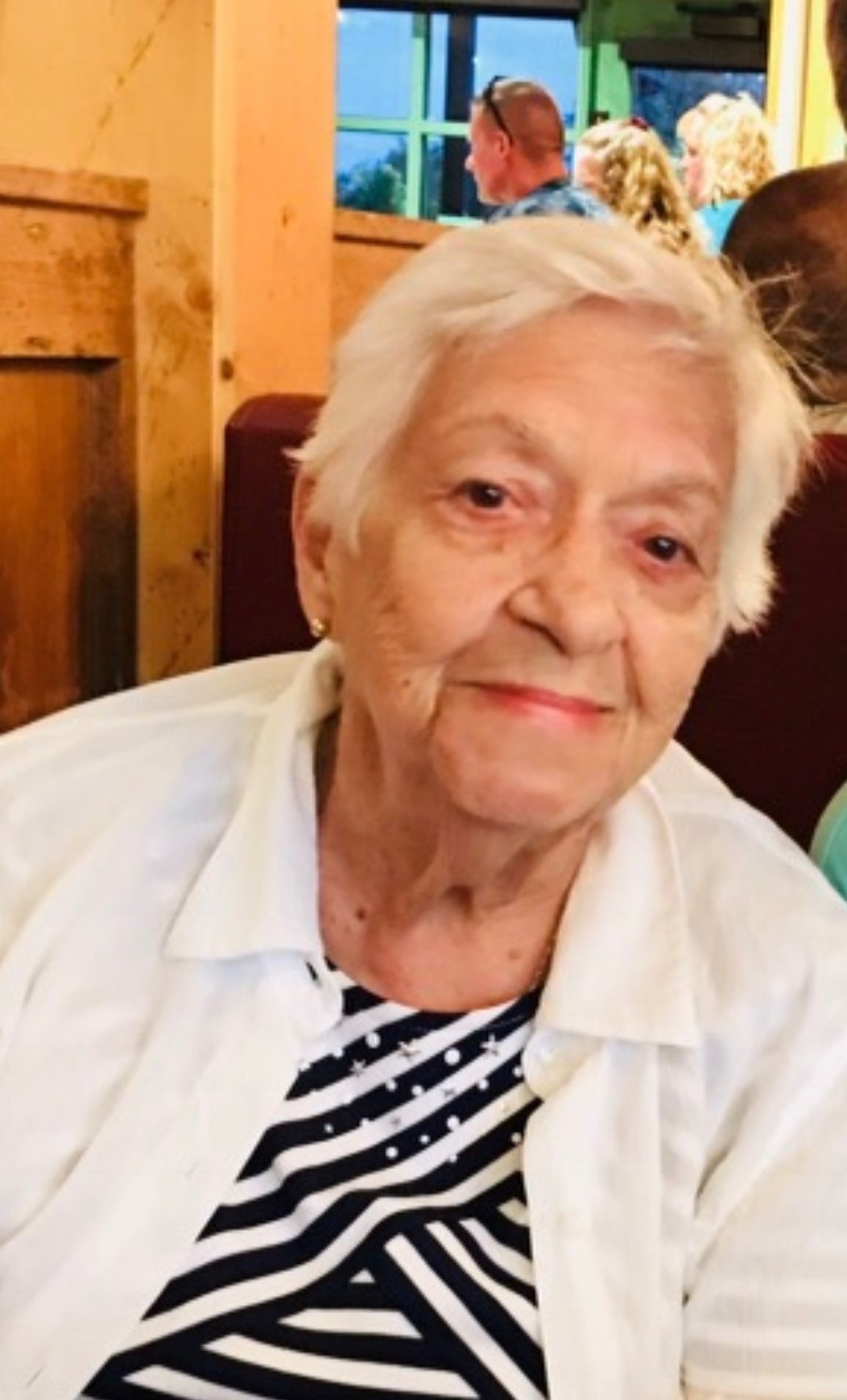 Irene "Emma" Doyle, 95, passed away peacefully at Candler Hospital on Monday, November 28, 2022. She was surrounded by members of her loving family.
Emma was born on April 7, 1927 in New York City, the third child of Evaristo and Engracia (Palomares) Flecha.

On June 23 of 1951, after a short engagement, Emma married her beloved husband Edward William "Bill" Doyle of Charlestown, Massachusetts. They were married in East Islip, NY.

Bill and Emma had four children; William Edward Doyle, Denise Doyle Burtyk, Patricia Doyle Olson and Kevin Robert Doyle.

Emma was a lifelong stay at home mother, raising their four children, while the United States Coast Guard often took Bill away for long periods of time; including all seven continents, and while fighting in World War II, Korea and Vietnam.

Emma lost her "Bill" on May 19, 2001. It was only five weeks before their 50th Wedding anniversary.

Emma was a prolific and prodigious reader of books, she thoroughly enjoyed board and word games, and was incredibly difficult to defeat. She also enjoyed BINGO at Elks Lodge 183 with her friends and grandchildren. Emma never met a stranger, she was quick to strike up a conversation with anyone she met.

Emma was active and driving well past her 95th birthday, often shopping and even picking up her two youngest grandchildren at Saint James School on her 95th birthday.

Emma is survived by four children, eight grandchildren; Alisha Burtyk, Justin Burtyk, Casey Olson Cowart, Ryan Doyle, Sean Doyle, Emma Doyle, Will Doyle and Jack Doyle. She is also survived by two great-grandchildren; Carter Greyson Cowart and Charleigh Grace Cowart.
Both Bill and Emma will be inurned in Arlington National Cemetery.
Vistiation will be held from 5:00 p.m. until 6:00 p.m. on Tuesday, December 6, 2022 with a memorial service beginning at 6:00 p.m. at Fox & Weeks Funeral Directors, Hodgson Chapel with Rev. Gabe Cummings officiating.
GUEST BOOK
Kevin, so sorry for the loss of your wonderful Mom. I know she will be greatly missed. Praying for you and all the family at this difficult time.
- Lisa Pinson Price, Lexington, South Carolina
My thoughts and prayers are with our whole family. Aunt Emma was blessed to live such a nice long happy life and I'm sure she is still happy now being able to see everybody she has missed all these years. I am grateful to have been able to spend some time with her when she came to visit down in Florida a few years back. I will hold the memories of our time together deep in my heart. May she rest in peace. I love you aunt Emma And please give mom and dad and the rest of our family angels a great big hug from me. I miss everyone so so much!!
- Elisabeth Flecha Wieland , San Bernardino , California
My deepest condolences to the Doyle family. I always knew her as Mrs. Doyle, and every time I visited Kevin whether it was as a teenager or an adult, she always made me smile. A character through and through. Ninety five years is quite a life, and clearly she made the most of all of it. May she rest in peace.
- Chris Edgerly, Los Angeles, CA
Aunt Emma and Uncle Bill were my god parents and I first met them in 1982 when I traveled to Savannah to see my in-laws they were the most wonderful and that is when I met a couple of my cousins Tricia and Kevin once my husband Tony was stationed in beaufort that I met my other cousins Billy and Denise Aunt Emma I will miss you and love you til we meet again
- Patricia I Doyle Campbell & family, Beaufort, SC
Sleep In Peace Mrs Doyle. Kevin my condolences to you and the family. Mrs Doyle was blessed to live a long fulfilling life.
- Yasmin Tinker, Port Saint Lucie, Florida
Kevin and Denise your Mother was a beautiful person and it was truly a pleasure and a blessing calling her friend we had a special relationship and she will always be in my heart Emma thank you for introducing me to your grandchildren Emma, Will and Jack you'll never know how much that meant to me REST IN PEACE Love Nadine
- Nadine , POOLER, Ga
Denise and Doyle Family sorry for your lost your mother was a wonderful person she would do anything for anyone I'll be praying for your family
- The Moss Family , Richmond Hill, GA
Kevin, so sorry for the loss of your mom. You know I loved her very much and she would always tell me to keep and "eye on you" when we were misfits in our younger years. I don't think I ever told you that. Prayers to you and your family. She was a great mother and very generous. Her and I always shared a special bond every time I saw her. May she RIP. Love ya brother.
- Bret Flanders, Mililani, HI
I'm so sorry for the loss of your mother. I cannot image the pain you're going through.
- Harper Persss, Savannah , GA
I met her once and she was very very sweet. I love hearing all of her life stories and she was an amazing person that was so blessed to have y'all. I will keep y'all in my prayers, may she Rest in Peace.
- Kate Capallo, Savannah, Georgia
Grandma had a tremendous impact on my life. Whenever I think of fond childhood memories she is always in the picture. She was an extremely loving woman who enjoyed talking to strangers and spending time with family. These past months have been difficult and it has been terrible to see her in this condition but she fought as hard as she could and I would not trade the time I have spent with her for the world. We know she is in a better place now and most likely currently beating someone in Uno. I love you Grandma.♡
- Emma Doyle, Savannah, GA
Kevin, so sorry for your loss, thoughts and prayers for you and your family.
- Gary Smith , Savannah , Georgia
My condolences to Kevin and family. Mrs. Doyle was kind, engaging, and a joy to be around over the years. I smile remembering her screening all of Kevin's calls. She was a protector and a loving mother. Love you brother.
- Christopher Mascio, Guyton, GA
Kevin, I'm so sorry for your loss. I know what a blessing your mom was to you all. Praying you and your family have comfort and peace.
- Natausha May, Mount Pleasant , SC
Services under the direction of:
Fox & Weeks Funeral Directors, Hodgson Chapel
912-352-7200
Visitation

5:00 p.m. until 6:00 p.m. on Tue, December 06, 2022

Fox & Weeks Funeral Directors, Hodgson Chapel
7200 Hodgson Memorial Drive (map)


Savannah GA 31406

912-352-7200