Celebrating the life of
Belinda Flanigan
Passed away on November 28, 2022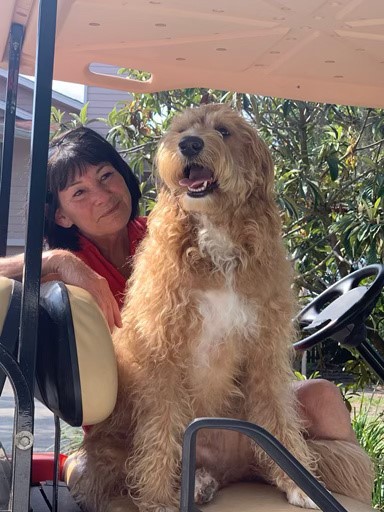 The GodMother of Tybee, co-owner of The Original Crab Shack, Belinda Flanigan, died peacefully at age 65 on Monday, November 28th, surrounded by her loved ones.
Belinda's love of life, fishing, Tybee, and her friends will never be forgotten.

Belinda was born in Long County, Georgia, the daughter of Treysermae and John Folker. She supported many local charities and was endlessly committed to giving back to her community. She had a special place in her heart for the families on Tybee Island and for keeping traditions alive. One of her passions was helping children on Tybee Island and preserving the traditions of the Tybee Culture. She worked with the Marine Rescue Squadron (MRS) for over 35 years, founding the Children's Fishing Tournament. Belinda was one of the founding sponsors of the Tybee MLK Human Rights Organization and gave time and support to the Democratic party.

She is survived by her sister and brother, Shirley Carter and Billy Folker; stepson, Jack Flanigan (Lisa); granddaughter, Rachel Flanigan; grandsons. Jackson and Shane Flanigan; and great-grandchildren, JT and Layton Schroeder. Her nieces and nephews, Kim Folker (John), Kim Connelly (Tim), Cody (Jordye) and Meagan Folker, Mike Folker, Kelly Wilson, Casey Folker, and Katherine Folker (Ashton), and she was dearly loved by her ex-husband, life and business partner, Jack Flanigan and her fur baby, Cleo. She was loved by many and loved so many not listed here (but know that each of you was so important to her)—especially her Tybee gang, who were near and dear to her heart. She will never be forgotten and will be greatly missed.

In lieu of flowers, please make donations in Belinda Flanigan's memory to Coastal Pet Rescue.
A private family ceremony will be held on Sunday, December 4th, 2022 at Fox & Weeks Funeral Directors.
There will be a celebration of life on Sunday, December 11th, 2022 at The Crab Shack on Tybee Island between 1:00 p.m. and 4:00 p.m.
GUEST BOOK
A truly beautiful lady and a great loss for everyone who knew her.
- Stoeffler , Tybee Island , Ga
Sending all my love to Belinda's family, shack family, Tybee family and friends. She was an amazing woman and I learned a lot about work and life from her. May she rest in paradise. Prayers for all who are suffering from her loss.
- Cindy Solomon Thompson, Tybee island, GA
My heart is broken. B and I have been friends since 1st grade. She and her dad would pick me up as I was waiting to catch the school bus. We had our first sleepovers together. As we grew older, we did not see each other as much, but when we did, it was like riding a bicycle... We just picked up where we left off. Love to Sister Shirley and Family. B. I will miss your sweet, sweet smile, but will catch up with you soon. BFFs forever!!!
- Charlotte Anderson, Savannah, United States (+1)
Prayers and deepest condolences, she will be forever missed..
- Carol Kaminsky , Tybee Island , Ga
A gracious and true friend always. You will be remembered dearly.
- Lynn Zeigler, Garden City, Ga
Sending my condolences to Belinda's family and friends. I was so very fortunate to meet her this year, and am very sadden to hear of her passing.
- Jeannie Pizzoferrato, Rocky Hill, CT

A candle has been lit!
Belinda was a Beautiful lady both inside and out. She had a grace and light that made her shine. She was so welcoming to Kenny and I the first time we met she immediately made us feel like Family. My heart goes out to her family and friends during this difficult time. Sleep well my Beautiful angel. I am honored to not only call you my friend but to call you Family. You will always be My Queen
- Gigi Green, Spring hill , Florida
Flanigan
- Cathy Brown, Guyton , Ga
B, if only we had know so many years ago, camping in the "original shack in your parents backyard what a life you would have and the legacy you would leave behind. You were "best friends " with so many and I am thankful and proud to have been one of them! My love goes out to Shirley, Jack and all of your family. My heart goes out to your Tybee family who will be trying to move on without you………..Love always, your life long friend Jan
- Jan Smith Hayes, Carnesville , Georgia
B's Family There are not enough words to describe the void Belinda will have left behind. CB
- Cathy Brown, Tybee Island, Ga

A candle has been lit!
Belinda, our hearts are broken. The hood will never be the same, but we will toast to you often and speak of fond memories of you at our gatherings. Thank you for everything you have done for John and me and for being such a loving friend. To Belinda's family, please accept our deepest condolences. May God grant you comfort and peace.
- John and Sherry Crowell, Tybee Island , GA
Belinda's entire being was golden. Her heart, her smile, her generosity, her kindness, her acceptance of all walks of life. We will miss her greatly. Prayers to Jack and her beloved family.
- Lex and Shannon Bazemore, Tybee Island, GA
Our thoughts and prayers for Jack and family! A beautiful soul that was so good to all.
- Paul and Terry Jackson, Tybee Island, Ga.
You brightened up the world. Happy journey. Love and light to the family.
- Christine and Family , Tybee Island, Ga
Our hearts are all broken... Her grace , beauty, and strength were a guiding light to so many. She touched so many people and helped out with so much in the community. I will miss you so much as will all who knew you..much love my Queen. My sincerest condolences to all of her family and to a her extended Crab Shack family.
- Scott Erkelens, St. Augustine, FL
There are truly no words to describe the sadness felt for a loss such as this. There are many words to describe the incredible person that Belinda was though. She will forever be in our thoughts, hearts and conversations. Love and miss you Queen B. Prayers and condolences to all her family and loved ones. Hugs to Cleo. ❤️
- Johnny Ringo, Singer Island, Florida
My late husband Ed Wallace and I spent most weekends and holidays on chimney Creek fishing and playing with Belinda and Jack. We became a close knit foursome and shared many many good times which became the best of times and making memories. Belinda always welcomed us as family and I am forever grateful for her friendship and loving us as we did her. I am praying for all the family in this difficult time. Fly high 'B' your spirit will live within us all .
- Alexis Wallace, Moreland, Ga
A Tybee icon and true friend to all who knew her. She will be missed. Condolences to the family.
- Debra Sheridan , Bloomingdale, Georgia
She was a very lovely and gracious lady. Prayers to her family.
- Liz Wisener , Tybee Island, GA
We are so deeply sorry for your loss. Belinda was a wonderful person we will miss her dearly.
- Doug and Mary Hall, Tybee Island, GA

A candle has been lit!
My heart is broken, Aunt Ben. I can't imagine how Cody, Jordye, Meagan and I will carry on without you. We will cherish every memory. I was truly blessed to be a part of your life and will carry you in my heart forever. I thank God for you and our many talks. I can just imagine the conversation that you and my precious John are having in heaven ❤️. Until we meet again, rest in peace beautiful angel. Love you ❣️
- Kim Folker, Hinesville, Ga
A truly remarkable person who touched so many hearts. Belinda will always be remembered fondly by everyone who knew her. Our condolences to Jack, all the family and the extended Crab Shack family.
- Dan & Kathy Hart & Lindsey Lee, Warner Robins, Georgia
So sorry for your loss. My thoughts and prayers for her family and friends. She was amazing lady. It was my honor to get to spend my birthday this year with her at the Crab Shack! She will be deeply missed.
- Dana Elkins, Savannah , Ga
She was a wonderful person and will be all who new her
- Anthony M Alfonso / Randle Zittrouer, Savannah, Georgia
Belinda was always very kind to us. She was a lovely person.
- Eileen and Jackie Cahill, Jacksonville, Fl
My sincerest condolences. She was so incredibly special.
- Diane Wilson, Woodstock, GEORGIA
Such wonderful and good hearted lady. I'll been very lucky to have met her. Only three years in my life and it feels like I have known her all my life. This wonderful lady open her house up to my wife and I. Always inviting us to all events and parades. Making Us feel like family I'm so happy to have been with her and friends at the last tybee pirate festival. Thank you so much Belinda I will miss you my friend. The Queen of tybee island. ❤️ God bless her family and friends
- Ken Green, Spring hill , Florida
I am so sorry for this lost. She was always so welcoming to me. She will be missed .
- Neca Stoller, Tybee Island, GEORGIA
She was one of a kind! And a wonderful ambassador for Tybee! I'll miss seeing her big smile and twinkling eyes when I come back to Tybee for a visit…
- Carole Lufburrow, Aiken, SC
Services under the direction of:
Fox & Weeks Funeral Directors, Hodgson Chapel
912-352-7200