Celebrating the life of
Dulcie Virginia Franklin
May 28, 1954 - November 23, 2022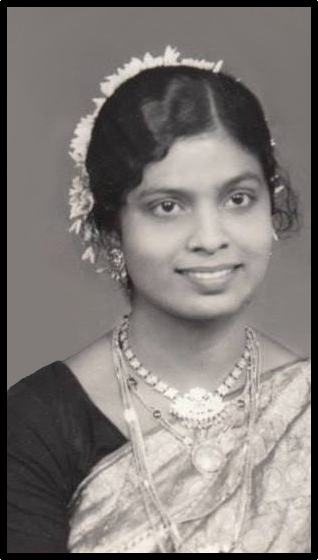 Dulcie Virginia Franklin was born in India on May 28, 1954. She earned a Master's degree in Physics and was an instructor of mathematics, physics, and electronic engineering. Dulcie was a dedicated and a loving wife, daughter, sister, mother, grandmother, and a devoted Christian. She was active in multiple church-related activities and volunteer services. She died of heart failure on November 23, 2022. She is survived by her husband Chandrasekaran (Chandra) Franklin of 44 years, son Andrew Franklin, daughter Nancy Rodgers, daughter-in-law Shelley Franklin, sonin-law Christopher Rodgers, granddaughter Avery Franklin, and grandson Noah Franklin.
Funeral services will take place at St. Francis Episcopal Church* on December 3, 2022 at 09:00 A.M., followed by a Christian burial at Greenwich Cemetery**. In lieu of flowers, please donate to St. Francis Endowment Fund***.
*St. Francis Episcopal Church 590 Walthour Road, Savannah, GA, 31410, Savannah, GA, 31410 phone: (912)897-5725.
**Greenwich Cemetery 330 Greenwich Rd, Savannah, GA 31404
***Make checks payable to St. Francis of the Islands, and mail to St. Francis Episcopal Church. In the memo line, please indicate it is for 'D. Franklin memorial'
GUEST BOOK
Dear Chandra and all of your most cherished children and family members, I am so very sorry to learn today of your entire family's immense loss. Please know you will all be in my thoughts and prayers often offering much sympathy during this extremely difficult time.
- Dee King, Savannah, GA
Our deepest condolences to all of the Franklin family.
- Twila and Ken Luckett, Franklin, TN
Services under the direction of:
Fox & Weeks Funeral Directors, Hodgson Chapel
912-352-7200
Funeral Service

9:00 a.m. on Sat, December 03, 2022

St. Francis of the Islands Episcopal Church
Walthour Road (map)


SAVANNAH GA 31410