Celebrating the life of
Mary Katherine Nichols
September 12, 1989 - November 25, 2022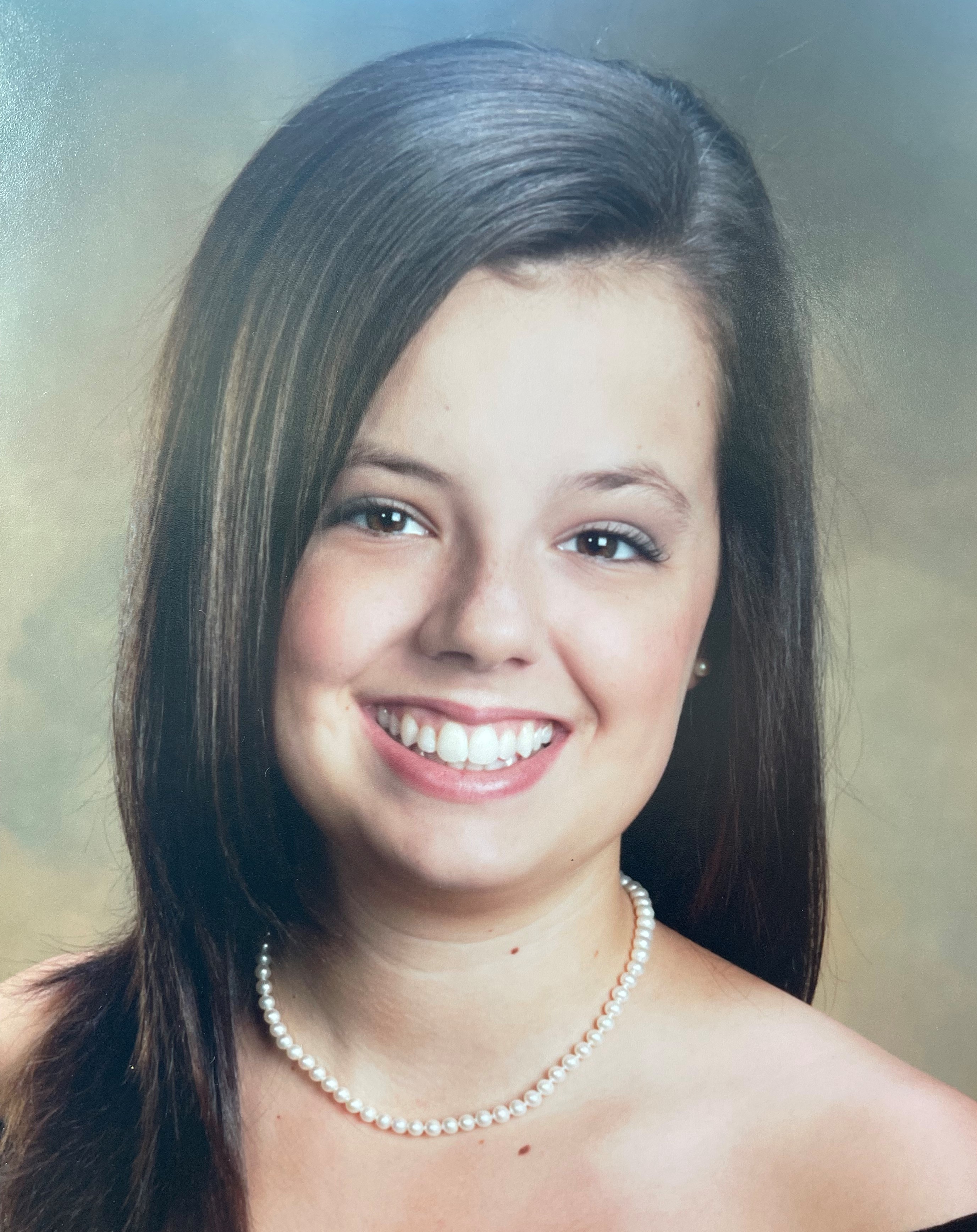 Mary Katherine Nichols, 33, of Savannah, GA died Friday, November 25, 2022 at her home, surrounded by loved ones. Mary was born September 12, 1989 in Savannah, GA.
Mary was a 2008 graduate of St. Vincent's Academy. She earned her bachelor's degree in Sociology in 2012 from Mercer University in Macon, GA. She was a member of Chi Omega Sorority. She was employed as a paralegal in the legal department of Gulfstream Aerospace.
Mary loved hockey! Her favorite team was the Pittsburg Penguins and she traveled with her best friends to several destinations to watch her Penguins play. Her love of travel and adventure took her around the globe and to one of her fondest destinations, Thailand. She devoted a year in Thailand teaching English to elementary children and never forgot the impact they made on her life.
Mary was confirmed in her faith at St. Francis of the Islands Episcopal Church in Savannah and enjoyed many summer camps at the Episcopal Church Camp and Retreat Center at Honey Creek, meeting new friends and enriching her faith.
She is preceded in death by her father, Richard Carlton Nichols. She is survived by her parents, Michael W. and Rebecca P. Rhinehart; her sister, Carleigh E. Nichols Cahn (Joshua) of Chicago, IL; her grandmothers, Sara Peebles of South Boston, VA and Mary Phillips of Lake City, FL; and many aunts, uncles, cousins, and a niece and her beloved dogs, Roo and Ryleigh.
A memorial service will be held at 11:00 a.m. on Tuesday, November 29 at St. John's Church, 325 Bull Street, Savannah, GA with Father Gavin Dunbar and Father Jonathan Jameson officiating.
Interment will be at St. Francis of the Islands Episcopal Church Memorial Garden on Wilmington Island.
In lieu of flowers, remembrances may be made to St. John's Church 325 Bull St. Savannah, GA 31401 or St. Francis of the Islands Episcopal Church Memorial Garden 590 Walthour Rd. Savannah, GA 31410.
GUEST BOOK
My prayers to Becky, Mickey, Carleigh and the whole family for your loss.
- Jim Tait, Savannah, GA
My sincere condolences. She truly fought the good fight. It was my pleasure to be part of her care team. May God hold her in the palm of His hand. Our prayers go out to her entire family.
- Keith Morgan, Savannah , GA
Becky, My condolences to you and your family. Mary was a bright light to all. She was always smiling and so happy when I saw her with you. May God bless and comfort you.
- Wynn S., SAVANNAH, GA
Our thoughts and prayers are with you all. Mary was such a sweet girl with a heart of gold. Rest now Mary.
- Pamela Rushing, Rincon, GA
Sending prayers to the whole family for comfort - Mary was such a positive influence and was always so cheerful - especially when cheering for her Penguins.
- Robin and Carl Roeder, Raleigh, NC
Mary was a truly great friend and was an important part of my SVA years. She could always make me laugh. She was one of those friends that you always wanted to be around and the group didn't feel complete without her there. We had so many fun times and I credit her for me meeting my husband way back in 2008. She will never be forgotten. Sending all my love to her family and praying for strength through this heartbreak.
- Courtney Peterson Daniels, Augusta, GA
Carleigh and family, Please accept my sincere condolences for your deep loss. I will always remember Mary for her laughter and quick smile. She was the best friend to so many of her classmates. She will forever be in our hearts. Nooch
- Donna Antonucci , Savannah, GA
Becky, our hearts, prayers and love are with you. It was a privilege to care for such a beautiful young soul such as Mary's. Your devotion and love remain with us as will Mary's incredible spirit. With love, Shelli and Beth (chemo nurses)
- Beth and Shelli, Savannah , Georgia
My deepest condolences go out to all of Mary's family and friends. Mary was such a great soul and will be missed terribly. I had the pleasure of working with Mary and she was always a joy to be around. I will find peace with knowing that she is no longer suffering. Rest peacefully beautiful!
- Kathleen Whitehead, Warren, Ohio
Mickey and family ! I am so sorry for your loss. May her memory always be for a blessing ! My thoughts and prayers are with you guys.
- Donna Epstein, Savannah, GA
There are no words to say, Mary was one of my favorite people. She was great to work with at Masato and I hope she enjoyed working with us as much as I worked with her. I will never forget the energy she brought and will forever remember Mary.
- Lee Tsui, Savannah , Georgia
Becky, Mickey, Carleigh & family - It was a joy to know Mary. She will always have a special place in my heart & it breaks for your loss. Sending prayers of comfort.
- Gracie F Conde, Fort White, FL, FL
Many prayers for the Rhinehart family.
- Len Tropea, Savannah, Ga
Becky and family, my heart breaks to hear of your loss. I will always remember how over-the-moon Rick was when Katy (As I will always think of her.) was born. She grew from an adorable baby to a beautiful woman both inside and out. May all of the wonderful memories you shared always keep her close in your heart. With much sympathy and love, Marilyn
- Marilyn Chester, Savannah , Ga
Dear Mickey and Becky, I am beyond sad to learn of Mary's death. Such a happy soul will be with you forever. My prayers are with you in the coming days for comfort from God the Father. In loving kindness, Jane
- Jane Hamilton , Dublin, GA

A candle has been lit!
- Jane Hamilton , Dublin, Georgia
Dear Becky, Mary was a wonderful daughter with many talents and interests. She will be greatly missed. I will keep you and the family in my prayers for comfort and strength as you navigate through this period of bereavement.
- ELAINE WILSON, Richmond Hill, GA
Mickey and Becky, We are so sorry for your loss. Our prayers go out to you for strength and peace.
- Felicia and Charlie Wentway, SAVANNAH, GA
Im so sorry for your loss. I knew Mary when i was working at Mani•Pedi. She was a wonderful person.
- Stephanie Williams, Savannah, Georgia
So sorry to hear the news we all lost Mary to her battle with cancer. She was a great girl and put up a great fight against this terrible disease. We will all miss her greatly.
- Michael J Kistler, Savannah, GA

A candle has been lit!
Becky, Mickey, Carleigh and family my thoughts and prayers are with you all. Mary was such a beautiful and wonderful young woman. I am so sorry to hear of her passing. May God Bless you and keep you all.
- Theresa Davis Family, Hinesville, GA
I am an uncle of Richard Carlton Nichols, and Ricky was named after me in Jacksonville, Fl. Ricky's dad, William A. Nichols, Jr., was my brother. All of my family in Jacksonville and Morrisville, N.C., send our love and prayers on the passing of Mary. I am 87 years old and lost my wife of 60 years to pancreatic cancer this past April. Losing a family member is very, very sad. May our Lord and Savior Jesus Christ bless and comfort you.
- Robert Carlton Nichols, JACKSONVILLE, US
Oh how I love you so much baby girl. Your smile truly lit up the room. You brought joy and happiness to every person you have ever come in contact with and we will never forget you. I hope you watch over all of us each and every day and that you are having a blast up there with my girl kat. I miss you and love you so much and thank you for all you have shown me.
- DANA GREEN, Columbia, SC
Dear Mickey and Rebbecca, Alisa and I are very saddened to hear of your daughters passing. Know that our prayers are with you and family. I hope the memories you all shared will never fade. HE is "The Ultimate Healer ". God bless.
- Tossie Griner, Savannah , Ga
Mary brightened every room she entered. She will be missed by so many. I'm privileged to have known her. I grieve with the family. I'm sorry for your loss.
- Travis Griffin, Macon, GA
My sincere condolences to Mary's family. I met Mary when she worked at Barfood and had an instant connection.We had many conversations and laughs.She was a beautiful person who I will always be grateful for knowing.
- Nathan Coutts, Alpharetta , Georgia
Becky, Mickey, and Carleigh, we send our love, prayers and wishes that your happiest memories of your sweet Mary will bring you comfort and peace. You'll be close in our hearts.
- Sam and Jenny Suttle, Newton, NC
Services under the direction of:
Fox & Weeks Funeral Directors, Hodgson Chapel
912-352-7200
Memorial Service

11:00am on Tue, November 29, 2022

St. John's Church
325 Bull Street (map)


Savannah Georgia 31401
Interment

on Tue, November 29, 2022

St. Francis of the Islands Episcopal Church
Walthour Road (map)


SAVANNAH GA 31410