Celebrating the life of
Ruby Constance Bacon
April 20, 1919 - November 05, 2022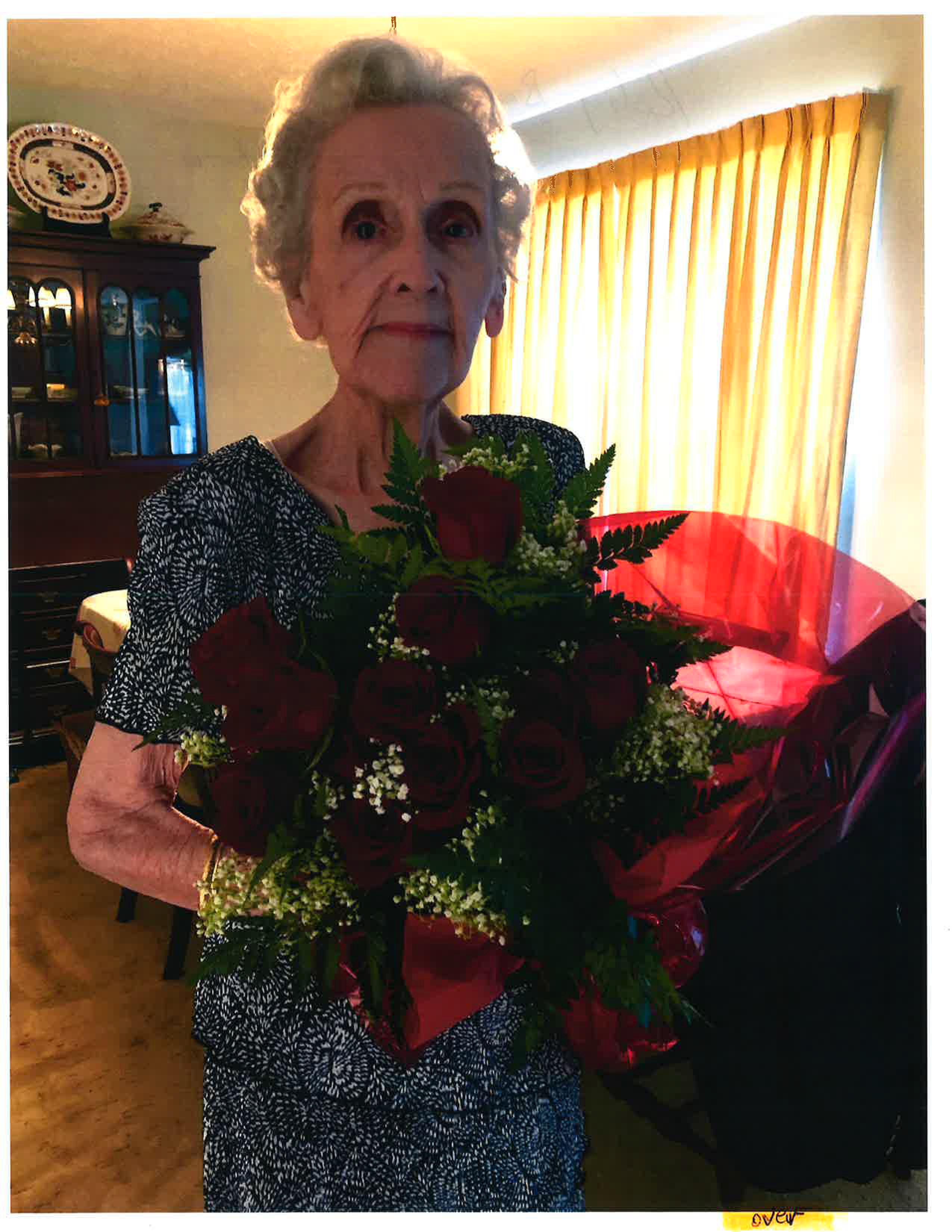 Ruby Constance Benson Bacon, age 103 ½, died at home November 5, 2022. She was a life long resident of Savannah and daughter of deceased parents Ruth Benson and Robert Benson SR. She was the food service manager at Savannah Country Day for 27 years. She was a member of Bull Street Baptist Church since 1955.
Her survivors are her son Harry Marcus Bacon JR (Debra), brothers Alec Benson (Terry) and Richard Benson, grand daughters Caroline Pritchard (Alan), Carrie Wilson, Heather Rogers (William), great grand daughter Elena Pritchard, son-in-law Reed Creaser and several nieces and nephews. She was pre-deceased by her husband, Harry Bacon of Pembroke, GA, daughter, Barbara Creaser, 1 sister, 3 brothers.
Funeral service will be held 1:00 PM on Friday, November 11th at Fox and Weeks Funeral Home, Hodgson Memorial Drive in Savannah, GA; conducted by Calvin Fowler of Bull Street Baptist Church. Visitation immediately following the service. Burial will be in the family lot at Bonaventure Cemetery. Remembrances should be made to Bull Street Baptist Church or First Baptist Church, Savannah,
GUEST BOOK
What a beautiful life to be celebrated! Heaven is rejoicing. My sorrow for the family for their loss!
- Kelley Pauley, Dothan, Al
Wow, 103 1/2! I can only imagine what she has seen and done and lived through in her life. I believe she has lived a life to be celebrated and missed by all who knew her. Praying for for Marc and Debi and their family. Love you both!
- Roy and Salli Rogers, Portland, Oregon
Our thoughts and prayers are with Ms Ruby's family! I have many fond memories of her from SCDS and vividly remember walking into the old gym at lunchtime and seeing her in the kitchen area with a smile on her face. My parents and Ms Ruby were there together for many years and knew each other well! What a life well lived! Wow, 103 1/2!!! May she Rest In Peace!
- Cindy Saunders Kemp, Slidell, LA
I have many years of memories with Mrs. Bacon. She was such a good friend of mom's at SCDS and always there overseeing our lunches. She remembered my name till the end. She was also a long-time member of my church and was blessed to have Marc and Debbie to care for her.
- Linda Carmichael Howard, Savannah, GA
What a great person and wonderful life. I took my boxed lunch to school but I would trade out my stuff when there was apple crisp! Still remember those little milk bottles in the old gymnasium cafeteria. RIP.
- Chip Goldsmith, Savannah, Georgia
Truly a wonderful woman! Always a kind word to all. She was wonderful to her brother, Henry - my late father in law and my late mother in law too. She welcomed me many many years ago to the family and I will always cherish the many recipes she shared with me. Our thoughts and prayers to Marc and his family.
- Steve and Cathy Benson, Spartanburg, SC
Services under the direction of:
Fox & Weeks Funeral Directors, Hodgson Chapel
912-352-7200
Visitation

1:00 p.m. until 3:30 p.m. on Fri, November 11, 2022

Fox & Weeks Funeral Directors, Hodgson Chapel
7200 Hodgson Memorial Drive (map)


Savannah GA 31406

912-352-7200