Celebrating the life of
Francis C. "Frank" Mathews, Jr.
August 06, 1929 - October 25, 2022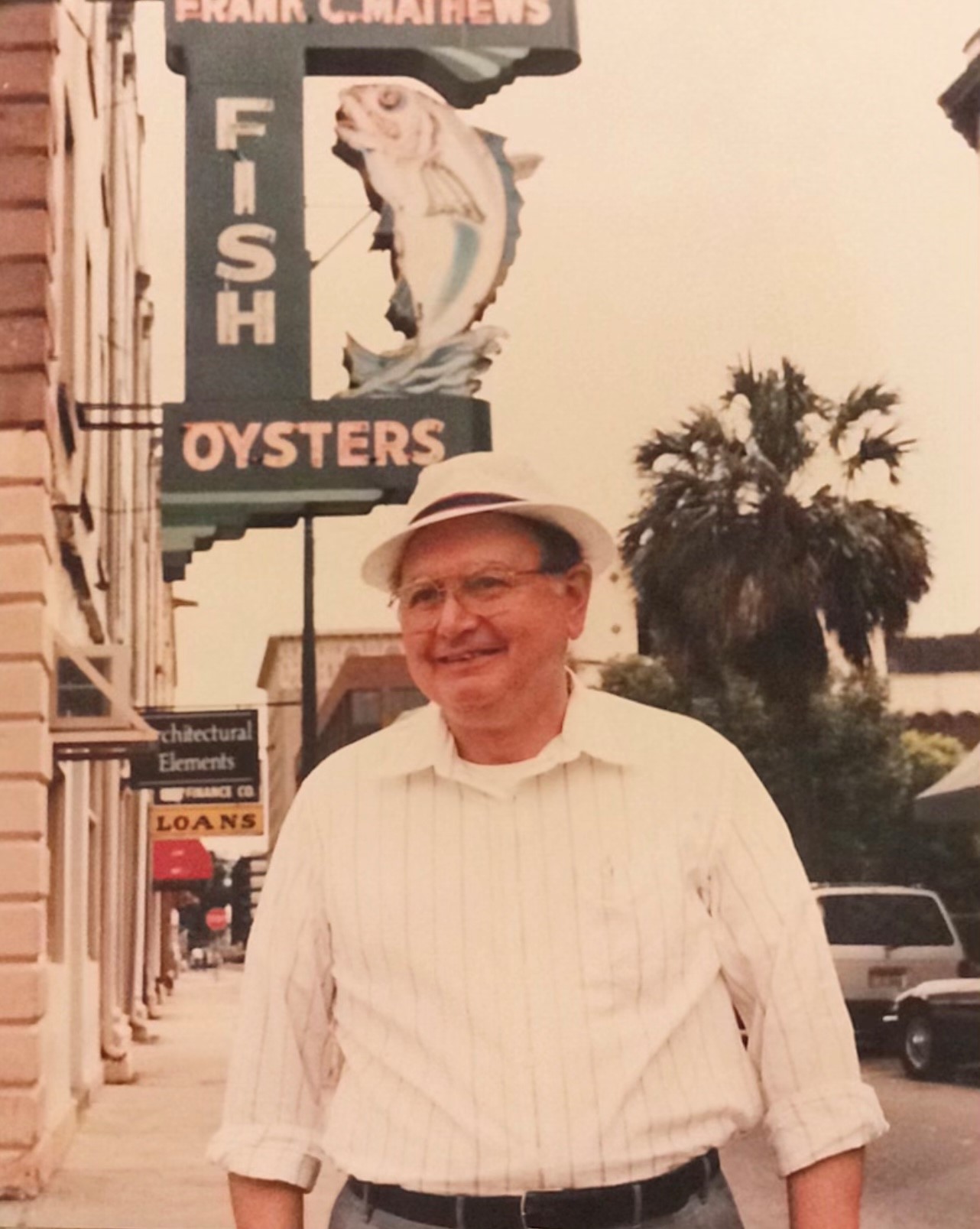 SAVANNAH, GA - Frank Cannarella Mathews, Jr., 93, passed away peacefully at Summer Breeze Senior Living after a brief illness. Frank was born August 6, 1929, at St. Joseph's Hospital on Taylor and Habersham Street. He lived at York and Habersham Street in an old house with a pot belly stove and coal to heat the first floor. He was taught by the Marist Brothers and Sisters of Mercy until the eighth grade. He graduated high school at Benedictine in the class of 1947 and then attended the University of Georgia, graduating in the class of 1951.
After his time at UGA, he received a commission in the United States Air Force and was assigned to duty station Lockbourne Airforce Base in Columbus, Ohio. There, he met the love of his life, Margaret Ann Thurn, who he married and brought back to Savannah. He owned and operated his family business, Frank C. Mathews Seafood in Savannah for forty years.
Frank gave many years of service to the Savannah community and his church. He served for thirty years with the Coastal Fishery Advisory Council of Georgia's Department of National Resources and eight years with the Chatham Urban Transportation Committee. He was a member of the Hibernian Society, Elks Lodge as Exalted Ruler, American Legion Post 36, Grand Knight for the Knights of Columbus Council 631, District Deputy, and Faithful Navigator of the 4th Degree. He was a communicant of Blessed Sacrament and St. Michael's Catholic Church where he served as an usher, lector, and communion minister.
Frank is preceded in death by his father Frank Cannarella Mathews, Sr., his mother Alice Hennessy Mathews, his wife Margaret Ann Thurn Mathews, brother James Downing Mathews, Sr., and his son Frank C. Mathews III who passed away only days before his father.
Surviving family include his sister Mary Mathews Starks, daughter Carolyn Mathews Hefner (Mark), son Patrick Mathews (Garlana), daughter Alice Mathews Dongieux; nine grandchildren, Cory Hefner (Ellen), Lauren Mathews (Matt), Scott Hefner (Sarah), Ryan Hefner (Emma), Trey Dongieux, Jon Paul Dongieux, Hunter Mathews, Brendan Mathews, Ashley Bogner, and four great-grandchildren. He is also survived by many beloved nieces and nephews.
Active pallbearers for his service will be his grandsons, Cory Hefner, Scott Hefner, Ryan Hefner, Jon Paul Dongieux, Hunter Mathews, Brendan Mathews and honorary pallbearers will be members of The Hibernian Society of Savannah.
The family wishes to give special thanks to his loving caregivers at Summer Breeze Assisted Living, with a special mention to Gina Ropper.
Funeral services will be conducted at 11:00 am Wednesday, November 2, 2022, at St. Peter the Apostle Catholic Church by Father Patrick O'Brien. The family will meet with friends during the visitation from 9:00 am to 11:00 am.
In lieu of flowers, donations can be made in memory of Frank C. Mathews to St. Peter Apostle Church for the New Organ Fund, Old Savannah City Mission, or the Lions Club of Savannah.
For more information, please visit foxandweeks.com.
GUEST BOOK
My sincere thoughts and prayers for the entire family. I lost my father, John V. Burke in 2021. The memories of going to Mathews Seafood so very often are quite memorable as I do recall there was a close friendship.
- Cathy Burke Hall, Daughter of John V. Burke, Savannah, GA
My condolence and thoughts and prayers goes out to the Matthews family. Your pops was a great man I'm glad I had the opportunity to be his caregiver for over 3 years. I wish everyone the best and I love you all
- Gina Roper, SAVANNAH, GA
Keeping you all in our prayers. Your dad epitomized a true Southern gentleman with volumes of love and pride for his family, friends and country. We have been blessed to know him.
- Kelly, Alex, Matthew and Andrew Hunt, Savannah, Georgia
So sorry for your loss. So many memories of Mr. Frank and Ms. Margaret.
- Ginny Cafiero Pavey, Douglasville, Georgia
Grew up in Kensington with this family. Pat I'm sorry to hear of your dad but he is with your mother dancing again.
- Charlean Smith, Savannah, GA
God bless him and your family. Mr Matthews was sweet man and a good friend to our family.
- Sarah Cafiero Ingman, Lithia Springs, GA
To the Mathews' family: May God guide you through this period of grief and help lead you to some peace. Don and I are so sad to hear of the passing of your dear Father. He was a good and wonderful man and a loving neighbor to my parents (George and Pat Saunders) for many years. Please accept our condolences.
- Chris, Don Dasher, Hilton Head Island, SC
Mr. Matthews will be missed by so many. He was so good to everyone he met. He was like extended family to all my family. May God send His peace and consolation to your family.
- Adele Cafiero Collins , Savannah, Georgia
My family and I send love to Alice and all the Mathews family. We all grew up in Kensington Park, and we met the family in 1963. Frank gave me a ride to high school every morning, as he did for all of my sisters. I had a wonderful opportunity to visit him a couple years ago, and was delighted to spend a few minutes reminiscing. Such wonderful memories of Frank Mathews!
- Paula Anderson Hinds, St. Augustine Beach, FL

A candle has been lit!
WHAT A GOOD MAN, MAY HE RIP THE MELL FAMILY
- JOHN MELL, Savannah, Georgia
My deepest sympathy to the Mathews family. Frank & Margaret were an extraordinary couple. I loved listening to their story of how they met....they were so sweet telling it. They are together now for all eternity. Rest in Peace Frank!
- Jane Patricia Harte, Savannah , Ga.
Condolences to the Matthew family. Your father will greatly be enjoyed . Enjoyed going to the seafood market and speaking with him and his employees.
- Catherine Clements , Savannah , Georgia
My sincere condolences to your family! My father, Hank Henries, had great respect for Mr Matthews. They had a great working relationship, and a great friendship, also. Also, condolences to your family in the loss of Frankie. Such losses so close together.
- Karen Henries Boutwell, Savannah, GA
Dear Matthews Family, My humblest sympathy for the loss of your dad. Praying for you all
- Joyce Daly, Garden City, GA
We are so sorry for your loss. Our prayers are with all of you. He was an awesome man and it was a privilege to know him.
- Jeff and Allyson Toomer, Hilton Head Island, South Carolina
Matthews family : Living in Kensington I always remember how lovely you parents were. I'm so sorry for the loss of your brother and father.
- Nancy Manucy Lawson , Savannah, GA
My thoughts and prayers for the Matthew's family. I worked for Mr. Frank in 1995. Always remember Mr. Frank addressing us with his customary " Hey Capt." May he rest in Peace.
- Brian O'Neal, Savannah, Georgia
Services under the direction of:
Fox & Weeks Funeral Directors, Islands Chapel
912-898-0900
Visitation

9:00 a.m. to 11:00 a.m. on Wed, November 02, 2022

St. Peter the Apostle Catholic Church
7020 Concord Road (map)


SAVANNAH GA 31410

912-897-5156
Funeral Mass

11:00 a.m. on Wed, November 02, 2022

St. Peter the Apostle Catholic Church
7020 Concord Road (map)


SAVANNAH GA 31410

912-897-5156
Burial

12:30 p.m. on Wed, November 02, 2022

Catholic Cemetery