Celebrating the life of
Martha Kane Brown
Passed away on October 23, 2022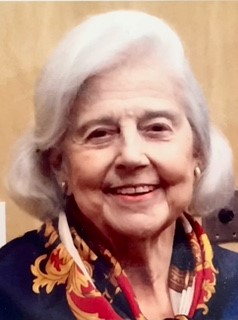 Martha Clark Kane Brown died October 23, 2022 in Savannah, GA. She was born in 1926 in Richmond, VA and grew up in Charlottesville, VA and Kingsport, TN. A Phi Kappa Phi honor graduate of the University of Tennessee, Knoxville, she was editor of the campus newspaper and president of Chi Omega. At Tennessee she met her husband Edward Ansel Brown of Chattanooga.
She continued a lifelong study of literature at Cambridge University, England; University of North Wales; and John Carroll University, Cleveland, OH. She first began teaching in 1950 at Savannah High School (now Savannah Arts Academy), and for 20 years taught English at Hawken School, Cleveland, OH. She was also a member of the Cleveland Novel Club, the Ohio Episcopal Bishop's Commission on Ministry and the vestry of St. Christopher's-by-the-River, Gates Mills, OH. In New Canaan, CT she was an officer of the Stamford Junior League which she had joined in Savannah in 1954.
On the Browns' retiring to Savannah, she wrote book reviews for "This Week at the Landings," and was a member of St. Peter's Episcopal Church, where she served on the vestry. She belonged to the Proust Readers which read classics together and then traveled to their settings. A member of P.E.O. and The One Hundred, she was on the founding groups of the Savannah Book Festival, Skidaway Bookends and the Marshes Book Club.
From the Landings she and her husband moved to The Marshes where he died on Christmas Day 2009. She is survived by two of their daughters and families: Allison Faircloth Brown and husband Professor Geoffrey Parsons Miller of New York, NY; and Dr. Martha Dickey Brown and husband Jeffrey Alan Libert of Cambridge, MA; grandchildren: Virginia Brown Baerst and husband Stephen John Colamarino of Delray Beach, FL; Benedict Brown Baerst and fiancee C. Paoro Yin-Blair of New York; Elizabeth Clark Libert and husband Daniel Brent Sterner of Cambridge; Anderson Brown Libert and wife Jessica Nicole Paindiris of Palm Beach, FL; and Remington Kane Pierce of Denver, CO. Great grandchildren are John Stephen, Siena Laurice and Julia Margaret Colamarino; Calvin Edward and George Clark Sterner; and twins Andie Martha and Heston Nicholas Libert.
Mrs. Brown was preceded in death by her daughter Sarah Kane Brown Pierce, parents Harriet Virginia Dickey and Patrick Lee Kane, her sister Harriet Kane Dossett, son-in-law John Stephen Baerst, former husband of daughter Allison, and Glenn Arthur Pierce, husband of daughter Sarah Kane.
A memorial service will be held at St. Peter's Episcopal Church, Skidaway Island on Thursday, November 3 at 11:00am.
Remembrances may be made to St. Peter's Church, 3 West Ridge Rd., Savannah, GA 31411 or to the Scholarship Fund, a tax-exempt fund providing scholarship grants to employees of The Marshes of Skidaway Island. Checks may be made payable to The Marshes Scholarship Fund. Please mail to Lorna Carswell, Accounting, The Marshes of Skidaway Island, 95 Skidaway Island Park Rd., Savannah, GA 31411.
GUEST BOOK
Martha was the brightest, most lovely woman! I admired her and stood in awe of her brilliance and sweetness. She lived a complete life and touched each of us who knew her.
- Nancy Sheets, Savannah , Georgia
Dear Mardee and Allison and your entire family, I am very sad to learn about your mother. What a legacy of literature she left, sharing her passion for books with students, family, friends, and neighbors! I know how devoted you were to her, traveling to Savannah to visit and help out. Take care. Sending hugs and my deepest condolences, Erika Fine
- Erika Fine, Brookline, MA
Martha was a remarkable woman and meant so much to those who knew her. Bless you, Martha, for all you gave to so many.
- E Albertson, Savannah, GA
Mrs. Brown was my middle school English teacher; one who made an impact on my love of literature and understanding of Latin roots. She taught me how to annotate books, starting with The Hobbit, I believe. Her words and guidance have stuck with me as I still annotate just about everything that comes across my desk. At age 53, I hold onto a journal and other project mementos from my year with her. There are hundreds, if not thousands of us who benefitted from our years with Mrs. Brown. Our condolences to the family. Your mom/grandmother/great grandmother was special.
- Anne (Manning) de Dios, Alexandria, Virginia
Services under the direction of:
Fox & Weeks Funeral Directors, Hodgson Chapel
912-352-7200
Memorial Service

11:00 a.m. on Thu, November 03, 2022

St. Peter's Episcopal Church
3 W. Ridge Road (map)


Savannah GA 31411