Celebrating the life of
Dale Vernon Ashman
Passed away on October 20, 2022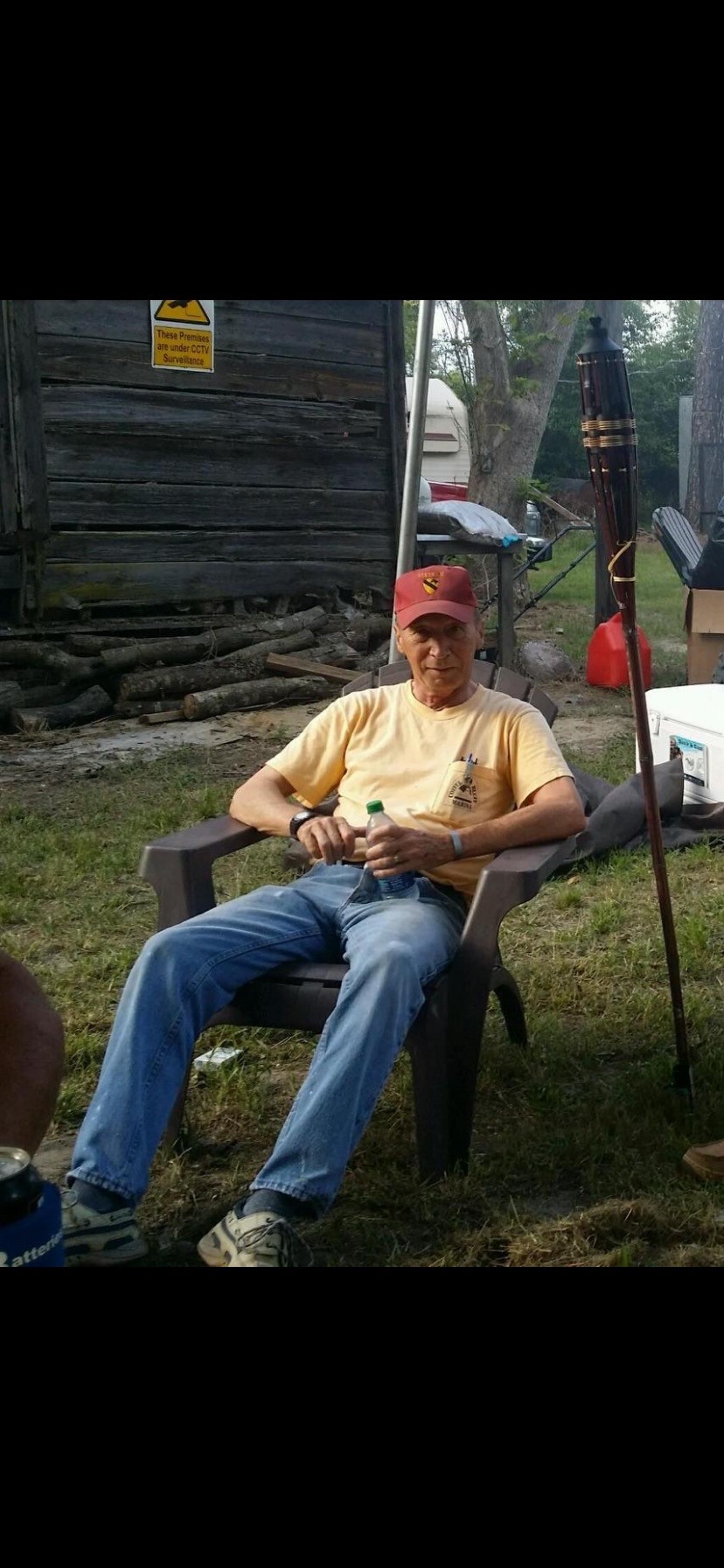 Dale Vernon Ashman of Savannah, Georgia passed away peacefully at home on October 20, 2022, after a valiant fight with pancreatic cancer. His wife of 54 years, Leigh Gordon Ashman, was by his side.
He is survived by their children, son Eric McGuire Ashman (Rachel) of Warner Robins, Georgia and daughter Lindsay Stuart Ashman of Savannah, and his beloved grandson, Clay Hudson Proper of Athens, Georgia.
Dale attended Benedictine Military School in Savannah, where he made lifelong friends (thank you, Freddie and Ben!) and later graduated with a degree in Political Science from Armstrong State College.
He proudly served in the First Air Cavalry Division of the U.S. Army in Vietnam as a helicopter door gunner. After the Army, Dale's long and successful career began in the shipping industry, working at the Port of Savannah. His most recent position was with Turkon America Lines as Port Manager for Export Operations.
He enjoyed fishing, deer hunting with his grandson, and golfing with his buddies. He was very proud of getting not just one, but two holes-in-one! Dale and his wife also volunteered with Honor Flights in Savannah, joining WWII, Korean, and Vietnam veterans on trips to Washington, D.C. to visit their war memorials.
Dale was preceded in death by his mother, Eleanor McCumber Ashman and his stepfather, Fred P. Oliveros, as well as his father Robert William Ashman Sr., who died of injuries suffered in the Korean Conflict and is buried in Arlington National Cemetery in Arlington, VA. Also preceding him in death were his two brothers, Kenneth M. Ashman and Robert W. Ashman Jr. Dale is survived by nieces (Krista, Laura, Lisa, Eleanor, Whitney, and Chelsea), nephews (Robb and Christopher), many cousins, sisters-in-law Alice Ashman of Savannah, Sherry Gordon Minnich of Lake Toxaway, N.C., Kinzie Gordon and Dana Gordon Lane (Tom) of Savannah.
A graveside ceremony will be held Monday, October 24 at 2:00 pm at the family plot in Greenwich Cemetery. Fox and Weeks is handling the arrangements and in lieu of flowers, Dale's family asks that you consider a donation to Hospice Savannah, Inc., 1352 Eisenhower Drive, Savannah, Georgia 31406 or Renegade Paws Rescue (renegadepawsrescue.org) in his memory.
GUEST BOOK
It was a privilege to have known Dale through Blessed Sacrament School and Benedictine. Our sincere condolences to the family. Our prayers are with you during this difficult time. Tom and Patty Anglin
- THOMAS ANGLIN, SAVANNAH, Georgia
Leigh, I am so sorry for the loss of Dale and send my prayers for you and your family. I knew you from ballet class and school. Sincere condolences. Bonnie Jewett Delvers
- Bonnie Delvers, Savannah, Georgia
I had the pleasure of working with Dale at Turkon America. Although I worked out of the New Jersey office we developed a solid working relationship with all the ups and downs associated vessel operations. Dale was always there to assist no matter what happened---- including the occasional middle of the night phone calls. It was quite apparent that family was first for Dale. I always enjoyed conversations about fishing, his hunting excursions and of course his grandson. I will always think of Dale every time I put on the Normandy Memorial T shirt he gave me on his return from his trip to France. Rest in peace Dale. It was a pleasure knowing you.
- Peter Aljian, TEANECK, NJ
I was saddened to learn of Dale's passing. He attended Benedictine with me our freshman year, and it wasn't until recently that I re-connected with him during a round of golf. Dale didn't graduate from BC, but once a cadet always a cadet, and he was a loyal BC alum to the end. As a Viet Vet Dale was a true patriot and very proud of his service with the 1st Cav division in Vietnam. He will be greatly missed by his family and many friends. God speed, Dale.
- Roger Elmore, Beaufort, SC
God Bless all the family with peace & comfort. We were blessed & honored to know him. Thoughts & prayers are with you
- Prewitt Automotive Family , Savannah, GEORGIA
A real privilege to have Dale as a lifelong friend. He was very proud of his time at Benedictine and thanks to Richard Mangan, his recognition as a '66 class member. You will be missed but not forgotten. Rest in peace.
- Benny Wells, Savannah, Ga
Dearest Leigh and Family, Wishing you all peace and comfort now and in the days ahead. Dale was a bright shining light in our lives, and we will hold his memory deep in our hearts. Brenda & Bill
- Brenda J. Gannam & William F. Cullen, Brooklyn, New York
Dear Leigh and Family: Our sincere condolences for your loss of Dale, but please be comforted by the knowledge that his is now reunited with his parents and enjoying his well-earned Heavenly rewards. Dale was a beloved and loyal friend and classmate, and we scheduled our BC 55th / 56th Class Reunion so he could attend and it was one of the great honors of my life to recognize Dale for his loyalty and courage at the Benedictine Annual Alumni Dinner and present him with a plaque officially welcoming him into the BC Class of 1966. The prolonged standing ovation he received from his 150 Benedictine brothers was truly emotional and heart-warming.. His memory will always be with his BC brothers and we will all pray for your comfort and future blessings. Rest in Peace Brother Dale.
- Richard Mangan, Tampa, Florida
Dale will be missed. He was a true friend. We worked together for many years. You are in my prayers.
- Gary Walters, Savannah (Pago Pago), Ga (American Samoa)
Bella and I are praying for you guys, Leigh and the family. If you need anything please let me know. We are so sorry for your loss. I've added the last photo I was able to get of Dale when we went to lunch at crackle barrel. We love you guys.
- Amanda Crichton and Bella , Rincon, GA
Dale will be truely missed by so many family and friends. He was generous, witty and kind. My hearfelt sympathies to Leigh and the family as you find your way forward. Wishing you love peace at this time of grief.
- Terri Shawe-Mendelow , Dallas, Texas
It was a great pleasure and honor to work with Mr. Dale Ashman at Turkon America. My condolences to the family. My heart and prayers and thoughts with his family. He will always be remembered.
- Serdar Ektik, River Vale, NJ
I didn't know Dale but when Richard Mangan informed me of Dale's death, I felt I had to write something because he is definitely a brother who shared his life with United States as a soldier in this country. May God bless you and your family and rest in peace, my friend and brother.
- Michael Gainey, Topeka, KS
Leigh and family, may you find comfort in knowing that everyone who knew Dale shares in your loss and sorrow. I have know Dale for a lifetime and was so very saddened to learn today of his death. He was loved by the Class of '66 and we all will greatly miss him. RIP Dear Friend. Tinka Downing Pace BSS/SVA'66
- Tinka Pace, SAVANNAH, GA
Leigh, I am so sorry to hear about Dale. He was a kind and gentle man. I remember him at our barbecues when Clay was little and when he came over and spent time with Mike and they used the metal detector to look for Civil War artifacts. Time passes too quickly. My heart aches for you. Love, Maria
- Maria Del Rio, Evansville , Indiana
Leigh, I am so sorry to hear about Dale. He was a kind and gentle man. I remember him at our barbecues when Clay was little and when he came over and spent time with Mike and they used the metal detector to look for Civil War artifacts. Time passes too quickly. My heart aches for you. Love, Maria
- Maria Del Rio, Evansville , Indiana
I was saddened to hear that Dale had passed away. I was a classmate of Dale's at Benedictine and I was so happy to see that he had been honored at a recent BC alumni function. He richly deserved this honor. Dale's life was one of service to his country and to his community. He exemplified the values that were instilled in us at the school that he cared for so deeply. I want to extend my condolences to all members of Dale's family at this sad time.
- Joseph Kelley, Savannah, Georgia
It was great pleasure to work Dale at Turkon America. Dale always knew the answer or found a solution to a problem. He even knew how turn a bad day good with one phone call, "he had that gift". My sincere condolences and prayers to the family. Dale will always be remembered, rest in peace.
- Andrea Myers, Clifton, NJ
Please except my deepest condolences for the passing of Dale, he was a wonderful person, such a kind soul. I always thought alot of him. I had the privilege of working with Dale in the shipping industry for the past 35 years he will be missed immensely.
- Wainwright Joy, , Savannah , Ga .
Dale was such a kind man and the best neighbor for which anyone could hope! We know that he is happy in heaven and will pray for consolation for all of his loved ones, especially Leigh, Lindsay, Eric, and Clay!
- Lenora & Jack Everett, Savannah, GA
Dale was such a kind man, I'm glad to have known him! And also glad to have seen him in Savannah a couple years ago after a long absence. My parents both loved Dale, Leigh. Let's hope all our loved ones who have already passed are greeting him with open arms in the hereafter! love, Margaret
- Margaret M. Seiler, Claryville, NY
I am so sorry to hear about Dale. Both Guy and I dealt with him when he was at Hanjin and we have alot of great memories to remember him by .We also had a lot of dinners with him and Lindsay that we both remember fondly. Both guy and I spoke to him in September when we found out he was sick. He was a true and loyal friend. He will be truly, truly missed.
- Merle Dellinger, charlotte, nc
Services under the direction of:
Fox & Weeks Funeral Directors, Hodgson Chapel
912-352-7200
Graveside Service

2:00 p.m. on Mon, October 24, 2022

Greenwich Cemetery
330 Greenwich Road (map)


Savannah GA 31404

912-651-6843