Celebrating the life of
Raymond Kenneth Cheong
December 19, 1955 - October 17, 2022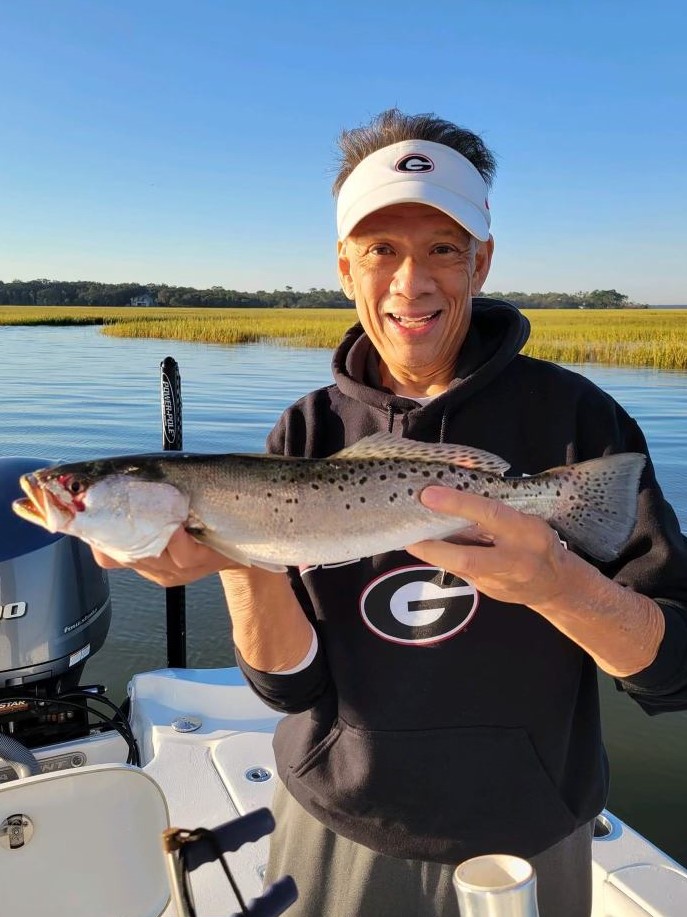 Raymond Kenneth Cheong, 66 years old, died on Monday, October 17th, 2022 in Savannah, Georgia. He was born in Jacksonville, Florida but lived most of his life in Savannah. Raymond attended Savannah High School and was a graduate of Armstrong State College. He went into business with his parents, Jackie and Kenny Cheong, on various businesses. Ray eventually went on to run his own 7/11 convenience stores named, "Rays," for over 25 years.
Some others may have known Raymond as "Papa Ray."
Regardless of what you call him, if you do not know who Ray Cheong was, then you were probably not from Savannah. He did not know a stranger. Regardless of race, age, religion, gender, or socioeconomic status, Ray only saw and treated people with respect and kindness. He only saw others as simply humans. He was the most selfless man and always wanted to help everyone. Whatever a person needed to get done, Ray would make that happen in one phone call.
On May 21, 1983, he married his wife, Phyllis Hudson Cheong. They were married for 39 wonderful years and their love for each other was one of a kind. At the time, Phyllis had a 5-year-old son named Chip Hoover. Being the loving man that Ray was, he immediately embraced the responsibility of helping raise a son. On July 11th, 1991, Ray and Phyllis brought another son in the world and his name was Logan. He also deeply loved his grandsons, Evan and Jude Hoover.
Ray could be thought about in various ways. However, he will be described as just a simple man, who just loves; A hard worker, a mentor, a Godly man, the greatest facilitator of all time, a person who people admired and respected, a loving husband and father, and an avid Georgia football fan. He also enjoyed golf cart rides with his grandsons, Evan & Jude, his mother-in-law, Geraldine and his dogs Lily & Daisy. Ray was a man whose only fault was caring too much for others. If everyone was happy, Ray was 100% (emoji) happy, indeed.
Survivors include his wife, Phyllis Hudson Cheong of Savannah, son, Logan Cheong of Birmingham, AL, son and daughter-in-law, Chip and Lisa Hoover, grandchildren, Evan Hoover and Jude Hoover all of Savannah, brother, Richard Cheong (Dana Skiljan), sister, Karen C. Bridges all of Savannah, brother and sister-in-law, Robert and Karen Cheong of Louisville, KY, nieces and nephews, Eric Cheong, Heather Kulla, Ashley Leightenheimer, Ryan Cheong, and Whitney McCarty, and several great nieces and nephews. He was predeceased by his parents, Kuen Bock Cheong and Mae Jack Cheong.
The visitation will take place Saturday, 0ctober 22nd, from the times of 9:00-11:00am. The memorial service will take place immediately after the visitation hours have ended at the church. Location is Skidaway Island Baptist Church. 2 W Ridge Rd, Savannah, GA 31411
In lieu of flowers please make donation to P.A.C.K. SAVANNAH, or UNBOUNDGRACE to the following links;
https://www.packsavannah.com/ https://www.unboundgrace.life/donate
GUEST BOOK
So very sorry to lose my "brother". Prayers for the family and friends of this awesome man. We are heartbroken beyond words.
- Nisi and Don Watson and family, Savannah, Georgia
Papa Ray will always live on in our hearts. He would bring a smile to your face and was a big GA Bulldogs fan! You will be truly missed by many!!
- Katie Jaynes, Savannah, GA
I'm still in shock you are gone. I will never forget your infectious smile, and the way you would brighten my day! I will never forget you and my prayers are with your beautiful wife Phyllis, Logan, and other family members and friends.
- Kay & Mark Sheppard, Knoxville, TN
Dwight and I were so saddened to hear of Ray's passing. Your love for each other was always such a beautiful blessing and testimony to everyone, Phyllis. We are praying for God's comfort for you and your family during this hard time and in the days to come. We love you.
- Dwight and Barbara Feemster, Savannah, GA
We were saddened to learn of the passing of Ray. So many great memories of time spent with him and Phyllis. May you find great comfort in knowing he touched so many lives. We pray that as you celebrate his life, precious memories of him being you joy. We are praying for all you, Phyllis. Much love, Jim and Julie Todd
- Jim and Julie Todd, Knoxville , Tennessee
I'm so sorry for your loss. Ray will be greatly missed.
- Jenny Poston, Tyrone , Georgia
May God's peace be with you all as you go through this sad time. Ray was one of a kind and he will be missed so much! We appreciate his friendship and his life. Rest in peace, Papa!
- Jim and Cyndi Meeks, North Augusta, SC

A candle has been lit!
Always in our hearts and prayers
- Robert and Rachel Hudson, Cape Canaveral, FL
So sorry to lose one of my dearest friends. My prayers and thoughts are with Logan, Phyllis and Ray's family. I will always have some amazing memories of my times and conversations with him.
- Brian Preston and family, Waxhaw, NC
Ray's relationship goes way back with our family when he was a student at Savannah High School. We have fond memories of him throughout the many years we knew him. What me and my siblings say about Ray?: "Always a very kind man, a great host", "he will be greatly missed", "he was a good soul for this world", "I remember him being such a nice guy". The world will be a lesser better place without you Ray...May you rest in peace. God bless your and your family....With deep condolences. The Shea Siblings: David, Kevin, Terry, Sandy, Gary, Frank, and Robbie
- Shea, Savannah, Georgia
One of my siblings has shared from our family, and I wanted to share personally as well. Raymond, as I knew him, was such a good friend to me the last two years at Savannah High. We reconnected for our 45th HS reunion when Anne and I stayed with you. Phyllis, thank you again for sharing Ray and your home with us! May Ray's soul, through the mercy of God, rest in peace. Phyllis, you and the family are in our prayers.
- Kevin & Anne Shea, Fort Myers , FL
So very sorry to hear of the passing of Papa Ray .. he was one of the kindest / friendliest people I've known ..a true gentleman .. thought and prayers to his family during this time.
- Duane Claxton, Savannah , Georgia
We are so very saddened by the news of Ray's passing. We enjoyed so many wonderful memories and times together. Our prayers for Phyllis and family are continuously being offered to God for peace and contentment. "Papa Ray" you are loved and missed. Rest In Peace my friend!
- Bonnie and DEMERY Bishop, TYBEE Island , GA
My sincere condolences to your family on the loss of such a great man in so many lives. Reading everyone's remembrances shows how important Ray was to so many. My prayers are lifted for you all.
- Mark Jensen, Dallas, TX
Ray was a wonderful person whose kindness brought joy to many. My deepest sympathies go out to Phyllis and his family.
- Charles Ferris, Savannah, Georgia
Ray was a good friend and a talented musician. We had the best of times during our high school experiences in the band and throughout our classes at Savannah High. He was a good soul and will be truly missed.
- Ron Knight, Tybee Island, GA
Phyllis: My thoughts and prayers are with you and your family at the loss of your husband. God bless you and May He wrap you in His loving arms in the days ahead Linda Gundros
- Linda Gundros, Savannah, GA
So sorry for your loss. Praying for peace and comfort for the coming days.
- Anna Canady, Savannah, GA
Dearest Phyllis and family, I'm in shock and so sad for you. I first met Ray at Largo Dr convenience store over 40 years ago. He will be missed.
- Judi Ross, Savannah, GA
Phyllis, Michael and I are both shocked and terribly saddened to hear of Ray's passing. I just only recently saw him and chatted briefly. He was such a handsome man with such a friendly smile and always so kind. A true gentleman. I know your heart is completely broken. Please know we are keeping all of your beautiful family in our prayers.
- teri browne, Savu, Ga
I hadn't see Ray since high school but I remember him fondly. May his memory be a blessing. Jeannie
- Jean Fields Holstein, Chapel Hill , NC
Always friendly and smiling. I have many memories of our youth and growing up in Savannah. Our thoughts and prayers for your family.
- David Udinsky, Savannah, GA
I'm so sorry to hear this I can't wrap my head around it this breaks my heart . He definitely didn't know a stranger and had the biggest heart ever! Prayers for Phyllis and her family ❤️
- Wendy Davis , Savannah , Ga
Papa Ray was One of a Kind!! Time spent with him and Phyllis over the past several years in Fernandina have been fun, special and cherished...Prayers for you Phyllis, Logan and his entire family..He will be missed terribly but always remembered with Love and Laughter...Rest in Peace Papa!!
- Sherri Rinker, Fernandina Beach, FL
We were so shocked and saddened to hear about Ray's sudden death. We have many great memories when Logan and Garrett played hockey together. Ray was a wonderful, kind person and I know you all have suffered a tremendous loss. My sincere condolences to you Phyllis and your children Chip and Logan. You are in my thoughts and prayers.
- Mary Ellen, John & Garrett Sullivan, Savannah, Ga.
A wonderful man gone too soon. Love you Papa Ray
- Connie & John James, Fernandina beach, FL
So deeply sad to hear that Raymond has passed away. I knew Raymond at Savannah High, and after graduation I don't think I saw him again until our 40th high school reunion, because after graduation I went off to college and have never lived in Savannah again after that. What happens, I have discovered, is when you move away from a place one's memories of the people you knew at the time remain in your mind the age they were when you last saw them. In all my memories of Raymond he is still 18, and after reading his obituary I am not surprised to learn that the Raymond I knew continued to touch countless lives throughout his lifetime. I am looking forward to the next time I will see Raymond when our reunion will be a heavenly one, as I know that everyone that knew Raymond is looking forward to as well. Nothing takes away the pain of losing a loved one as dear as Raymond, but comfort will find its way into your hearts in ways, and at times, that can only be from the hand of God, who knows our pain first hand, and loves us beyond all that is humanly calculable.
- Andy Mendonsa, CHATTANOOGA, TN
Prayers for God's strength to sustain you, and his love to bring you warmth and peace in your loss. So glad we met Ray and you, Phyllis, even if it was in the mist of a storm. He was a man as God designed men to be on this earth. I know you both through Sherri, as she kept us up on your visits, which were always a highlight in her life. Just know our thoughts are with all of you, lovingly.
- Lee & Donna Kinard, Vienna, Ga
Ray was a terrific person. My thoughts and prayers go out to his wife, Phyllis and their family. He will be sorely missed by many.
- Rhett Mouchet, Savannah, GA
Papa Ray will always live on in our hearts. Go Dawgs!!!
- Albert & Doris Glover, Amelia Island, FL
Raymond was a good man and a good friend He will be missed.
- Billy & Caro Barrett, Savannah, GA
Jimmy and I got to know Ray after Phyllis and I got to be friends. The four of us shared a fun weekend together last December in the NC mountains; touring the Biltmore House. We are happy for the memories and know that Ray is now enjoying being with Jesus. We are thinking and praying for Phyllis, Logan, Chip, and family. Kim and Jimmy Wilson
- Kimberly Wilson, Hendersonville , NC
Ray was one of our best friends. Always there for us when needed and my go to for learning about where to go and who to call for any thing in Savannah. Sadly, we only knew Ray for 3 years, having moved to the area from CA. It always seemed like we knew him for much longer, and reading through all of these remembrances, it makes me so sad I did not know him my entire life. He made us Georgia Bulldog fans, introduced us to boiled peanuts, and could always be found day and night driving the best looking cart on Skidaway Island with Phyllis. Ray was one of a kind, until I realized he and I were so a like. He was meticulous, neat, and a great dresser....I fondly recall him asking "who" I was wearing, and of course I would ask the same of him. Ray had tons of life left, and we are now left with the wonderful memories of our times together. We toast to Ray, who has gone ahead to the great tavern where we shall all meet again.
- Robert and Clare Tucci, Savannah, GA
Phyllis we are so sorry to hear this..You and Ray were always so kind to us. Sending our love, thoughts and prayers to you and your family
- Ed & Carrie Kellogg, Jefferson, Georgia

A candle has been lit!
I am so sorry. Please accept my sincere condolences. Raymond was a very special man with a kind gentle soul. You will be missed. Rest In Peace Raymond.
- Tannia Bond, Brentwood, TN

A candle has been lit!
Love and Prayers For All Family & Friends
- Youngblood Family , Easley , SC
So sad to lose such a great person. He will be missed dearly. God speed in the family's loss.
- Larry & Regina Pawlowski, Savannah, GA
Dearest Karen and family. We were greatly saddened to hear of Raymond's passing. We will be praying for your family as you go through this very difficult time. I'm sure Raymond's legacy will live on and he will be greatly missed. Much love to you.
- Alice & Steve Kauble, Tulsa, Oklahoma
I just found out this morning, so Glenn and I missed the service. We are so very very sorry. Although we hadn't seen Ray in a long time, we have such fond memories of Ray and of Ray's on Largo Drive. At least one of my family was in that store daily for many years. Please know that we are all thinking of your family at this time.
- Karen and Glenn Hewitt, Richmond Hill, Georgia
Robert, I'm sorry to hear about your brother Ray's passing. My prayers for you and your family as you mourn his loss. May our Great Lord and Savior bring peace and comfort to your hearts in this difficult time.
- Brian Welch, Odessa, FL

A candle has been lit!
I knew Raymond for many years. Nicest guy in the world. Prayers of comfort for the family
- Brad Wittfeld, Savannah, GA
I'm sorry to hear about Raymond. He offered me kindness & generosity when others did not during a dark episode if my life. He was unique & wherever he walked he left nothing but pleasant memories. Everyone loses when you lose a gift like him! My regards.
- Bill deVegter, Marietta, Ga.
So very sorry to hear of Ray's passing. Many memories from Armstrong. Praying for Phyllis and family.
- Susan Sailer, Lawrenceville , GA
Phyllis, our thoughts and prayers are with you.
- TANIS BOND AND JOHN WILLARD, Savannah, GA
My deepest condolences to you, Phyllis and all of your lovely family. Ray was always such a sweet man with a kind word every time I saw him. God bless all of those who loved him in this life and the next. Blessings...
- Elizabeth Lunsford, Savannah, GA
This is shocking to me. I just happened to run across his obit by accident tonight while searching for someone else. I graduated with Raymond from Savannah High. We were good friends and in the band, but didn't see much of him after I moved away to college. I do remember going saltwater trout fishing once with him after graduation when I was home from school between quarters. It was bone-chilling cold and windy. He didn't seem to mind the weather. He was in the zone. From the above photo it appears he was still in the zone years later. My condolences to you and your family. He was a great high school friend.
- Joe "Joey" Connor , Greer, SC
I was SO saddened to hear of Raymond's passing. I knew Raymond when I attended Armstrong and I have many fond remembers of him. My thoughts and prayers are with his family in this difficult time.
- Bridgett Fultz Olano, Savannah, GA
I just heard about Ray's passing today from one of Ray's Savannah High classmates whom I work with. I did not know Ray but his sister Karen was a classmate of mine at Savannah High. Karen, I am so sorry for your loss. I always considered you a good friend in school although we have not kept in contact over the years since graduation. My thoughts and prayers are with you and the family.
- Johnnie Kennedy, Savannah , Ga
Services under the direction of:
Fox & Weeks Funeral Directors, Hodgson Chapel
912-352-7200
Memorial Service

11:00 a.m. on Sat, October 22, 2022

Skidaway Island Baptist Church
2 W. Ridge Road (map)


SAVANNAH GA 31411

912-598-7997
Visitation

9:00 a.m. until 11:00 a.m. on Sat, October 22, 2022

Skidaway Island Baptist Church
2 W. Ridge Road (map)


SAVANNAH GA 31411

912-598-7997