Celebrating the life of
Thomas Joseph McDonough, Jr.
August 26, 1937 - October 12, 2022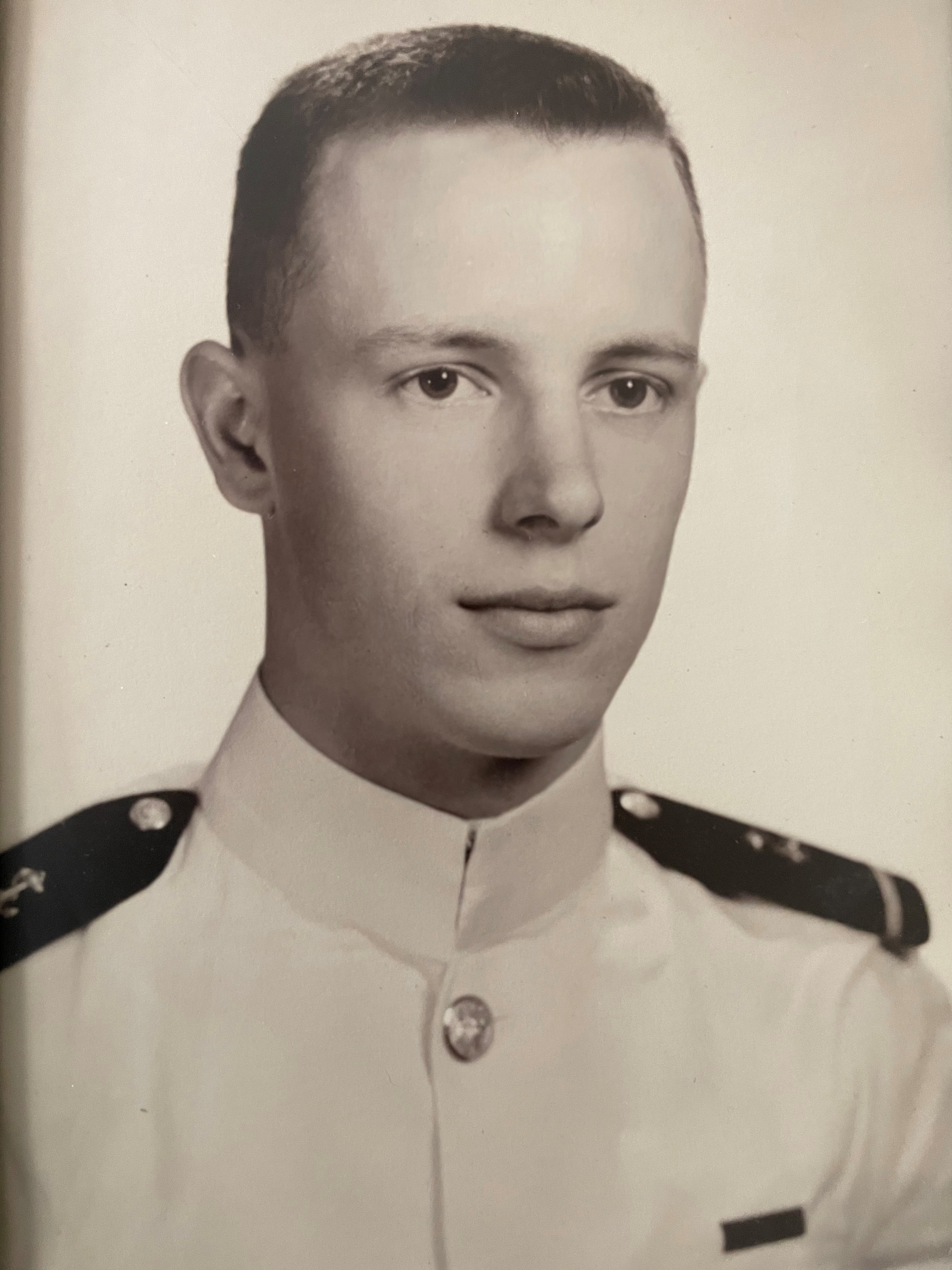 Thomas Joseph McDonough, Jr., 85, died peacefully on October 12, 2022. Tom attended Sacred Heart School and was a 1955 graduate of Benedictine Miliary School in Savannah. He attended Georgia Tech and graduated from the United States Naval Academy in 1962. Tom earned his MBA from University of Louisville (1973) and his JD from University of South Carolina (1982). He retired from the S.C. Department of Health and Environmental Control (DHEC) in 2006 after 27 years of service.
Tom is preceded in death by his father, Thomas Joseph McDonough, Sr., and mother, Josephine Franklin McDonough, and brother, Jerry McDonough. He will be missed by his daughters Bridget McDonough and Marleen Hernandez, grandchildren Natalie Johnston, Sean Radermacher, and Brian Radermacher, great grandchildren Juliana Johnston, Mia Johnston, and Brian Johnston, Jr. He is survived by his siblings Joanne Nellums, Angela Oliver, Ellen McDonough, Tim McDonough, Peggy Hadsell, and several nieces and nephews.
A graveside service will be held at 11:00 a.m. on Friday, November 4, 2022 at Catholic Cemetery in Savannah, GA.
In lieu of flowers, donations may be made to Benedictine Military School, 6502 Seawright Drive, Savannah, Georgia 31406 or Riverbanks Zoo & Garden 500 Wildlife Parkway, Columbia, SC 29210.
GUEST BOOK
Tom us a good man and a credit to his family!
- Michael Pendergast, Robinson Township , Pa
Our hearts reach out in love to each of you. How quickly time comes and goes even when you are gifted with a long and happy life. We always wish for one more day with those we love. May the wonderful memories you share of Tommy keep him close within your hearts! Rest in The Peace of Christ, Tommy!
- Harriette and Louie Waldhour, Savannah, Ga
Joann, Angela & Ellen, Your brother will be remembered in my prayers. May he rest in peace.
- Marie Green Bryant, Savannah, GA
Joann., Angela, Ellen, Timmy, and Peggy, I'm so sorry about Tommy. Hopefully, I will see y'all on Friday. Love always, Anne
- Anne Sutton, Savannah, Ga.
Tom was the "old man" of the 19th Company, Class of 1962, at the start of our Plebe Year at Annapolis. At age 21, he had the maturity to take all the trials and tribulations "bestowed" on us by the upper classes, with much needed good humor. And his prior years at GA Tech proved to be a boon to us in our engineering queries. It was also Tom's fated lot to patiently explain to the "northern" Irish in our company that the New York City and Boston St. Patrick's Day Parades had little on the Savannah tribe's version, to say nothing of its duration, measured in days. It was serendipity that one of his roommates (Egan) was a NY Irishman whose father (in WWI) had served in the NY 69th Infantry Regiment (part of the Irish Brigade). The history of the lethal contest at Fredericksburg 1862 between the NY 69th and Cobb's Brigade (GA, many Savannah Irish) was as informative as sad, to us. Tom (rightly in my view) never understood why USNA never granted us a week's leave in Savannah, centered on 17March. Alas, we missed all those parties…and Savannah's famous belles' pulchritude. Tom, we never forgot you, and wish you Navy's "calm winds and following seas" on the rest of your journey. The dwindling numbers of your 19th Co. Classmates extend our condolences to your family.
- Captain G. Fitzgerald, USNR (Ret.), Wilmington, DE
Tom and I were classmates at the U.S. Naval Academy and members of the great 19th Company. As fellow Georgians, we enjoyed a special bond as sons of the Old South. I remember his smile, his great sense of humor and the dedication and hard work with which he met the challenges of life at Annapolis. He was a good friend and shipmate. I only regret that our paths did not cross in the years since graduation. On behalf of all of our surviving 19th Company classmates, I offer our most sincere condolences to Tom's daughters and their extended families, to his siblings, and to all in whose love he lived. God bless you, Tom!
- CAPT David Williams, USN (Ret.), Oak Harbor, Washington
So sorry to hear the news of Tom's passing. Like all of our company mates, who shared those 4 years together long ago, the bonds created then have survived the 60 years and Tom will be remembered by all of us. Our thoughts are with Tom's family.
- Frank Cleary, Ft Myers, Fl
Dear Cousins, It was with profound sorrow that I read of Tommy's passing. I pray that the Lord will comfort you during this time of grief and mourning. Emmanuel's Land With moistened eyes you'll sorrow for Tommy awhile Yet 'neath the grief will 'bide a melancholy smile, For you'll know he crossed the Jordan and felt no sting— That he was borne ever upward on angel wing. So, amid your tears will dwell an abiding joy— An underlying peace which will your spirits buoy, As your mind's eye beholds Jesus reach out His hand To welcome him home to Emmanuel's land May His grace and peace be upon you, Jack (ie) Denmark 864-309-3993
- William J Denmark, Due West, SC
Services under the direction of:
Fox & Weeks Funeral Directors, Hodgson Chapel
912-352-7200
Graveside Service

11:00 a.m. on Fri, November 04, 2022

Catholic Cemetery