Celebrating the life of
Pamela Sapp Sauers
May 28, 1955 - October 11, 2022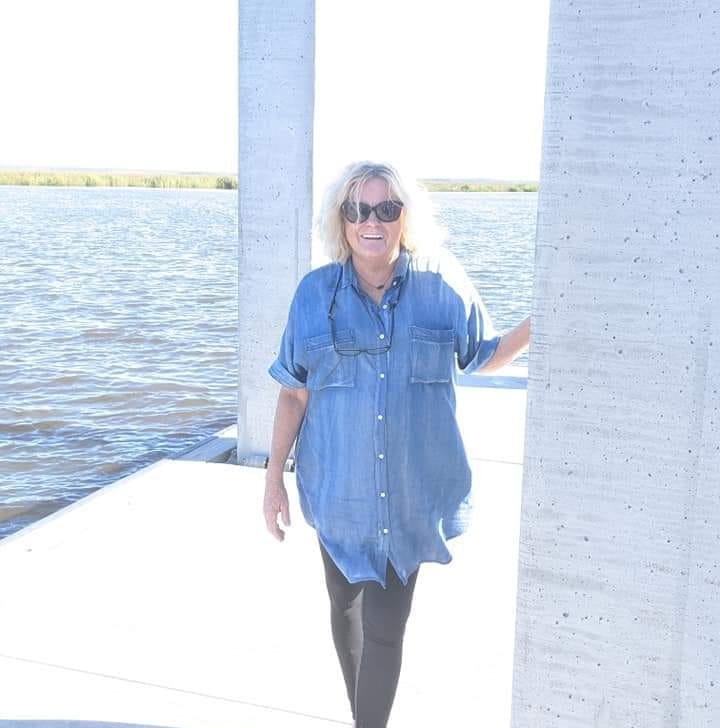 Pamela Sapp Sauers, age 67, passed away peacefully in her sleep on Tuesday, October 11th at Memorial Health University Medical Center in Savannah. Pam was born May 28th, 1955, at the former Telfair Hospital in downtown Savannah. She attended Savannah Christian Preparatory School.
Pam never met a stranger and was always looking to help people. She grew up in Kensington Park and stayed in touch with her neighbors over the years. For the past 25 years, Pam lived on Wilmington Island. She loved the "island life."
Her outgoing personality made her a perfect fit for her career as First Impression Specialist of Visit Savannah. Her love for the city of Savannah combined with her effervescent personality was continuously acknowledged on online reviews and brought her great pride. "Ask for Pam Sauers!" is one review that can be seen on the web.
In addition to her people skills, Pam had a natural talent for drawing and was an avid reader of biographies and mysteries. She could be found every morning and night focused on her tablet reading the newest crime drama.
Pam is predeceased by her parents, George and Edna Sapp; sister, George Ann Sapp Davis; and her niece, Darby Davis Sullivan. She is survived by her daughter, Brooker Forkin (Keith); son, Tommy Lodge (Betsy); grandchildren Cameron, Kayla and Ethan; sister, Donna Sapp Mobley; nephews, Carter and Clay Mobley; brother-in-law, Ronnie Davis; boyfriend, Don Hemmerle, and their dogs, River and Reef.
A memorial visitation will be held on Thursday, October 13, 2022, from 4:00 p.m. until 6:00 p.m. at Fox & Weeks Funeral Directors, Islands Chapel.
GUEST BOOK

A candle has been lit!
I am so saddened and heartbroken to hear of Pam passing…Pam had an effervescent personality and was Savannah's ambassador of Goodwill and all things "Savannah." She loved her City and sharing it with everyone. She was an incredible dear sweet friend with whom I shared many great times and she will be greatly missed by all those who knew and loved her. Prayers for all her Family and Friends as we mourn this great loss. Take care my friend and Rest In Heavenly Peace…
- Cynthia Cooler, Cartersville , Georgia

A candle has been lit!
So sorry to hear about your mom passing Brooker. She seemed like a big light and personality. May she live on forever in you.
- Felicia Kostiuk, Savannah, Ga
We will miss Pam very deeply. She loved Savannah! She will be greatly missed by friends and family. She lived life to the fullest. Our condolences on your loss.
- Crystal Anestos Nelson & Teresa Lavely Willard, Savannah, Ga
Brooker, Keith & Family - In your time of sorrow, we would like to extend our heartfelt condolences to you and your family. Wherever a beautiful soul has been there is a trail of beautiful memories. May your mother Rest in Peace.
- Dennis O'Halloran & Mary Miller, Simpsonville, SC
I was so upset to hear of Pam's passing. She was my back door neighbor- and a sweet one. I am out of town, but send my love and condolences to Don, and Pam's entire family. May she Rest In Peace. Ann and Mike Richardson
- Ann Richardson, Savannah, GA
Pam was an absolute delight and hoot to work with. She made it her work passion to have a visitor to Savannah smile and leave having a great time. She will be greatly missed but never forgotten. My thoughts and prayers are with Brooker and the family.
- John O. Reed, SAVANNAH, GA

A candle has been lit!
I was so shocked to hear of Pam's passing. I have known Pam for years as she was friends with my sister, brother-in-law, and other family members. She was also currently my WITHA neighbor. Pam was such a friendly person and enjoyed helping others. She will be greatly missed. May God provide comfort to her family during this difficult time.
- Ann Upchurch Halverson , Savannah , GA
To Donna & all of the family of Pam, I send my deepest sympathy & condolences for her loss . May God surround you with comfort & peace now, & in the days ahead.
- Carolyn Sheehan , Tybee Island , GA
Pam never met a stranger, a trait I admire and would like to emulate. God bless you, Pam, and Rest In Peace.
- Lois Hill, Savannah, Georgia
Savannah lost a goodwill ambassador when Pam left this world, and if Heaven has a welcome center then it will surely be Pam at the main entrance, greeting the newcomers. She welcomed all whom she met and in some cases, made lasting impressions that garnered outstanding reviews online. Pam and I grew up a few blocks away from each other in midtown and attended junior high at the same time but never crossed paths until we began working in the city's tourism industry, and we share many mutual friends from way back. Pam brought so much love and energy to her position that I cannot recall ever seeing her without a smile and something good to say. Her weekly early morning photos of River Street which she posted on Facebook were something I looked forward to seeing as I worked a few blocks east and we shared that same view. Some mornings I would take a break and walk down to see her at the welcome center for a minute. It's these little things shared with a friend that make the most memorable impressions. Rest in peace, Pam.
- Julia J. Williams, Savannah, Georgia
I'm so sorry to hear of Pam's passing. I know she will be greatly missed. She was always smiling. We had some memorable times at Maggie's. She would end up cutting my hair. I think she carried her scissors everywhere with her. She was so much fun to be around. My prayers are with her family and friends. "The comfort of having a friend may be taken away, but not that of having had one."
- Valerie Mell Rogers, Savannah, Chatham
We are so sad to lose Pam and know she touched so many lives, bringing laughter and love along the way. Our hearts and prayers are with Don, Brooker, Tommy, and all who loved and cherished Pam's light and love. We will miss having a glass of wine together, snuggling with our furry babies and living life to the fullest.
- Cheryl A. Hemmerle & Marsha R. Base, Sebring, Florida
Dear Brooker and family, I am so sorry to hear about your Mom. I thinking of you. Hold close all the beautiful memories you share together. My deepest condolences. Xx Barbara
- Barbara Oosterwyk, Grand Cayman, Cayman Islands
Brooker & Family, I am so very sorry to hear of your mom's passing. From what I read about her it sounds like you are alot like her! Your love of life, positive attitude and inherent beauty will give you strength in the days to come. I am sure you have lots of fun memories to pull from on those cloudy days when missing her and asking yourself WHY?? I am so sorry Cameron's time with her was shortlived. Best regards to Keith. Love, Karen
- Karen Renfroe, Sandersville, Georgia
Sorry sorry for your lost Brooker. I work with Pam on river street. We became good friends. I'm going to miss her so dearly.
- Yolanda Thomas, savannah, Georgia
Brooker, Your mom sounds like an outstanding and beautiful person. I am so sorry to hear about her passing, but people like her never really leave us. They guide us though life and brighten our days with happy memories of happy times shared. My thoughts are with you and your family.
- Ze' Santa-Rita, Savannah, GA
I'm in disbelief. I'm so so sad to hear of Pam's death. So many memories of growing up on Oxford Drive. I know Pam and Cissy are yucking it up in Heaven now. Prayers for the repose of her soul and strength and comfort for all.
- Patti Ward Neidlinger, Tybee Island , GA
Donna and family, so sorry for your loss. Peace be with you!
- Bob White, Greensboro , Georgia
Our deepest sympathies to Pam's family. Our love and prayers are with you.
- Beth and David McPipkin, Gallatin, TN
Donna and family, I'm praying for you at this time. My condolences to you all.
- Charlean Smith, Savannah, GA
Services under the direction of:
Fox & Weeks Funeral Directors, Hodgson Chapel
912-352-7200
Memorial Visitation

4:00 p.m. until 6:00 p.m. on Thu, October 13, 2022

Fox & Weeks Funeral Directors, Islands Chapel
4605 Hwy 80 East (map)


Savannah GA 31410

912-898-0900