We have been made aware that families being served by Fox & Weeks are being contacted by individuals requesting payment over the phone. Fox & Weeks will not contact a family requesting payment over the phone. Please contact the Savannah Police Department immediately if you are contacted and asked to make payment over the phone. Please contact Fox & Weeks if you have any questions.
Celebrating the life of
Doris Margaret Ahern Thompson
September 22, 1924 - August 08, 2022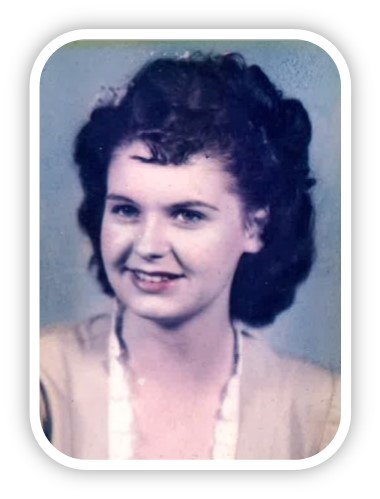 Remembering Doris
In Memory of Doris Margaret Ahern Thompson
September 22, 1924 - August 8, 2022
Doris was born in 1924 in Cresco, Iowa, to her parents, Joseph and Blanche Catherine Ahern. When she was 21 years old she joined her sister in Oceanside, California, and began work at Western Union Telegraph Company. A young and handsome US Marine (Johnnie Thompson), having just arrived in the states after surviving the battle in Iwo Jima in WWII, came in to wire money to his mother in the state of Georgia. Johnnie found Doris strikingly beautiful and, as all love stories unfold, they fell in love and married in 1946. Not long after, they traveled back to Iowa, then to Savannah, and later to El Paso, Tx, and finally settled back in Savannah/Thunderbolt, Georgia. Doris had a lifelong career in Savannah as a legal secretary, working with the lawfirm of Corish, Smith & Remler, and later with Attorney Jerry Black - all while raising their four children and with Johnnie working and building their house. Doris had a strong passion for art and was able to paint several pieces, if and when time permitted, during her otherwise busy life. All throughout her years she was the kindest, most tenderhearted wife and mother, who always found the good in others and never had an unkind word toward anyone. She was, and always will be the heart of our family. She trusted her Lord Jesus as her Redeemer. She cherished her children and their spouses, and her grandchildren, her great grandchildren, and her great-great grandchildren. Our Doris departed from this life on August 8, 2022, as Christ received her into the glorious realm of heaven, into the place He had prepared for her, according to His promise.
Private Burial with children and grandchildren
Forest Lawn Memory Gardens
Officiated by our Beloved Father Patrick O'Brien.
The Other Side of the River
"Our Mom, Our Doris"
Your house is still here, where you and Dad were blessed to live so many years together, with the Wilmington river just beyond your backyard. Sailboats and yachts and speedboats and skiers are always passing by. The birds you loved still tweet and sing their cheerfulness. Terrapins continue finding places to lay their eggs, and the hatchlings break through their shells and make their way to the marsh. Some of them have names assigned to them by your grandchildren. Scribbles and Squirtle and Softshell and others.
Peach (our awesome dog who stood guard at your door) and Christmas (the cat who loved to sleep with you at Remington) are not quite sure where you are. They just keep looking around. We who know where you are, but cannot get to you to tell you how much we love and miss you, also know Who holds you safely now, while we will continue to miss you lovingly, achingly and deeply.
Your headstone engraved with your name and Dad's will be here, straight across the river, just on the other side. We'll go there often. But you are now well beyond, in the heavens, at your eternal home with our Lord, above the clouds, in the sky.
We will love you forever and ever, and we thank you for our lives.
All your children and theirs, with all our love
Surviving family:
Children: Terry & Janet, Jan & Larry
Grandchildren: Joseph, Jeremy & Kelly, Andy & Jane, Chan & Yvonne,
Christian & Maggie, Renee & Buddy
Great Grandchildren: Luke, Logan, Claire & Caroline, Dean & Grace,
Erin, Ava & Emmet, Jake & Melissa, Jesse, Josh & Morgan.
Great-Great Grandchildren; Dallas & Ellen
and other dear nieces and nephews and other relatives
Pre-deceased by:
Husband; Johnnie Thompson, Son; Alan,
Daughter and son-in-law; Diane & Delano,
Grandson; Brian, Great Grandson; Elliot,
Parents; Joseph & Blanche Catherine Ahern,
Siblings; Maureen, Bernice, Vergil, Don, Vivian
and several dear nieces and nephews and other relatives.
GUEST BOOK

A candle has been lit!
Mrs. Thompson was so bless to have a wonderful long life. She was a wonderful wife and mother, God has a angel in heaven.
- Diane Robbins, Savannah, Ga.
Services under the direction of:
Fox & Weeks Funeral Directors, Hodgson Chapel
912-352-7200