Celebrating the life of
Richard "Dick" Evans
Passed away on August 25, 2022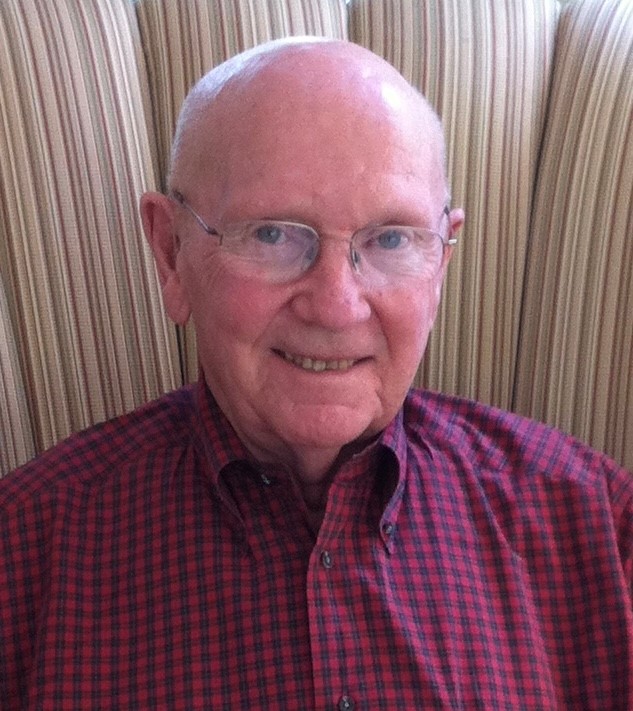 RICHARD GALE EVANS, JR.
Richard Gale Evans, Jr. ("Dick') passed away on August 25, 2022 in Savannah, Georgia at age 89. He was born December 31, 1932 in Cincinnati, Ohio to parents Richard Gale and Naomi Hoffman Evans. Dick grew up in the Pleasant Ridge neighborhood in Cincinnati and graduated from Walnut Hills High School in 1951. Dick attended Kenyon College in Gambier, OH where he joined the Air Force ROTC and Delta Tau Delta fraternity. He also played football and was an accomplished midfielder on the lacrosse team. During his senior year at Kenyon, Dick co-captained his lacrosse team to an undefeated season. He was then selected to play in the North-South All Star game at Johns Hopkins University in June 1955.
Dick graduated from Kenyon in 1955 and began working at the Cincinnati Cordage and Paper Co., which was founded by the Evans family in 1892 and where his father was President. After a few months of training in the wholesale paper business, Dick reported for active duty in the Air Force in January 1956. After flight training in Georgia and Texas, Dick received his wings in February 1957. He was then sent to West Palm Beach, FL to fly KC-97G refueling aircraft. While in West Palm, Dick was introduced to Nancy Taylor by his flight school classmate, Ted Platt from Fort Lauderdale. Ted was dating Nancy's sister, Barbara. Soon the two Air Force friends became brothers-in-law, as they both married the Taylor sisters. Dick and Nancy were married in December 1957. At that time, Dick was stationed in Plattsburgh, NY where he flew refueling missions for B-47s and B-52s over Canada, Labrador and Greenland as part of the Eighth Air Force and the Strategic Air Command. He loved his time in the USAF, but made the decision to return to civilian life in 1959 after the birth of his first daughter, Pam.
Dick and Nancy settled in Cincinnati, where Dick resumed his career with Cordage Papers. During his career, he worked in sales, sales management and ultimately became Executive VP in 1976. Dick was instrumental in helping grow the company from 5 to 13 locations around the Midwest and upper South before he retired at the end of 1992. He was also very active in the National Paper Trade Association, and had many friends across the industry. Dick and Nancy raised three daughters – Pam, Lynn and Barbara- and created many great memories with them. Camping vacations around the U.S., drives downtown at Christmas time to see the lights, going to Reds and Bengals games, and sailing at Cowan Lake and in Highlander regattas were all family traditions. Dick retained his passion for flying and was able to enjoy flying for both business and family trips. He and a friend eventually bought a Beechcraft Bonanza V35B. He really loved flying that plane! Dick was also an avid golfer – a love inherited from his father. Father and son are probably playing a round in heaven today! Along with his family, he was also very involved with the Cowan Lake Sailing Association and served on the board of the Highlander Fleet. There are some memorable and infamous stories from those sailing days. Dick and Nancy were blessed to be able to travel to many countries in their time together. They especially enjoyed sailing trips in the Caribbean and Mediterranean with their close friends.
After Dick retired, he and Nancy built a house at The Landings in Savannah and moved there permanently in 1995. At The Landings they were able to pursue their love of both golf and boating, and enjoyed frequent visits by family and friends. Dick volunteered regularly at Skidaway Island United Methodist Church, and at the National Museum of the Mighty Eighth Air Force. In 2017, Dick and Nancy moved to the Marshes of Skidaway Island senior living community, and were together until his final moments. Dick is survived by Nancy and his daughters Pamela Barry (Stephen) of Louisville, KY, Lynn Huber (David) and Barbara Evans (Vincent Becker), all of Savannah. He is also survived by grandchildren Max Huber, Alex Huber, Lindsay Barry Zeller (Jodie), Will Barry (Erica Young), plus 5 great-grandchildren. In addition, Dick is survived by his sister, Joan Evans Zimmer (Emory) of Cincinnati, OH as well as in-laws Ted and Barbara Platt of Montgomery, AL, Joan and Greg Duggan of Pinehurst, NC , and several nephews and Evans cousins. The family would like to thank all the staff and caregivers of the Oaks at the Marshes of Skidaway for their love, compassion and excellent care of Dick. We will all miss him tremendously. A graveside service will be held October 21st at Resthaven Memorial Park in Cincinnati. Donations in memory of Dick may be made to the Skidaway Island United Methodist Church or the Mighty Eighth Air Force Museum in Savannah, or to Kenyon College in Gambier, OH..
GUEST BOOK
A sweet man lovely obit
- Sue Heusner, Raleigh, NC

A candle has been lit!
He was a great father.
- Barbara Evans, Savannah, GA
You have my condolences. I know it's difficult to let go. I pray your memories are a blessing even though they at first make you cry remembering, the day will come when they will make you smile.
- Ursula Wright, Richmond Hill, GA

A candle has been lit!
What an incredible life and family! We are thinking and praying for you all.
- The Hickeys, Savannah, Georgia
Nancy, Pam, Lynn and Barb, So sorry for your loss. We will always remember Dick and the Evans Family sailing at all of the Highlander regattas everywhere. He served as president of the Highlander Class and in the 1970's was very instrumental in "saving" the Highlander Class along with Gordon Stanford as they worked so hard to get the Class a new builder. We will always remember Dick as a family man who was giving of his time and energy to help others. May he Rest In Peace.
- Harold & Stefanie Bauer, Sioux Falls, SD
Dick and I would share our SAC stories. He flew KC-97s and I flew B-52s. Us bomber guys could not complete the mission without the tankers. Rest in Peace SAC Warrior! Bill North
- William C North, Richmond Hill, GA

A candle has been lit!
Love you all! May the days ahead bring you peace and wonderful memories.
- Nancy Huber Palecek, Bradenton, FL
I am so sorry for your loss. Thank you for sharing such joyous memories of his life. Dick was always kind and thoughtful to me and my family, especially when my parents first moved to Skidaway Island and through their years there. You are all in our thoughts and prayers- Suzy
- suzy sarfaty, waban, MA
Dear Pam, Barbara and Lynn, what a sweet man. He was lucky to have such great daughters.
- Karen Odom, Savannah, Georgia
Services under the direction of:
Fox & Weeks Funeral Directors, Hodgson Chapel
912-352-7200