Celebrating the life of
Waverly Phillip Jones
Passed away on August 20, 2022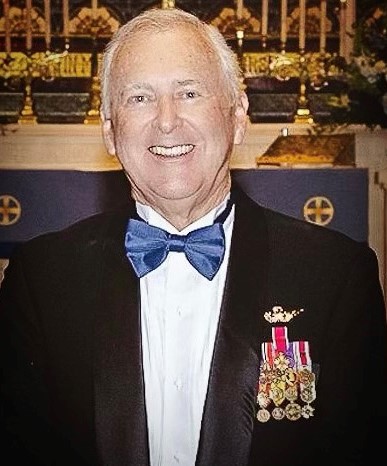 On August 20th, 2022, at the age of 76 following a 8-month fight with cancer, Waverly Phillip Jones passed away. A strong-willed military man to the very end, he chose to pass from this life on his own terms, surrounded by beloved family in the comfort of the home he shared with his second wife, Diana Lee Langer Jones.
Waverly, or "Phil" as he chose to go by, was born May 26th, 1946 in southern England, and grew up in his hometown of Richmond Hill, GA. He was the second oldest of 10 siblings, functionally becoming the eldest sibling following his older brother Sonny's untimely passing at a young age. His youth would cement his role early on as an immutable pillar of the Jones family. He took on a paper route when he was just 10 years old, giving all the earnings to his mother to help support their family. That discipline, shouldered too early but shouldered nonetheless, would eventually serve him well when he joined the United States Army in 1965. Phil became an Army aviator who would ultimately fly over 2,400 hours across 2 tours of duty in the Vietnam War, and subsequently branch into research & design work. His distinguished 24-year military career included numerous notable commendations and medals – the highest among them being the Legion of Merit, awarded "to any member of the Armed Forces who has distinguished himself by exceptionally meritorious conduct in the performance of outstanding services and achievements". Other awards earned by Phil during his military career include two Distinguished Flying Crosses, the Bronze Star, the Army Commendation Medal, and two Purple Hearts.
Phil leaned into the early role he took as the supportive bedrock of his family. He married high school sweetheart Judy Rabbitt Jones, whom he enjoyed 51 years of marriage with. They went on to have two daughters, Lisa Humrich & Angella Williams, and eventually two sons-in-law, Barry Humrich and Jimmie Williams, who Phil came to deeply cherish. Four grandchildren would follow in due time, along with innumerable nieces and nephews, the product of being one of 10 siblings. He would become the steadfast patriarch of a large, sprawling family, for whom his home would be a haven and his undeniable love would never falter. Thus it was unsurprising when he met Diana Lee Langer Jones in June 2020, engaged in a beautiful whirlwind romance and together they found that it was never too late to find true love.
Anyone who met Phil attributed him a gregarious kindness and inexorable passion to help others, traits many seek out but few have ever so well exemplified. After his career in the military, he channeled this passion into a career of service, becoming a public servant with Bryan County wherein he worked for 21 years as the County Administrator. Phil dedicated himself to leaving his hometown better off than when he found it – his presence has left a perpetual mark on the lives of everyone he touched.
In the final year of his life, he showcased the same resolute dedication to family and ideals. In testament to his legendary vigor, he was on the golf course mere days before being diagnosed with a Stage IV terminal cancer. Undeterred and unbroken, he lived as he always had, supporting those around him with every fiber of his being. Plagued by visions of his own mortality, he was possessed by an indomitable determination to finish his life as he had always lived it – a patriot, patriarch, and paragon of service to others.
Phil was preceded in death by his first wife Judy Rabbitt Jones, parents Robert W. and Lillian C.R. Jones, siblings Robert E. Jones, Annell M. Jones, Lynda Jones Champagne, and Kim Jones Bishie.
Phil Jones is survived by wife Diana Lee Langer Jones; two daughters and sons-in-law, Angella and Jimmie Williams of Deep Run, NC and Lisa and Barry Humrich of Richmond Hill; brother-in-law Darryl G. Rabbitt (Doris) of Savannah; sister-in-law Linda Litaker of Jacksonville, FL; four grandchildren, Justin Humrich (Erin), Zachariah Humrich, Ashton Williams, and Parker Williams; niece Janine Finn and nephew Denny Finn; a plethora of nieces and nephews and all of R.W. and Lillian Jones family.
He is also survived by his siblings; Macky Jones (Teresa), Maxine Thorpe (Alan), Wayne Jones (Trish), Keith Jones (Mary), David (Lori), and brothers-in-law Harold Champagne, and Chris Bishie.
Visitation will be 5:00 to 7:00 p.m., Monday, August 22, 2022 at Fox & Weeks, Hodgson Chapel.
Funeral service will be 11:00 a.m., Tuesday, August 23, 2022 at The Evangelical Lutheran Church of the Ascension.
The family will receive friends from 10 a.m. until 11 a.m. prior to the service at The Evangelical Lutheran Church of the Ascension in Crumley Hall.
Burial will be 2:00 p.m. in Burnt Church Cemetery, Richmond Hill, GA
In lieu of flowers, remembrances may be made to:
Bach Ascending at the Evangelical Lutheran Church of the Ascension
120 Bull Street, Savannah, GA, 31401
or
The Savannah Philharmonics Orchestra
1515 Abercorn Street, Savannah, GA, 31401
GUEST BOOK
I am beyond sorry to learn of Waverly's passing. My heart goes out to you, Diana, and to all of Waverly's family. There are no words…. I love you and will talk very soon. I don't want to bother you at this difficult time. All my prayers are with you.
- Joan Rosen, Tucson, AZ

A candle has been lit!
Our thoughts and prayers are with you. Jody and Emma Claire
- Trumbull Family, Savannah, GA
Cara Diana,ci stringiamo vicino a te,e ti facciamo con dolore le nostre condoglianze!
- LUCA E BIANCA , DERUTA , ITALIA
Diana, I am so sorry for your loss and the devastation his family must feel.
- Susan Geffen, Armonk, NY
My deepest condolences and love for your tremendous loss, dearest Diana. Know that you are in my thoughts and prayers.
- Marti Heil, New York, New York
Oh my dear Diana, we are shocked at this sad news…our sincere condolences to you and the family. R.I.P. so so sorry.
- vera buck, Brasschaat, Belgium
My heartfelt sympathy for the loss of Waverly. Prayers and thoughts are with you and your family. Love, Ginny
- Ginny Beauregard, Bloomfield Hills, Michigan
I was so sorry to hear of the untimely death of your beloved father, grandfather, uncle. After reading his beautiful obituary I am sad that we only met him once many years ago. He sounded like a wonderful man. Please know I am keeping your family in my prayers.
- Ellen Rabbitt, Eau Claire, WI
Diana and family, Our thoughts and prayers are with you during this difficult time. Mike and Kathy Wordell
- Mike and Kathy Wordell , Savannah, GA

A candle has been lit!
i am so very sorry for the families loss, prayers.
- harold eckhoff, Richmond Hill, GA
It is with a heavy heart that I reach out to the family and friends. I pray your heart will be at peace as we honor the life of Waverly Phillip Jones. And know that he is with the father and surrounded by those before him in love.
- Linda Rabbitt Litaker, Jacksonville , Florida
Please accept my deepest sympathies for Waverly's passing. My thoughts and prayers are with Diana and with Waverly's family. I never had the chance to meet Waverly in person, but having spoken to him on the phone, I could tell he was special. And now that I have learned more about his life, I can see that he was a truly remarkable person. Diana, please know that I am here for you. Love and hugs, Alexandra
- Alexandra Szechenyi Parker, Mountainville , NY

A candle has been lit!
- Jim Slouffman, Cincinnati, OH
Sending you and family our prayers and thoughts at this very difficult time. ❤️ love
- Carolann and Jim Slouffman, Cincinnati, Ohio
Dear Diana and family, We are so sorry for your loss.
- Lynn and Richard , Pooler, GA

A candle has been lit!
- Donna Miner Love, Savannah , Ga
Services under the direction of:
Fox & Weeks Funeral Directors, Hodgson Chapel
912-352-7200
Funeral Service

11:00 a.m. on Tue, August 23, 2022

Lutheran Church of the Ascension
120 Bull Street (map)


SAVANNAH GA 31401

912-232-4151
Burial

2:00 p.m. on Tue, August 23, 2022

Burnt Church Cemetery
Hwy 144 (map)


RICHMOND HILL GA 31324