We have been made aware that families being served by Fox & Weeks are being contacted by individuals requesting payment over the phone. Fox & Weeks will not contact a family requesting payment over the phone. Please contact the Savannah Police Department immediately if you are contacted and asked to make payment over the phone. Please contact Fox & Weeks if you have any questions.
Celebrating the life of
Randy Hooker
July 08, 1948 - July 30, 2022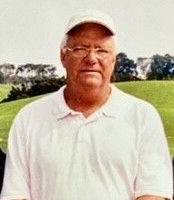 Randy Hooker, 74, passed away on Saturday, July 30, 2022.
Randy loved his family as evidenced by all the things he did to make life better for them. Emma, his wife was the love of his life and his high school sweetheart.
Randy would drive hours to pick up his granddaughter to spend a weekend together. Every Friday he picked up his other granddaughter for the weekend and he and his wife spoiled her every chance they got. He was the best grandfather (papa) any girl could ever ask for.
He had a special relationship with his son Brant. Sharing their mutual love of nature and the outdoors was their main hobby together. He was an avid hunter, golfer, and fisherman. Randy and his dad loved to fish the waters around Skidaway and Wilmington Islands and he shared that love of fishing with his son Brant. The three of them loved to fish and golf together.
Randy was currently an account manager at DSI. He previously worked for Columbia Coastal Transport, Stachan Shipping Co and Ryan-Walsh stevedoring. Randy also served in the Army National Gaurd during the Vietnam war.
He was loved and cherished by all who knew him and will be sorely missed.
He is preceded in death by his parents, Stokes and Zita Mae Hooker.
Randy is survived by his loving wife, Emma; his only son, Brant; his elder sister, Nancy Marston; three grandchildren, Lucy Shores, Alex Hooker, and Sam Gates. Randy was also lucky enough to have two great grandchildren, Karmin and Aaron Shores, and several cousins.
GUEST BOOK
I was so sorry to hear of Randys passing, my sincere condolencies to the family. I had the pleasure of working with him for many years when I lived in Savannah. A truly wonderful man and fellow river rat!
- Richard Grenville, Kansas City, Missouri
Services under the direction of:
Fox & Weeks Funeral Directors, Hodgson Chapel
912-352-7200