Manjeri "Jeri" Subramaniam Raman, 79, died in Savannah GA on August 4, 2022 of unexpected complications from esophageal cancer.
Jeri was born in Calicut (now Kozhikode), India in August 1942, to M.R Subramaniam and Alamelu Subramaniam. In 1967, he came to Buffalo, New York to study chemical engineering. He enjoyed a long career with Spencer-Kellogg (Buffalo, NY), Calgon Corp. (Pittsburgh, PA), and SNF Holding Co. (Riceboro, GA). In 1970, he married Krishna Ranganathan. They raised two children and two dogs in Pittsburgh and Savannah. In 1978, Jeri became a U.S. citizen. He truly loved his country.
Jeri enjoyed politics, doting on his granddaughters, playing golf, watching sports and movies in English, Tamil, and Hindi, and keeping in touch with his many friends and family worldwide. He was an avid student of Hindu philosophy and active in the Indian community in Pittsburgh and Savannah. He loved volunteering with Hopelink in Redmond and tutoring 5th grade math at Gould Elementary in Savannah.
He is survived by his wife of 52 years, Krishna Raman; son Arvind Raman (Redmond, WA); daughter Anandi Raman Creath, son-in-law TJ Creath, and his two granddaughters Trillian and Meridian Creath (Phoenix, AZ); brother Sundar Subramaniam, his wife Lalitha Subramaniam, and his family (Dayton, NJ); and sister Meenakshi Natarajan (Coimbatore, India) and her family. He was preceded in death by his parents and his son Ashwin Raman.
We are grateful that so many relatives and friends came to visit him in his last days.
In lieu of flowers, please donate to Second Harvest of Coastal Georgia (helpendhunger.org), a cause he supported enthusiastically. We will be celebrating his life in Savannah, GA in a few weeks.
GUEST BOOK
Hi, I'm so sorry to hear about your loss. Manjeri Uncle was so kind and welcoming when I moved to Savannah 20 years ago. I will be keeping your family in my prayers.
- Monica Patel, Pooler, Georgia
Our hearts go out to the Raman family. May his soul rest in peace.
- V s mani, Somerset, Nj
Was always a pleasant experience when I would get to talk with Mr Raman. A true gentleman.
- P. Whitledge, Savannah , Ga
Heartfelt condolences to the Raman family!
- Parthasarathy and vanaja , Greenville , South Carolina
My heartfelt condolences to The Raman Family
- Gayathri Radhakrishnan , Savannah, Ga
Condolences to Krishna, Anandi and family, and Arvind. Thinking of all the good times with Raman, Krishna, Anandi, and Arvind ( at SVT camp as an eight year old). Love and hugs from Kami, Meena, Veni, and Sankar
- Sankar family, Pittsburgh , PA

A candle has been lit!
Om Shanti
- Sankar family, Pittsburgh , PA
I still can not believe that Manjeri Raman is not going to be around!! Myself and Kaushalya had a good time with him and Krishna when we were in Savannah for six months! It is a great and unbearable loss and we pray for his soul to Rest In Peace. Our heartfelt condolences to Krishna and family!!
- Raman Subramanian, Pittsburgh, Pa
Our heartfelt condolences to Krishna and the entire family. Our thoughts and prayers are with you all.
- Usha & KSV Raghu, Murrysville , PA.
Dearest Krishna and Raman Family: Sincere Heartfelt Condolences and Prayers, May His Soul Rest in Peace at HIS DIVINE Heavenly Abode OM SHANTHI OM SHANTHI OM SHANTIHI. Raghupathis
- Raghupathi, Pittsburgh , PA
My deep condolences to the entire Raman family. May his memory be a blessing.
- Karis North, Hull, MA
Dear Krishna Extremely sorry to hear that our dear friend Manjeri is not with you and us any more. We pray to Lord Almighty to give you and the family all the strength to bear the loss
- Saraswathy & Vasudevan, Monroeville, PA
Hari Om Our heartfelt condolences to Krishna and you extended family. Dharmarajan and Visalam
- Dharmarajan , McKees Rocks , PA
Our Heartfelt condolences to the family.
- Perumal Krishnan, Canonsburg, PA
In this difficult time, may peace and love surround you and your family
- Companyh, Hinesville, Georgia

A candle has been lit!
You all are in my thoughts a prayers. I loved it when Rami would call and chat about insurance and life. God Bless
- Julie Cassady, Richmond Hill, GA
I had the pleasure of knowing and working with Jeri for many years at SNF. He was a breath of fresh air to all who knew him. Condolences to his family who he always spoke so kindly of.
- Shay, Pooler, GA
Our deepest condolences to Krishna and family. We will miss a great friend and a greater soul. He lived life to the fullest entertaining his mind and body.
- Indira and Ramani, Chicago, IL
My heartfelt condolences to the family.We have lost a good friend.
- T.N.Udhay Shankar, Chennai, Tamil Nadu
My condolences to the Raman family.
- Kimberly Fleming , Hinesville , GA
Our deepest condolences to krishna, Anand and Aravind Radha and sankar,glen rock, nj
- AIYLAM SANKARAN, GLEN ROCK, NJ

A candle has been lit!
Dear Sundar, We regret the passing of your brother Sri Raman. May his atma rest peacefully and eternally in the Paramatma. Our condolences to Krishna and Family, Lalitha and you. Sri Raman lived a splendid life, let that be celebrated. Only time can take away the family's pain in the departure of Sri Raman. May you all be granted the strength while reconciling to his passing. Our love to all, Jaya and Sangam
- Jaya and Sangam, Cherry Hill, NJ
Our deepest condolences to the family and friends. Raman was a very kind person with a big heart. He will be missed by everyone of his family and friends.
- Vasu & Manyam Babu, Shrewsbury, MA
Heartfelt condolences to Krishna, Anandi, Arvind, Sundar, Lalitha, Mrs. Meenakshi Natarajan and extended family. Such a gentle, loving, and accomplished person was taken away. Pray to God to give family strength to deal with this loss. Ravi and Mani
- Nick Ravichandran, Winter Garden, FL
My heartfelt condolences to the the family. He was a wonder person.
- Robbie Young, Hinesville, GA
Periappa, Appa, Amma, Mahesh and I are going to miss you so much. Thank you for everything you have done for our family. Proud to call you my uncle. Rest In Peace.
- Subramanians , Dayton, NJ
Kannan was so dear to us and we will miss him terribly. Deepest condolences to Krishna, Anandi, Arvind and all his dear ones.
- Sudha Narayana Swamy, Hong Kong, HK
One who has stood as a pillar in the family is reported to be not around us. All our Heartfelt Condolences.
- Arunachalam Srinivasan , Plainsboro , New Jersey
We were together in AC tech Chennai 1965-67, and were good friends. I lost touch with Raman unfortunately until we rediscovered each other a few years back. Since then, we were in regular contact. Infact, we have been thinking about meeting, but it didn't happen. Last December, as I was about to return to india, I spoke to him and learnt about his cancer. I was shocked and very sad, but thought that he would pull through. I would very much have liked to meet him in August this year when I arrived in USA, but sadly, he is no more with us. I pray for peace for him and solace to his bereaved family. My heart felt condolences. I lost a very good friend, and regret that I could not meet him.
- Raj Maheshwari, Baltimore/ Mumbai , Maryland
Kannan was very very special to us. Hard to find such an affectionate & caring relative. Krishna, I shall always cherish the lovely moments I have spent with both of you. My heartfelt condolences to you and the entire family
- Meena Narayanaswamy , Bangalore, Karnataka
Krishna and Arvind, We are so sad to hear of Jeri passing. It was always such a pleasure to see him and stop for a chat. Our hearts go out to you and the rest of your family. He will be greatly missed❤️❤️
- Teresa and Jason Kingsbury , Redmond , Wa
Our heartfelt condolences to the Raman family. Very sorry to hear this. Raman uncle was a great man and we will miss him immensely. Rest In Peace uncle.
- Prashanth and Ramya, Houston , Texas
Cicero once said: "The life of the dead is placed in the memory of the living." May that memory of great times and moments shared sustain you through the rough times ahead.
- Ron & Betty Creath, Tempe, AZ
Dear Krishna Auntie, Anandi, TJ, Trillian, Meridian, and Arvind - our deepest condolences on your recent loss. We're keeping your family in our thoughts and prayers. When I think of Raman uncle, I always remember his energy, enthusiasm, kindness, humor and generosity. And of course, his love of sports! I remember fondly our many trips to Pittsburgh growing up, and when he came to see Nila as a baby. May he rest in peace. Love, Asha, Sanjay and Nila
- Asha Subramanian, KENSINGTON, MD
Krishna - very sorry to hear this news. Our heartfelt condolences on your loss, we will hold you in our thoughts and prayers in the coming days. Best wishes to Anandi, Arvind and TJ, and we wish you all strength in the coming days. Yours sincerely, Chidambar Ganesh
- Chidambar Ganesh, East Greenwich, RI
Dear Krishna Ji, very sorry to hear the sad demise of our dear friend Jery. Our heart felt condolences go out to you and the Raman family. We share your grief with a heavy heart. Jery lived a beautiful life ,had a kind soul and a generous person cherished by everyone in Savannah.Myself and Urvashi had a wonderful time with Jery during South India trip.His involvement and leadership in India association of Savannah and Vedanta teachings will be greatly missed. Our thoughts and prayers are with you and the family.May God bless his soul in peace! and give strength to you and the Raman family to bear this loss. -Ram and Urvashi Bashambu, savannah, GA.
- Ram and Urvashi Bashambu, Savannah, GA
My deepest condolences on Uncle's passing. I feel fortunate I got to know him and spend time with him. He had such a passion for the world around him and the people in it. He made a positive impact on anyone he interacted with. He will be remembered with the fondest memories.
- Shilpa Venkateswaran , Aliso Viejo , CA
Raman uncle is one of the kindest and most friendly people I have ever known. A great friend to my parents and our entire family. And he is one of few people I could have a great sports conversation with - I even have a text from him late in the fourth quarter from the Bills-Chiefs playoff game this past January. My deepest condolences to Krishna auntie, Anandi, Arvind, and the entire Raman family.
- Ashok Subramanian, New York, NY
Our love and prayers to Krishna and family.
- Manjula and Vasant Germanwala, Pittsburgh, PA
So sorry to hear this. I worked with Jerri at SNF. We started there literally on the same day, and both of us retired there. He was a good man and was well respected by all who knew him. Most sincere condolences to his family.
- Rick Campbell, Sneedville, TN
I do not know where to start. Jeri to me was not just a colleague, but a friend and a mentor. His jest for life and his amazing advice in so many topics have carried me through my professional career. I enjoyed traveling around the world with Jeri meeting customers and prospects and embracing diverse cultures. Krishna and Jeri hosted my father and me several times in Savannah and we had great times with them in Costa Rica and Guatemala. Jeri will be remembered as a most fantastic man who loved life, his family, and his friends. He leaves love and great memories. My condolences to Krishna, Arvind, and Anandi and her family.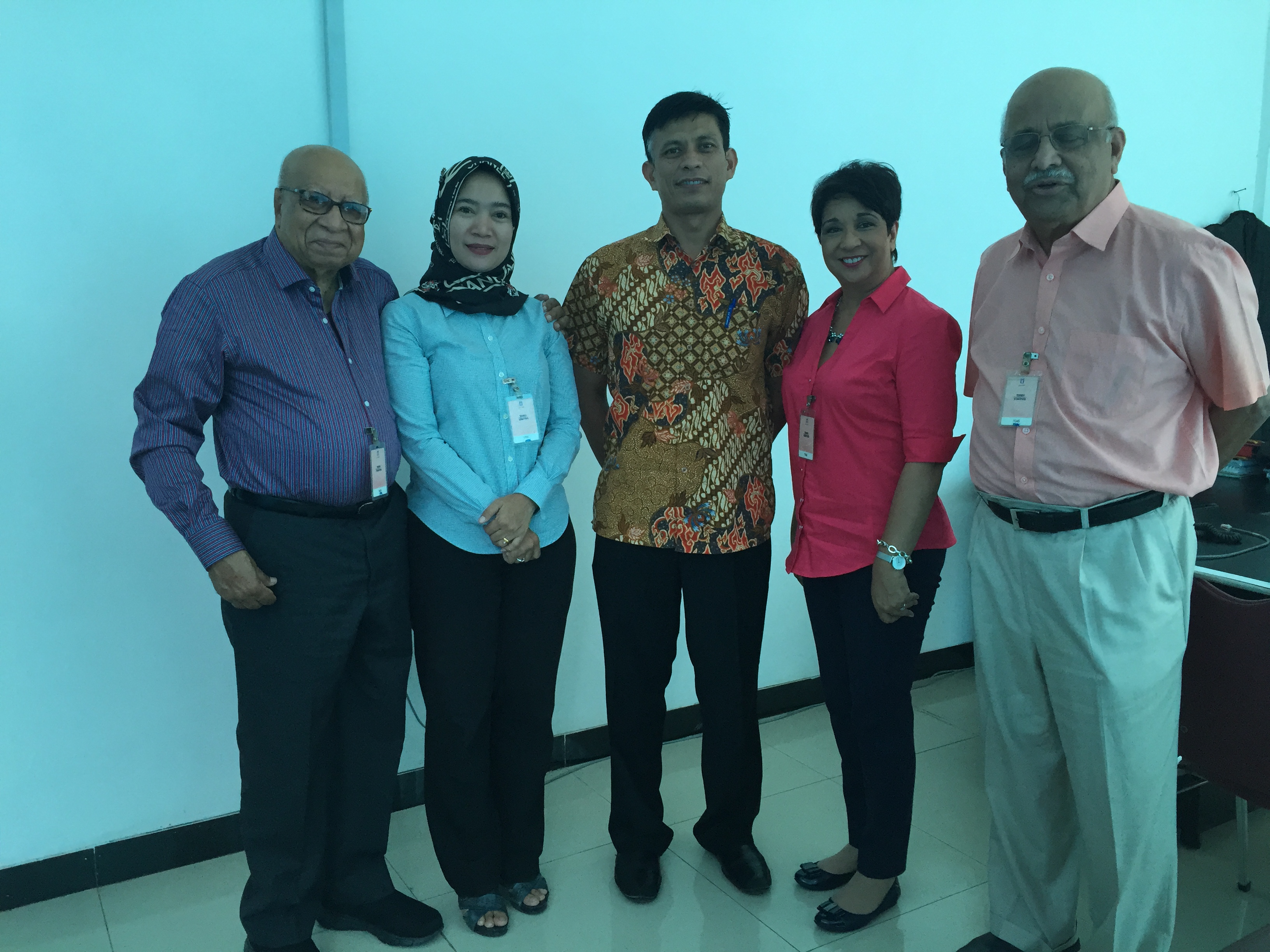 - Sherina Anderson, Kingwood , TX
Condolences to friend Krishna and family. I worked with Jeri at Calgon in Pittsburgh and had lunch with him every day we were both in town. A great work friend for many years and even after when I retired in SC and he moved to Savannah. The family will miss him lots and lots, but so will lunch workmates Jack and Bill. Manjeri, we'll miss you!
- Stan Karmilovich, St. Helena Island, SC
An immeasurable loss. Rest In Peace dear friend.
- Jan and Bill Mitchel, Pittsburgh, PA
Deeply shocked and saddened to hear the sudden passing of dear and kind friend Manjeri Raman . May Almighty provide the courage and strength to his family especially Krishna to cope with this loss and peace to the departed soul. Harpal and Harbhajan.
- Harpal Singh and Harbhajan Kaur, Decatur (Atlanta) , Georgia, USA
Theresa and I are so sorry for your loss. Jeri had a great zest for life and so many friends, he was a wonderful man.
- David Kaye, Richmond Hill, GA
I'm very sorry to hear of the passing of Raman Uncle. We attended his youth group growing up in Savannah and also got to know Arvind and Krishna Ben. He was a community leader and will be missed. May god bless his soul and be with the Raman Family during this difficult time.
- Jay Patel, Savannah, GA.
Services under the direction of:
Fox & Weeks Funeral Directors, Hodgson Chapel
912-352-7200
A Celebration of Life Will Be held at a later date