We have been made aware that families being served by Fox & Weeks are being contacted by individuals requesting payment over the phone. Fox & Weeks will not contact a family requesting payment over the phone. Please contact the Savannah Police Department immediately if you are contacted and asked to make payment over the phone. Please contact Fox & Weeks if you have any questions.
Celebrating the life of
Martha Ann "Marty" Buelterman
January 18, 1942 - July 28, 2022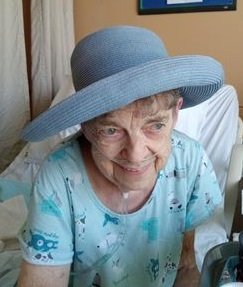 Martha Ann "Marty" Buelterman of Ellabell, GA passed away late Wednesday night, at the Abercorn Rehabilitation Center, while under the care of SunCare Hospice, after a long battle with COPD. Born to Edward & Dorothy (Kruthaup) Buelterman in Cincinnati, OH, she was the eldest of 3 girls. While in nursing school in her early 20's she met and married, Roland D (Mac) McKenzie, also of Cincinnati, OH. Together, they had 5 children. Until the children were all in school, Marty was a stay-at-home mom. Once all were in school, Marty worked for Cincinnati Area Senior Services as a neighborhood center manager. The seniors who went to the center appreciated how she managed the center as well as her creative nature for activities.
In 1982 the family relocated to Cleveland, OK. While in Cleveland Marty did small catering jobs, including cake decorating. In 1985 Marty and Mac relocated to Savannah, GA. In Savannah, Marty continued decorating cakes and worked part-time for a department store in the Gift Wrap Department. She made beautiful packages for her customers, as well as her personal gifts. Marty worked until her COPD made it no longer possible. You would still find her cooking delicious foods and desserts. One of Marty's favorite projects was continuing a tradition started by one of her sisters, of making beautiful Christmas stockings for family and friends. She continued this lovingly until 2020 when her hands could no longer do the detail work.
Marty is survived by her sisters; Sylvia Jean Buelterman of Cincinnati, OH, Mary Conley of Newark, OH, her five children; Michael (Amy) McKenzie of Savannah, GA, Mark (Mary) McKenzie of Hominy, OK, Linda Thornton of St Petersburg, FL, Melanie (Jeff) Freeman of Ellabell, GA and Donald (Tammy) McKenzie of Beaufort, SC; her four Grandchildren, Stephan (Kayla) McKenzie of Mannford, OK, Jedidiah (Julia) McCall of St Petersburg, FL, Samantha McCall of Tampa, FL and Ethan McKenzie of Beaufort, SC and one Great Grandchild, Adelyn McKenzie of Mannford, OK, four nephews, many cousins, extended family and friends.
In May of 2023, her children will be taking her home to Cincinnati, OH to be with her parents in Gate of Heaven Cemetery. She will be remembered and missed by many.
Services under the direction of:
Fox & Weeks Funeral Directors, Hodgson Chapel
912-352-7200
A Private Service Will Be Held