Celebrating the life of
Harold "Rip" Eugene Beaver, Jr.
Passed away on July 03, 2022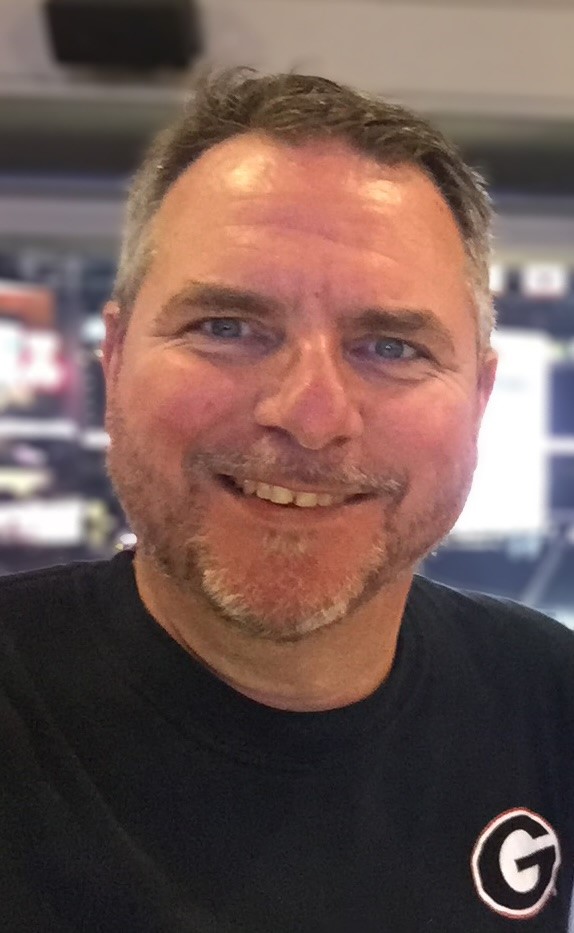 Harold "Rip" Eugene Beaver, Jr, passed away on July 3, 2022, at the age of 58, at his home in Buford, Georgia after his fight with cancer. He and his family lived in Ringgold, Georgia during his early years. They then moved to Savannah, which he has always considered his hometown. He graduated from Groves High School in 1982 and became a Deputy Sheriff in Catoosa County, Georgia for 4 years. Rip moved back to Savannah and from then, has worked in the shipping industry for over 35 years. He was currently employed by Hapag Lloyd America, which took he and his family to the Atlanta area three years ago.
Rip is survived by his wife of 25 years, Marcy Waters Beaver and their children. Bryce (Jordan); Tommy; Owen and Rine. A mother in law, Debbie Waters; sister in law, Tonya Morgan (Roby); a sister, Michelle Beaver; brother, Randy Beaver and several nieces and nephews. Rip was happiest spending time with his family and friends.
He loved to grill and watch his Dawgs play. Rip is preceded in death by his parents, Harold Beaver and Linda Tillman Beaver.
We will honor and celebrate Rip's life with a visitation and memorial service at Fox & Weeks Islands Chapel. Visitation from 4:30 - 6pm on Friday, July 8 with a service immediately following at 6pm.
The family would like to express their sincere gratitude to the staff at Inspire Hospice and Palliative Care of Buford, GA.
GUEST BOOK
My deepest sympathy to your family. Take care.
- Tina Choy, Kendall Park , New Jersey
So glad Rip came into my life. What a great positive guys. I'll cherish our time together although it was way too short. Lisa and I will be there for you! Rest In Peace my friend!
- Phillip Summers, Suwanee, GA
Rip was always positive and was a friend to many. I don't think he ever met a stranger, all it took was one mention of his beloved Dawgs and you were in for a lively conversation. I know I am a better person from knowing him. Rest In Peace my good friend, you will not be forgotten.
- Keith Binkley, Cumming, Georgia
Our deepest sympathy. We are keeping Rip's family in our thoughts and prayers.
- Stephen & Dana Dodd, Guyton , Ga
I am very saddened to hear of the passing of Rip. I did not know him for that long but will always remember our business travels fondly. My deepest condolences to Marcy and the boys. Rest In Peace ❤️
- Evert Benade, Bethlehem, GEORGIA
Sending prayers for your loss. We went to school with him when we were at groves,and graduated together. At least his suffering is now over,and is with our father feeling no pain.
- Dana scott and Louis Lanier , Pooler, Ga
I have known Rip and his family for such a long time and had a great pleasure of working and knowing him all these years. Sending my thoughts and prayers to the family.
- Chrissy Kingery, Richmond Hill, Georgia
Heaven's sounding sweeter all the time. So Thankful to have known Rip. He always went above and beyond, truly one of a kind. You will be missed but I know we'll meet again. Lifting you up Marcy and family.
- Melissa Miller, Savannah, GA
I had the pleasure of meeting the entire family when I moved into Picket Fences Subdivision. Rip loved his family and friends and he will truly be missed. My prayers and condolences are with his beautiful wife Marcy and his handsome sons.
- Robbin Manior , Rincon, Georgia
Marcy so sorry to hear of Rip's passing. Our prayers are with you and your family. May you find peace knowing he is resting now not in any pain.
- Susie Foley, Savannah , GA
My deepest condolences and prayers for family at this time of loss. Rip and I were classmates and graduated together in '82.
- Kim Browning Foran , Wilmington Island, Ga
So sorry for your loss condolences to you all through this difficult times Rest easy Uncle Rip
- Aimee Barras, Claxton , Georgia
We are soo sorry to hear of Rip's passing. Our condolences to the entire family. We are praying for peace and comfort!! We went to Groves with Rip and graduated in'83.
- Kenny and Kimmy Moore, Claxton , GA
My condolences to your family on the great loss of Rip.
- Wayne Wagley, Marietta, GA
My condolences to your family on the great loss of Rip.
- Wayne Wagley, Marietta, GA
I am very sorry for your family's loss. I hope you find some comfort in many loving family memories.
- Wayne Wagley, Marietta, Ga
I have know Rip for at least 35 years. He worked with me know ver many of those years. He was a genuinely nice guy. I will miss him. Blessings and prayers to his family. May he Rest In Peace.
- Terry Morris, Savannah , Georgia
May all the blessing of heaven rest upon the family at this time. Tony and Patty Noles
- Tony Noles, Pooler, Georgia
We graduated together 1982 I remember him always with a beautiful smile and I those bow legs never knew why they called him RIP but he was a good guy to me Rest In Peace
- Sharon Baul Spencer , Savannah, GA
Sending our prayers and condolences to Marcy and there family . He was a great man , friend and working companion . His laughter and friendship will be missing .
- Tim Norris, Alpharetta, GA
Prior to his last employment with Hapag-Lloyd Lloyd, Rip worked for several years for UASC at our Savannah Office. I had the pleasure of hiring Rip and he was truly a tremendous worker ( as our National Maintenance & Repair Manager of containers & chassis). More so, Rip was a great guy - was loved by his co-workers. Gone too soon but his family could be proud to know that Rip was well respected for being an expert in his field of work and a great team player. My condolences to Marcy & the family.
- Anil J Vitarana, Cranford , NJ
I'm so very sorry for your loss,I know how Rip loved his family. Rip and I have worked together in some way since we were at Lanport together in 1987. He was awesome to work with and always had a smile and THAT LAUGH! Lots of good memories! Hugs and prayers for all of you during this very difficult time.
- Melissa Dunwody, Savannah , Ga
Our condolences to Rip's wife and children. I was a cousin to Rip's dad and have many happy memories of Rip when was a child and young man. The Beaver family has many losses this year with Donald,Charles and now Rip. God Speed Rip..way to young. The Eddie Woods Family Mt.Juliet,TN.
- Eddie Woods, Mt.Juliet, TN
My condolences to Marcy and the family. In my thoughts and prayers. We are here for you Marcy.
- Trey Brilliant, Peachtree Corners, Georgia
So very sorry to hear about Rip's passing. I have had the pleasure of having Rip as a customer for many years. He was such a wonderful, kind and patient person. My prayers to the family. Miss you much Rip.
- Donna Russ, Chesapeake, Virginia
Rip was a Dear Friend and a wonderful colleague and working with him was a great pleasure. He was loved by all his colleagues and it is a very sad moment for all of us. Sending our prayers, blessings and heartfelt condolences to Marcy and the family. You will be missed Rip and you will always be in our hearts.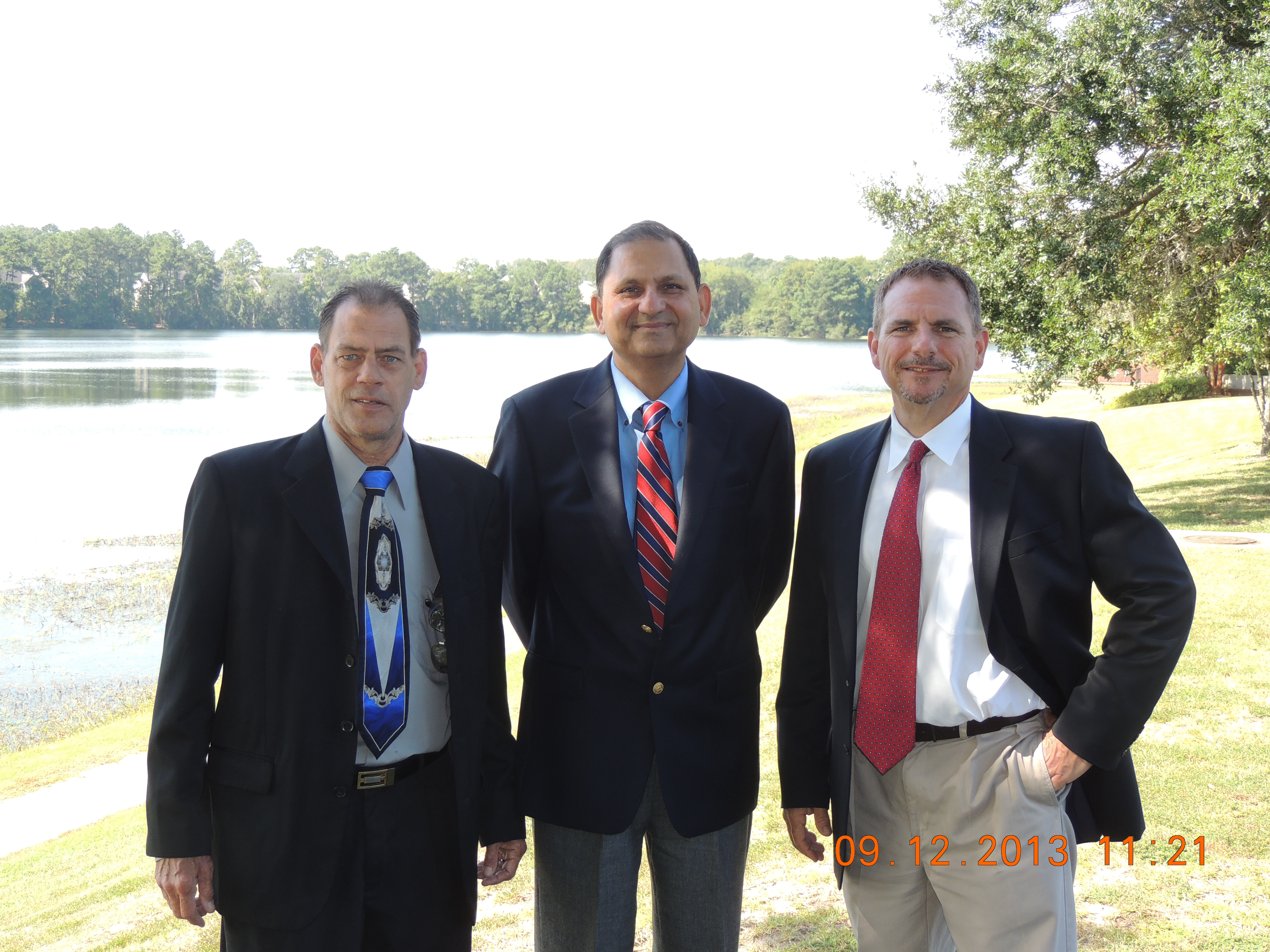 - Arvind Vyas, Savannah, GA
Rip was always a cheerful friend and anybody that knew him will miss him.
- Barry (Rodney) Chumley, Guyton, Ga.
Marcy, may God bring you and your children His peace that is beyond all understanding. Sending love at prayers, Phyllis
- Phyllis Jean Waters, Galveston, TX
Rip my brother Chuck is devastated my heart is hurting, crying while l'm writing this l will see you in Heaven my brother....
- Chuck, Port Wentworth , Ga
Ms. Marcy I'm so sorry for your loss. Many prayers going out to you and the family in this difficult time. He truly was a great man and will be missed. I was a childhood friend of the Beaver's (Rip, Randy, and Michelle) from elementary through High school. I was very sadden when I received the news of Rip's passing. He and I graduated together. His mom and mine were close friends and worked together for many years as they raised 3 kids as single moms. So many wonderful memories. He always had a smile and a laughter when in his presence that is unforgettable. I'm honored to have known him.
- Vic Elsey, Oviedo, Fl
Will always cherish his positive attitude, deep sense of responsibility and great kindness. Rest in Peace dear friend and colleague!
- Carr, Marietta, Georgia
I was very fortunate to have had the opportunity to work with Rip at UASC and then at Hapag-LLoyd. I will always remember the time he brought a 20' box to the office so we can all see a container up close and climb into it. He was just genuinely a nice guy. I always saw him with a smile on his face. He will be missed.
- Danica Grone, Duluth, GA
My deepest sympathy to your family. I had the pleasure of working with Rip at Hapag Lloyd starting in Savannah and moving to Peachtree Corners, GA . Rip and I also attended Robert W. Groves High School together. He and I had many talks about the shipping industry and football, both in which he was dedicated too. He was such a genuine guy who loved his family. I am so sorry to hear of his passing. I pray for peace for the family and his many friends.
- Faith Ellis Thompson, Savannah, GA
I remember when Rip and his family moved to Garden City. My first thought was, "He will be able to help us on the football field!" And, he did. What a great guy with a great smile! Rip was a great friend! Rest in peace, my friend! Praying for the family.
- Bobby Young, Elgin, SC
WE ARE SO SORRY TO HEAR OF RIP'S LOSS HE WAS A GREAT GUYS AND WELL LOVED. PRAYERS GOING OUT FOR ALL THE FAMILY MEMBERS !
- DENISE AND TERRY LANGFORD, POOLER, GEORIGA
I am so sorry to hear of Rip's passing. It was a pleasure to work with him at UASC. He always had a smile on his face and was eager to help others. Family always came first. He was well thought of by everyone. My thoughts and prayers for Marcy and family.
- Kathy Ellis, Richmond Hill, Georgia
Oh Marcy. There are no words that will make this any better for you and the boys. Rip was a great person, with a great sense of humor. I will always cherish our memories of cookouts and watching the boys grow up. Praying for you and sending lots of love your way.
- Kim Hesling, Clyo, GA

A candle has been lit!
GODSPEED MY FRIEND ,MAY HE RIP JOHN F MELL
- JOHN MELL, Savannah, Georgia
Services under the direction of:
Fox & Weeks Funeral Directors, Islands Chapel
912-898-0900
Memorial Visitation

4:30 to 6:00 p.m. on Fri, July 08, 2022

Fox & Weeks Funeral Directors, Islands Chapel
4605 Hwy 80 East (map)


Savannah GA 31410

912-898-0900
Memorial Service

6:00 p.m. on Fri, July 08, 2022

Fox & Weeks Funeral Directors, Islands Chapel
4605 Hwy 80 East (map)


Savannah GA 31410

912-898-0900