We have been made aware that families being served by Fox & Weeks are being contacted by individuals requesting payment over the phone. Fox & Weeks will not contact a family requesting payment over the phone. Please contact the Savannah Police Department immediately if you are contacted and asked to make payment over the phone. Please contact Fox & Weeks if you have any questions.
Celebrating the life of
Maggie Gignilliat
July 31, 1957 - June 25, 2022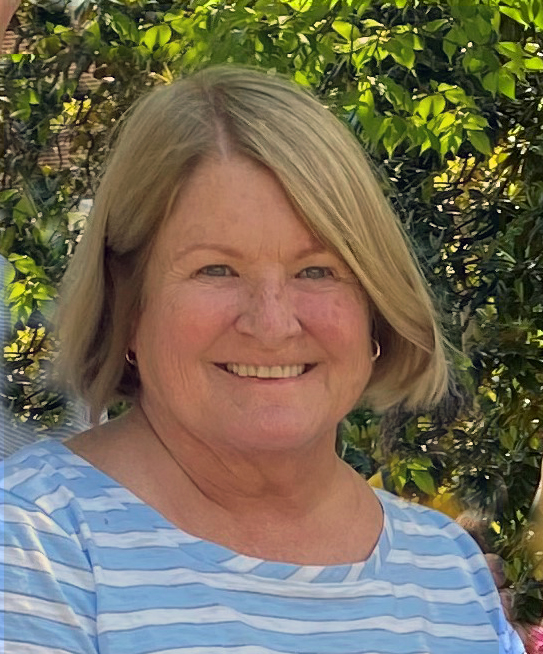 Maggie Gignilliat joined her Lord and Savior in heaven on June 25, 2022. She is a cherished wife, beloved mom, super-fun Nana, loving sister, generous friend and cared deeply for all her extended family and friends. Maggie was a woman of integrity and many talents which she used to further the Kingdom of God wherever He led her. She was a compassionate listener and shared her prodigal story, trusting the promises of God's forgiveness and grace for all believers.
Born Margaret Ann Peterson on July 31, 1957, to Colonel Robert D. Peterson and Louise Jones Peterson, she was the youngest and favorite sister of seven children. As a self-described "Air Force brat," Maggie moved frequently growing up and, as a result, she made friends easily and rearranged the decor in her future homes often.
Maggie would tell you she was far from perfect but her sensitivity to the call of God in her life led to many fruit-producing opportunities. Maggie graduated from Arkansas State University with an accounting degree and was a manufacturing supervisor, bookkeeper, banker, real estate agent, daycare provider, and church finance assistant among other jobs. After birthing four children of her own, she graduated from Armstrong State University with a nursing degree specifically so she could serve as a Labor and Delivery nurse for nearly 17 years at Memorial Health.
After guiding her four children to college, Maggie graduated from the University of Georgia with a Masters of Social Work and worked tirelessly to earn her Licensed Clinical Social Worker certification. She had a passion for helping people and found great satisfaction counseling people, advising patients at St. Joseph's Hospital as a discharge planner and then guiding patients and families as a social work professional for St. Joseph's neurology practice. In all aspects of her life, she shared the love of God with all people.
Maggie could not help but generously share her time in various ways with her children's and grandchildren's schools, church youth groups, and with the Emmaus and especially Chrysalis communities, where she served in many servant-leader positions.
Maggie's favorite role was loving wife, partner and soul mate to Matt for forty years. Her love and dedication to her children might only be eclipsed by her love and commitment to her grandchildren. From school pickups to renting a 35-foot inflatable water slide to joint vacation trips to reunions, Maggie loved spending time with her family and bringing them all together.
Maggie is now celebrating in heaven with her daughter Michelle Gignilliat Harvey, brother Bob Peterson, her parents, plus relatives and friends who arrived there before her. She is survived by her best friend and husband Matt Gignilliat, daughter Elizabeth Zielinski (Clay), son Mathew Gignilliat (Kali), son Brooks Gignilliat (Jordan), son-in-law John Harvey (Dana); grandchildren Daniel Harvey, Ella Harvey, Emilia Zielinski, Garner Gignilliat, Cora Zielinski, Owen Gignilliat, Lola Gignilliat, Sammy Gignilliat, as well as Eric, Will and Thomas Davidson; sisters Robbie ter Kuile (Chris), Patty Campbell, Nancy Rains, Lillie Downs (Ben), Helen Downey and sisters-in-law Patty Peterson and Triece Ziblut (David); parent-in-laws Arthur and Molly Gignilliat; and many nieces, nephews, and cousins.
Maggie loved the Lord and was keenly aware of how much she was forgiven and loved by God. She would encourage you to also develop a personal relationship with Jesus or deepen the relationship you already have. For those who would like to honor Maggie's memory in a tangible way, the family suggests you make a special offering to your church or other community ministry that serves people in the name of Jesus.
A Celebration of Maggie's life is will be held at 10:00 a.m. on Tuesday, July 12, 2022 at Compassion Christian Church, Henderson Campus. The family will receive friends at Compassion Christian Church from 9:00 a.m. until 10:00 a.m. and 11:00 a.m. until 12:30 p.m. on Tuesday, July 12, 2022.
GUEST BOOK
Tommy and I are heartbroken. We consider the Gignilliats our family too. Maggie and I often jokingly called ourselves sisters. We will all miss her so much, but pray that your strong faith and warm memories will comfort you.
- Dana Zielinski , Fernandina Beach, FL
I had the pleasure to get to know and see Maggie a couple of times, she was an amazing human being. I remember how happy I used to be when I knew she was coming to Spain to visit. I am heartbroken about what happened and I will keep on praying to God to give all the support and confort her family needs right now.
- Daniela Scur, Caxias do Sul, RS - Brazil
Matt and Family, We lift you in prayer for God's strength and comfort during this time. Maggie's life is a testimony to the freedom that she found in Christ, and the way she consistently lived out that faith and pointed others to Him challenges us to be more like the Lord. Only God knows how many lives have been influenced and will continue to be influenced because of Maggie's faithfulness.
- Matt and Tami Conner, Richmond Hill, Georgia
Truly heartbreaking for so many who loved her. Maggie's death is a reminder that we are God's children and He and will call us home when He is ready for us. No doubt He has something special planned for her up there. Continued love and prayers for you Matt!!!
- Amy Hughes, Savannah , GA
Matt, Elizabeth, Matt and Brooks, I am saddened beyond words to know that Maggie is no longer physically with you. Her love for each of you and your families was so large that I'm confident it will remain with you forever. She was so proud of you all and shared your accomplishments every year in her Christmas messages. I will miss those in the future. She fought the good fight and her courage was a testimony that led most of us deeper into our relationship with the Lord just reading the FB posts. The community will miss her faithful service. I pray for you to have comfort and peace in the days to come. "Well done, good and faithful servant, Maggie" Much love, Connie Ross
- Connie Ross, Savannah, GA
So sorry for your loss of sweet Maggie. She was a special and wonderful woman.
- Rick and Amy Kyall , Rincon , GA
This is really a heartbroken news, I only met her few times, but her son Brooks is one of my best friends. I believe that whoever raised a wonderful man like Brooks must be a great and amazing woman. Very sorry for the loss. Pray for her family and may God help them during this time. And may she find peace in the heaven. My sincere condolences to the family. Please be strong and wish all the best to the whole family!
- Rongji Tu , Valencia , Valencia Spain
We are so sorry to hear about Maggie passing Maggie was a wonderful person Maggie is in heaven but Matt and Peterson Family we want you to know that you will be in our thoughts and prayers always
- Mary Jones, Jonesboro, Arkansas

A candle has been lit!
- Linda Levangie, Savannah, GA
I am so sorry Mr. Matt, my heart breaks for you .
- Judith Anderson , Hilton Head Island ( formerly Savannah), S.C.
I am saddened to hear of Maggie's passing. What a remarkable person/parent she was!! I met Maggie many years ago when Elizabeth was a student in the 5th Grade and remember the many times that she volunteered her time at Bartow Elementary School. To the family, I pray that God will comfort you during your time of sorrow. Carrie Lawsom 5th Grade Teacher
- Carrie S Lawson, Sav, GA
My deepest condolences to the Gignilliat family. I had the pleasure of graduating with Maggie.She was a great person to know in that If you had a problem understanding material in a subject she was the one to get the clearer answer so all could understand.She was a hard worker and caring person with a smile.Rest in peace.God has said well done my good and faithful servant come home and rest.
- Rena Matthews , Savannah , Ga
Matt and family, You are in our thoughts and prayers.
- Melinda and Steve Sutton, Savannah, Georgia
I was Maggies clinical social work supervisor during her graduate social work internship at Emory. She was a warm and loving person, who was a strong and caring advocate for her patients. It was a honor to be a part of her life plan, and calling. I am keeping you all in my prayers, and was so sorry to hear of her passing after her long battle.
- Jan Marie Robertson, Roswell, GA
Dear Matt and Family, I am so sorry to hear of your loss of Maggie. She sounds like such a wonderful woman, I know she will be missed not just by you but by many. Please know I will have you in my prayers.
- Pat Youngquist, Savannah, GA
Matt, our thoughts and prayers are with you and your family!
- Jim & Janet Stevenson, SAvannah, Ga
Elizabeth and Family; We know that Maggie's strength and grace will live on in you and everyone she touched during her amazing life. May God's embrace bring you peace.
- Matt and Danielle Parker, Santa Rosa Beach, FL

A candle has been lit!
I have only known Maggie for a short time, but it feels like she has always been in my life. Maggie's spirit and unquestionable ability to build community and support the people around is one of her best qualities and makes you want to be better and do better as a person. I want to be Maggie "when I grow up". I will miss you Maggie
- Kathryn Wiesmann, Hampton, VA
Dearest Matt and Family: Phyllis and I and the Mayfield Family are heart broken over precious Maggie's death! We followed her valiant fight for weeks and we cried and celebrated depending on the report we got each day! Many prayed for Maggie and it showed the depth of her friends' and family's love for her! Our prayers are ongoing for you and your family….we are praying that you find peace in knowing she is pain free and is being loved and cared for by our Lord! May that precious Soul Rest In Peace and may we NEVER forget her and the loving impact she made in soooo many lives! God bless you and your awesome family….we love you dearly, Phyllis and Gay Mayfield
- Phyllis and Gay Mayfield , Savannah , Georgia
Matt and family, George and I are so very sorry for the loss of Maggie. She was a joy to know. I got to know her both as a mother and a grandmother of sweet students. You all will be in our prayers.
- Linda Fidler and George Fidler, Savannah, GA
Matt , I'm so sorry for the loss of your wife Maggie . I just learned of it . My condolences to all your family . I lost Jean in April and know there are no words at this time . Don
- DON HARBUCK, SALEM, ALABAMA
I was so sad to hear about Maggie's early passing, and that I missed her Celebration of Life. I work with and love her sister Triece, and I am so sorry for your familiy's loss. I hope that knowing she was right with God brings you peace. I know you all miss her terribly. I will keep you in my prayers. ❤️
- Beverly Sheppard, Savannah, Georgia
Matt, Condolences to you and the Gignilliat Family. May Maggie rest in peace. Frank
- Dr. Frank P. Rossiter, Jr., Savannah, GA
Services under the direction of:
Fox & Weeks Funeral Directors, Hodgson Chapel
912-352-7200
Visitation

9:00 a.m. until 10:00 a.m. and 11:00a.m. until 12:30 p.m. on Tue, July 12, 2022

Compassion Christian Church - Henderson Campus
55 Al Henderson Boulevard (map)


SAVANNAH GA 31419