James Emmett Ducey, Sr., D.V.M.
Dr. James "Jimmy" Ducey of Savannah, Georgia passed away peacefully in his sleep in the early morning hours of Sunday, May 29, 2022, nine days shy of his 88th birthday. He fought a long, brave battle with frontal lobe dementia at home, and under Hospice Savannah care for the past 2 months.
Jimmy was born in 1934 in Savannah, the youngest of four children, to Frederick Emmett Ducey, Sr., D.V.M. of Gloucester City, NJ and Mildred Merle Ellington Ducey of Raleigh, NC. He attended Blessed Sacrament Catholic School, and briefly Denver, Colorado's Catholic school during World War II. He was a graduate of Savannah High School and attended the University of Georgia where he earned his Degree of Veterinary Medicine in 1958. He also met the love of his life, Jayne Malcom, while attending UGA. They married in 1959 and she joined him in Fort Hood, Texas where he served as a veterinarian in the Army.
In 1960, Dr. James Ducey returned to Savannah to take over his ailing father's veterinary practice. He performed surgeries through his 82nd birthday until he broke his back ending that part of his career. Dr. Ducey retired in 2020 after 60 years in private practice treating many of Savannah's pets and is an Honor Roll Member of the American Veterinary Medical Association.
In the 1970s, Dr. Ducey, along with friend Charlie Martin, Sr., founded and coached the Wilmington Island Cardinals baseball, soccer, and football teams. One year, prior to a Savannah Braves baseball game, local teams were invited to parade across the baseball field. As the Wilmington Island Cardinals passed the dugout in their baby-blue uniforms and cardinal baseball caps, a Savannah Braves player commented that the Cardinals had better uniforms than the Savannah Braves. That comment had Dr. Ducey beaming with delight. The Cardinals not only had nice uniforms, his soccer teams also won multiple City Championships.
In addition to his veterinary practice and coaching sports, Dr. Ducey was a communicant of Nativity of Our Lord Catholic Church in Thunderbolt and a lector there for more than 50 years, where he and Jayne brought up their children in the Catholic faith. In later years, he also sang in the choir at St. Peter the Apostle Church. Dr. Ducey was a past member of the Knights of Columbus. He continued his military service in the Army Reserves for over 20 years retiring with the rank of Major.
He and Jayne worked and sacrificed to educate their children in Catholic Schools. It became humorous at St. Peter the Apostle School during Catholic Schools Week on Grandparents Day, when the grandparents would be asked to stand if they had at least 5 grandchildren in the school, and remain standing if they had at least 6, then 7, etc., until Dr. and Mrs. Ducey would be the last grandparents standing, for numerous years.
Dr. Ducey was preceded in death by his afore mentioned parents, his sister Martha Ducey Clutts Parnelle, his brothers Frederick Emmett Ducey, Jr., D.V.M. (Margaret), and Robert Emmett Ducey, Sr. (Betty), and his niece Patti Ducey.
He is survived by his loving wife of 62 years, Jayne Malcom Ducey formerly of Social Circle, GA; his children James Emmett "Scooter" Ducey, Jr. (Stephanie), Karla Ducey Hughes (Jon), Clifford Malcom Ducey (Leslie), Jeffry Ellington Ducey (Cheryl), and Erin Ducey Thompson (Trey). He is also survived by 13 grandchildren who loved, and will miss hearing, his Mickey Mouse, Donald Duck, and Goofy impressions during their birthday calls each year: Patrick (Kaitlin) Hughes, Mike (Katie) Hughes, Keely Hughes, Mary Grace Ducey, Kate Hughes, Garrett Ducey, Ryan Ducey, Will Ducey, Marie Ducey, Macy Thompson, Reagan Ducey, Brooke Thompson, and Ross Ducey; 2 great-grandchildren: Declan and Hayden Hughes; his niece Gail Clutts Kramer, Ponchatoula, LA; his 3 Augusta nephews Robbie, Ricky, and Tony Ducey; his South Carolina nephews Freddy, Tommy, and Pat Ducey, niece Barbara Anne Weaver and brothers-in-law Joseph Adams Malcom and Archie Preston Malcom Jr.
In lieu of flowers, the family welcomes donations made to St. Peter the Apostle Catholic Church in Dr. Ducey's name for the St. Peter the Apostle Church Organ Fund, or the charity of your choice.
Visitation: 5-7pm (Rosary at 6:00) Thursday, June 2nd at St. Peter the Apostle Catholic Church on Wilmington Island.
Funeral Mass: 11am Friday, June 3rd at St. Peter the Apostle Catholic Church followed by burial in Greenwich Cemetery.
GUEST BOOK
Dear Scooter and family, I can't tell you how terribly sorry I am to learn of Dr. Ducey's passing. He was a great coach and an even greater man. I shall carry nothing but the fondest memories of him to my own grave. Peace, love, and blessings of comfort to you, your mom, and all your brothers and sisters.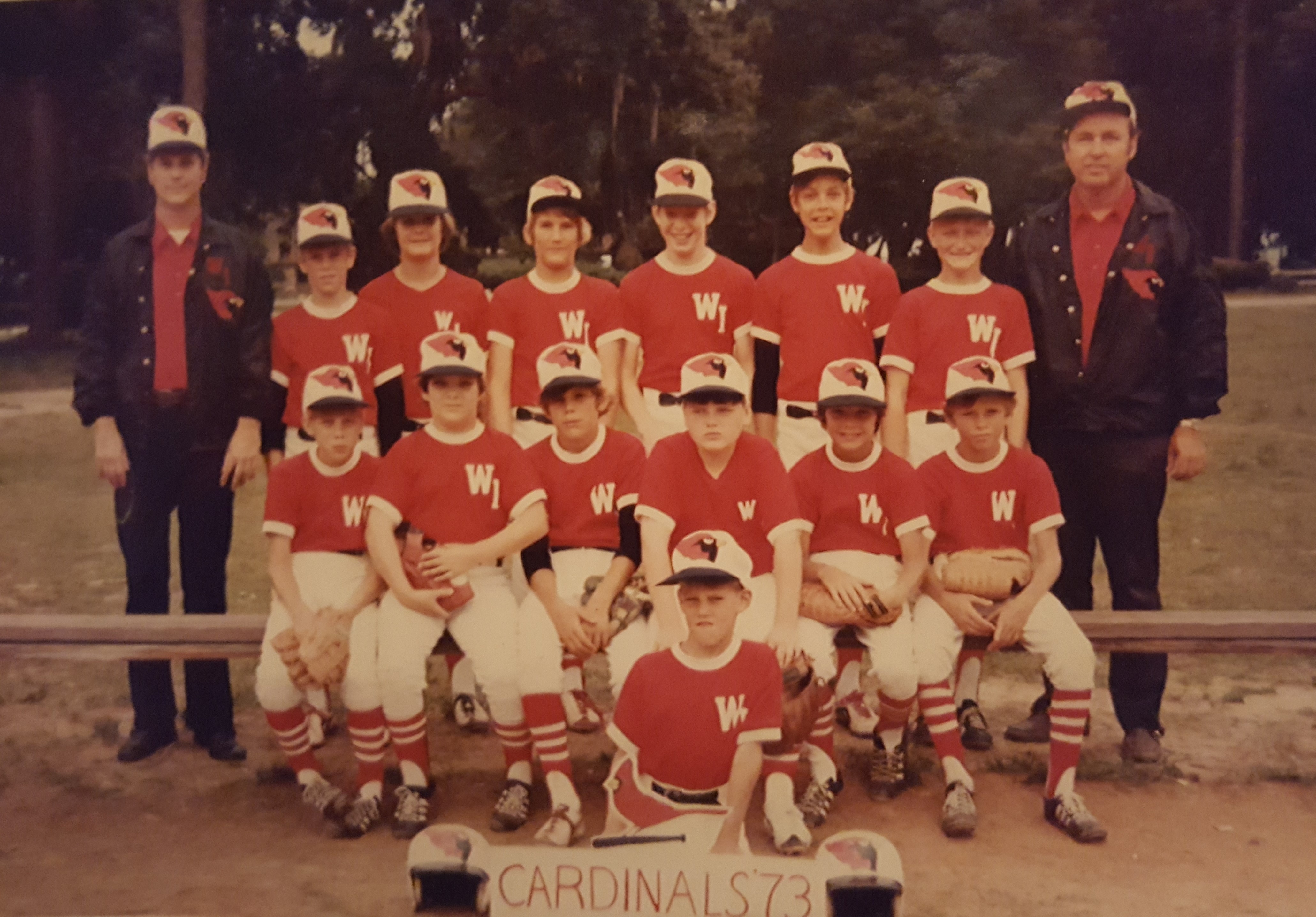 - Charles Zimmerman, ROSWELL, GA
Sorry for your loss, but what an incredible man I hear. While, I never met Mr. Ducey I have heard many stories from scooter. You were very lucky to have him in your lives for many years and bestow his wisdom on each of you. His memory and qualities will remain with you forever! May peace be with you.
- Bob Jones, Englewood , Florida
Scooter, Cliff & Jeff. The Lord has another angel. God Bless
- Mark & Sally Corrigan, Savannah, GA
Dear Mrs Ducey, Scooter, Jeff, Cliff, Karla , Erin and the extended Ducey family. Please accept our deepest sympathies, condolences and prayers on the passing of Dr James Ducey. May his soul rest in Peace
- Chris Desa, Savannah, GA
Our thoughts and prayers are with you!
- John and Sissy Woods, Midway , Ga
We will all miss your father dearly. So sorry for your loss. My thoughts and prayers are with you all. Teresa
- Teresa Maugeri, Savannah, GA
Cliff, I am heartbroken to hear about your sweet Dad! My heartfelt thoughts and prayers are with you and your family during this difficult time!
- Jan Spillane , Thunderbolt , GA
Mrs. Ducey, Scooter, Karla, Cliff, Jeff, and Erin, Words cannot describe the respect and admiration we had for your dad. He was truly one of God's disciples living out his faith in everything he did. His love for Mrs. Ducey, his children, and grandchildren was unparalleled and should be an example to us all! My parents ran a close second to your parents at St. Peter's having as much as 8 grandchildren there at a time (which was always a joke between my dad and yours), but my dad would always comment that there was never an event he didn't see Mr. Ducey attending, whether it a school function, church function, or one of the many sports events of all the grandchildren. He will truly be missed, but his memory will be eternal! Love, John, Lisa, Brennan, Cullen, Maggie, Ashlyn, and Thomas~ The Fogarty's
- Lisa Fogarty, Savannah, Ga
My heartfelt condolences to the entire family. When I moved to Savannah in 1974, playing with the Wilmington Island Cardinals under Dr. Ducey was how I met many of the friends I have today. He was a wonderful man and will be missed by all.
- Jeffrey Kreide, Pooler, GA
Erin we send our sincerest condolences to you and all your family and pray God's peace for you all.
- DeDe and Doug Keir, Conover, NC

A candle has been lit!
Prayers and much love to you all. Rest in deep peace, Dr. Jimmy !
- Kelly Kilpatrick Hunt, Savannah, Georgia
I'm so sorry that the Ducey family has lost such a sweet, caring man. I grew up around the corner from Dr. Ducey's practice and we were constantly finding injured strays that we would put in a cardboard box and with no appointment take them to Dr. Ducey for him to patch up. He never complained or turned us away. The world is a little less compassionate today.
- Donna Hutson Moody, Tybee Island, Ga

A candle has been lit!
Such a great man,loved him so much!
- Connie , Bryson city,, NC
My sincere condolences to the Ducey family on the loss of a great man and veterinarian. My family has been communicants of Nativity and St Peter's for many years and the Ducey family was so highly thought of in our parish. Some of my earliest childhood memories are of accompanying my father and our Boxer dog to visit Dr Ducey Sr. As a breeder and owner of Showdogs for over forty years, I would like to express my personal thanks to Dr Ducey for being the voice of animals and devoting his life to their care. They have no voice but ours and Dr Ducey spent his life being their voice. Thank you, Dr Ducey, for your lifetime of care to God's lesser creatures.
- Penny Butler Rossiter, Savannah, Ga
Sending healing thoughts and prayers to all Anne Powers
- Anne Powers, Savannah, Ga
Prayers for your family.
- Jay White, Bessemer, Alabama
Our thoughts and prayers are with the Ducey family on the loss of Dr Ducey. Dr Ducey was a great man that helped so many people and was so generous and kind to everyone. Our deepest sympathies to his great family, may God bless you.
- Gary Allen, Savannah, Georgia
Dear Mrs. Ducey, Scooter, Jeff, Cliff, Karla and Erin, and extended families: I'm so sorry to hear about Dr. Ducey's passing. I will keep you all in my thoughts and prayers. May God comfort you during this time.
- Penny Carter Rivera, Rockledge , FL
Our prayers are with all of his family. RIP HM and Michael Fleming
- Fleming, Savannah , GA
Scooter, Thad and I are so sorry for the loss of your father. We both know how hard this time is. Know you and your family are in our prayers. May the peace of God surround you and your family. May you find much comfort I the wonderful memories you have to cherish.
- Charlene Carter, Fernandina beach, Florida
Scooter and Karla - So sorry for hearing of Dr. Ducey's passing. I have many fond childhood memories of Dr. Ducey and visiting his clinic with our dogs. His care and friendship is forever the standard for rating a doctor to care for our dogs. It is a standard that most have failed to meet! Thank you for sharing your sweet father with us and accept my condolences. Sincerely - Hank Tullis
- Henry "Hank" Tullis, Dacula, GA
Dr. Ducey was a man of principle who lived his faith. He was a good example for us all. He took care and loved on many of our pets. It was obvious he loved his worked. Our sincere condolences.
- Will and Pam O'Donnell , Pooler, GA
As his next door neighbor, I soon discovered Doc to be a great man and the patriarch of an amazing family. I am honored to have known him for the past 5 years of my life and to have exchanged many thoughts and ideas with him. I will miss him enormously.
- Joseph and Claudia Piccoli, Savannah, Georgia
So sorry to hear of your family's loss.
- Ronald L. McMahon, Milledgeville , Georgia
Dear Jayne,Erin and family, we are so sorry for the loss of Dr. Ducey.God surround all of you with his love and support during this time and prayers for all of you. Joe and Tish McKenzie
- Joe& Tish McKenzie , Savannah , GA
Jayne and family, My best memories of many years ago are the Eucharistic Devotions that Dr.Ducey staged every first Friday afternoon in the Daily Chapel, with music and flowers, where adorers would drop in for visits through the night. A witness to his deep and abiding faith - May choirs of angels lead him into PARADISE With Love Margaret Delorme
- Margaret Delorme , Savannah , Ga
We are so sad to hear about the passing of Jim. We attended the same church as Jim & Jayne and also knew them through their children. The first rosary group that I (Carol) ever attended was led by Jim. It did not take me very long to realize what a devout Christian he was and how very strong he was in his Catholic faith. It was never a doubt how much he seemed to love his family.We will all miss him,I know I will. Carol
- Carol & Harold Horton, Savannah, Georgia

A candle has been lit!
- Debbie Cooler, Ridgeland, SC

A candle has been lit!
So sorry for your loss. Dr Ducey always went above and beyond for our family. The community has lost an excellent example of an upstanding hero. He has been greatly missed since his practice closed, but I am so happy he got to spend time "retired". Heaven is a better place with a caring sole. Again, sorry for all of our loss.
- SHANNON OBRIEN, NICHOLVILLE, NY
Dear Aunt Jane, Scooter, Karla, Cliff, Jeff, and Erin I'm so sorry I can't be there with all of you, but I'm recovering from a loss of my own. I am truly sorry for your loss and all of you are in my thoughts and prayers. May the peace of the Lord be with all of you. Cliff it was great to see you last Saturday and get an update on all of your family members. Jimmy lived a great life and I know you are all proud of him. I remember as a kid when Jimmy lived with us in Ridgeland while working with dad in his large animal practice during his summer break from Georgia. He truly will be missed. Love to all. Freddy
- Freddy Ducey, Columbia, SC
Dr. Ducey took care of all of my treasured childhood pets. He was always caring, gentle, kind and absolutely hilarious at the best times! A wonderful man who will be greatly missed.
- Eric G. Mitchell, Savannah, GA
Sending prayers of healing to your beautiful family.
- Kirkconnell , Savannah , Ga
So sorry for your loss, Dr Ducey was a wonderful man, so very caring.
- Michelle Burdsal, Midway, GA
I am so sorry for your loss. My prayers are with you
- Maureen Rose , Savannah , Georgia
I loved Dr. Ducey. He and my dad were college roommates at UGA. My dad was my veterinarian forever, but when I moved to Savannah, Dr. Ducey was my go to. He was fair, kind and always so helpful. He really was a great man. He will be truly missed.
- Martha Hudspeth, Midway, GA
Jane, We were so sorry to hear about Jimmy. I know there is nothing worse than having a loved one pass away. Please know that you and the family are in our thoughts and prayers. Love, Mack and Mary
- Mack andMary Anderson, El Campo, TX
Services under the direction of:
Fox & Weeks Funeral Directors, Hodgson Chapel
912-352-7200