Celebrating the life of
Patricia "Sue" Rossiter Homans
April 27, 1938 - May 29, 2022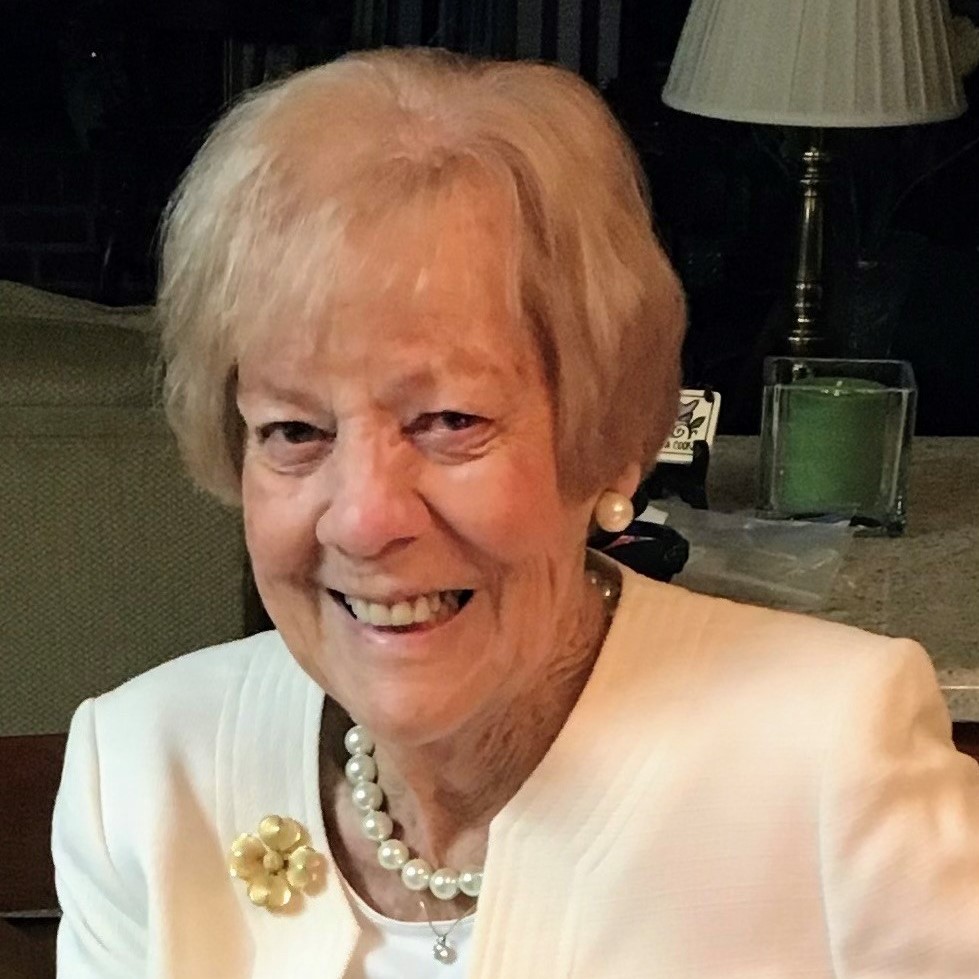 Patricia "Sue" Rossiter Homans died peacefully at home on May 29, surrounded by her loving family.
Born April 27, 1938, in Savannah, Sue was a lifelong Catholic. She graduated from St. Vincent's Academy in 1956, and from Armstrong College in 1958.
In 1959, Sue married her high school sweetheart, Jules Homans, who remembers her still as "the nicest girl I ever met."
Sue was a kind and sweet wife, mother, grandmother, and great-grandmother. She devoted her life to her family, including raising four sons with Jules, and doting on her nine grandchildren and four great-grandchildren.
Sue loved art and travel and cherished her friends. She passionately cheered for her Georgia Bulldogs. She was an avid reader, often curled up with a good book in her "nest" at their home in The Landings, where she spent her final days in hospice care. During retirement with Jules, she traveled and cruised the world, from Ireland, the home of her ancestors, to all corners and capitals of Europe and the Caribbean, to Israel and Hawaii.
Sue and Jules retired to Savannah in 2002. Prior to that they had lived in Maine, North Carolina, Oklahoma, Washington State, Texas, Roswell, Ga., and Alabama.
In addition to Jules, her loving husband of 63 years, she is survived by her sons and their wives, Jack (Liz), Joseph (Kristie), Michael (Lia), and Ross; nine grandchildren; four great-grandchildren; four Rossiter brothers, Dr. Frank (Glenda), Richard (Dianne), Joseph, and Patrick (Paula); and many beloved nieces, nephews, stepgrandchildren and friends. She was pre-deceased by her parents, Mr. and Mrs. Frank Rossiter (Inez), and her sister Julianne Rossiter.
Visitation will be Wednesday, June 1, from 5 to 6:30 p.m. at Fox & Weeks Funeral Directors, Hodgson Chapel, with Rosary services to follow.
Mass of Christian Burial will be at 10 a.m. Thursday, June 2, at the Cathedral Basilica of St. John the Baptist. Interment to follow at Bonaventure Cemetery.
Remembrances requested to St. Vincent's Academy, Benedictine Military School, or Hospice Savannah.
GUEST BOOK
Jules, Frank, & family, we pray and ask our Lord and Saviour, Jesus Christ, to give you all strength and comfort at this most difficult time. One's passing leaves a heartache that no one but He can heal. Love leaves a memory that no one can steal. Hold on to all the good memories. Trust in the Lord.
- Gerald Fleming Sr, SAVANNAH, GA
I just received the news of Sue's passing this morning from our friend, Jeannie Trapani. When Jeannie called, I had just been humming the Easter hymn, "The Battle's O'er, the Victory's won". I believe that was Sue's message to me. She will be very much missed. Rest In Peace!
- Jane Ryan Walker, Doraville, Georgia
I am so sorry to hear of Sue's death and extend sincere condolences to the entire family at this most difficult time. Sue was a life long friend having grown up in the old Fort, attended Cathedral Parochial School and Parish, to our most memorable great times at the C.Y.P.A through our B.C. and S.V.A. years. I always enjoyed seeing her on many days at Noon Mass in my retirement years, and know you are comforted in the sure Faith that she has passed through death to life with our Lord and Mary Immaculate forever. With Love, Jack
- Daniels, Tybee Island, GA
Growing up with Ross in Georgia I was fortunate to have Sue and Jules always treat as an honorary part of the Homans family. Family dinners, trips, carpool to school, and every celebration from middle school thru college graduation and well beyond. Sue had a fantastic sense of humor who loved to laugh with (or more likely 'at') our goofy group of friends. Her laugh was distinct and infectious. As hard as this news has hit I feel good knowing she was surrounded by her most favorite people in the world, all of her boys (who I am sure we're making her smile and laugh. Please know I am with you all in spirit and that you have been and will continue to be in my prayers. Jules, Jack, Joey, Michael and Ross May God Bless You and I love you all. Bryan
- Bryan and Shelley Weinlein, Flemington , NJ

A candle has been lit!
MAY SHE RIP
- MELL, Savannah, Georgia

A candle has been lit!
MAY SHE RIR JOHN F.MELL
- JOHN MELL, Savannah, Georgia

A candle has been lit!
My sincerest sympathies for the Homans and Rossiter families. Sue was a true Southern lady. Her gentle ways, her love of family, her devotion to her faith. May she Rest In Peace!
- Deborah Rhodes Rossiter , Jefferson , Ga
So very sorry to see this news. Our parents were very close friends (Helen and Bill Harris) and I knew Sue quite well during out years at SVA. So sorry for your loss, Jules. But look at that beautiful family and treasure them. May she Rest In Peace, Nancy
- Nancy Harris Gayhardt, Annapolis, MD
Jules and family. Our sympathies are with you at a very sad time. Sincere condolences to all. Doug and Sue Fuss
- Douglas Fuss, Savannah, GA
Dear Jules and family, Was so shocked to learn of Sue's passing today. We have known each other since 1st grade and all through 12 years until college. Had no idea she was ill. Please accept my condolences and keep this in mind: "Those we love don't go away. They walk beside us everyday, unseen, unheard, but always near - still loved, still missed, but very dear." Dale F. Camp
- Dale Fuhrman Camp, Royal Oak, MI 48073
Our deepest sympathy. Thoughts are with you.
- Sandy and Tom Cook , Orange Beach, Alabama
Frank, Dick and family, sorry to see that Sue has passed away. Prayers from Carolyn and I!
- Bob White, Greensboro , Ga
Sympathy to the Rossiter and Homan's families. May Sue Rest In Peace.
- Kathleen Kenney-Brown, Savannah , Ga
To Jules & all of the family of Sue, I send my deepest sympathy & condolences for her loss. She was such a lovely lady. May God surround you in comfort and peace now, and in the time ahead.
- Carolyn Sheehan, Tybee Island, GA
Services under the direction of:
Fox & Weeks Funeral Directors, Hodgson Chapel
912-352-7200