Delma Dewey Dimsdale, Jr., 66, passed away unexpectedly on Saturday, May 28th while playing tennis with friends. Dewey was born in Savannah, GA on October 16, 1955, to Delma and Nell Dimsdale. They lived in different parts of the country and world while Delma Sr. was serving in the United States Air Force. They settled back in Savannah, and in 1974, Dewey graduated from Savannah High School where he was a member of the football team and pursued his love of music, playing guitar, and singing in local bands.
After high school, he attended Georgia Southern University from 1979-1982 and graduated with a Bachelor of Science Degree of Communication Arts with an emphasis on Public Relations and Marketing. Following graduation, he began his career in food and beverage in Savannah as an owner/manager of The Lightship Bar and Grill on Wilmington Island and had a long career in food service and advertising sales. In August of 1988, Dewey married the love of his life Carolyn Buttimer Dimsdale. They were happily married for 31 years before Carolyn lost her brief but courageous battle with cancer on Easter Sunday, April 12th, 2020.
Dewey spent the last 2 years figuring out who he was and who he wanted to be moving forward without Carolyn. He was able to spend quality time with friends and family that meant so much to him throughout his life, and he was able to travel and see places he had never been with the family and friends he loved. He made incredible new friends which was so easy for Dewey. He was only getting started with the second part of his life, and he was looking forward to spending it with as many people as he possibly could. Dewey sincerely cared for everyone he met and was loved by all.
Dewey found a new home professionally in 2020 with InventureIT, and they have been like family to him over the last 2 years. He was proud to represent a wonderful company and people. InventureIT and its leadership have gone above and beyond in their support for Dewey's family during this difficult time.
Dewey was a proud member of the Savannah Scottish Rite of Freemasonry, board member of the Savannah Chatham Crime Stoppers, and past board member for Coastal Pet Rescue. Dewey participated in numerous organizations throughout the Savannah area including, Savannah Chamber Ambassador Council, Savannah Logistics Connection, Savannah Buy Local, Savannah Maritime Association, SODA- South of Derenne Association, Savannah Traffic Club, Savannah Eagle Club, and Eagle Athletics.
He had recently written 4 goals on the back of an envelope that showed who he has always been and who he was striving to be. His goals were written as follows: Lose 20lbs by July 11th, Do what you say you're going to do, Be a man who gives back unselfishly, and finally, Be a leader. It was obvious that Dewey had embraced his goals!
Dewey loved his family and friends with all his heart. Dewey was a very proud grandfather (DewPa) to his 2 grandsons, Brody and Beckham. Dewey was kind, attentive, loyal, honest, wise, intelligent, hardworking, and made an impact on anyone who was ever lucky enough to meet him. He never met a stranger and made everyone feel special, safe, and important.
He is survived by his daughter, Jessica; his stepson, Brad Buttimer; his daughter-in-law, Jillian Seago Buttimer; his beloved grandchildren, Brody and Beckham Buttimer; his sister-in-law, Sandralyn Stone Colson; his nephews Bryan Cornelius, Ryan Cornelius, Scotty Sather; his niece, Silvanis Cornelius (Vani), and great nephews, Braydon and Bryce Cornelius; his niece, Lavette; his niece Sonya; his nephew, Rodney; his niece Alicia; his niece Rhonda; his niece Patti. He was preceded in death by his beloved wife, Carolyn Buttimer Dimsdale; his father and mother, Mr. Delma Dewey Dimsdale Sr. and Mrs. Nell Chamberlain Dimsdale; his brother, Ray Chamberlin; his sister, Diane; and his brother, James (Jimmy).
JLD/DDD-ILYMTYLMI
A Celebration of Life will be held on Saturday, August 6th at The Crab Shack on Tybee Island from 5-8:30. There will be live music, food, libations, and great friends and family of Dewey's sharing stories and laughter! Burial will be private with immediate family.
Dewey was a proud Georgia Southern Alumnus and was an active supporter of Eagle Athletics and a member of the Savannah Eagle Club. In lieu of flowers, please donate to the Georgia Southern Athletic Foundation. GATA! https://give.gseagles.com/fundraiser/3946005.
GUEST BOOK
My love and prayers are extended to Dewey's family. May the memories you have of him nourish your soul in the days and years to come.
- Janna Martin, Savannah, Georgia
My prayers are with the family. Gone way too soon. Dewey always had a smile. Dewey just loved people and made a mark on you for those he touched. Dewey is going to be missed by so many. God bless you. RIP my dear friend!
- Jackie Norrington Harvey, Savannah , Ga
Will miss you my ole friend
- Robbie Johnson, Franklin, Tn
Dear Jessica and the extended Dimsdale family. Please accept our deepest sympathies condolences and prayers on the sad sudden passing of your dear Dad Dewey, May his soul rest in Peace and Almighty God give y'all the strength and blessings to bear this great loss. I was privileged to know Dewey since we moved to Savannah in end 1992.
- Chris Desa, Savannah, Georgia
Prayers for My Favorite Cousin. Will be missed so much. Dewey was always Smiling & good Spirits. May God BLESS THE FAMILY.
- Michael L Dimsdale, Bloomingdale, GA
The world will be a lesser place for the lack of Dewey's big smile and even bigger heart. Our heartfelt condolences to the entire family and to the hundreds of Dewey's friends.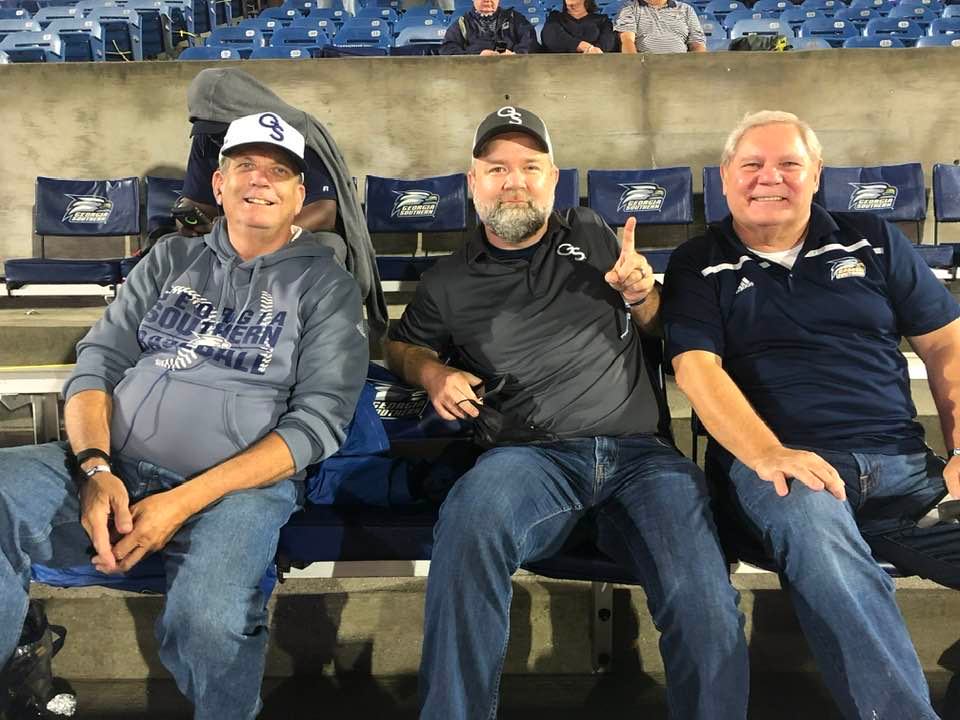 - Rick and Julie Bean, Savannah, GA
This was a terrible shock. My biggest memory about Dewey is that no matter how much time had passed, when we saw each other it was like we last talked yesterday. All of us from the east side will truly miss him
- Wren Sanders, Pooler, Ga
God be with Dewey's family of which he has always been so proud of ! Dewey has more kindness and friends than anyone I know of . I have known him since I was around 14 years old and his beloved mother too ! You will be missed by all old friend . Rest In Peace and watch over all !
- Bonnie Sommers Connolly, Savannah, Georgia
Lonnie & I were so shocked and saddened by the news of Dewey's passing. He was such a positive, giving person, a true gentleman! He will definitely be missed by so many! Our thoughts & prayers are with sweet Jessica & his family .
- Betty( Lachapelle) Mercier , Savannah, GA
I am crushed to learn of Dewey's passing. He was my first friend at Expansive and always had a 1000 watt smile ready. He made me feel welcomed and special as a new transplant to Savannah. My dear friend I will miss you more than you could have imagined. He spoke of his family often and I truly believe he is reunited with his wife and wanting us all to smile rather than cry. To his family, I am sorry for your great loss and send love and hugs.
- Hilary Behrens, Savannah, GA
Shocked and saddened that we have lost Dewey. A man that loved people and easy to love in return. We will miss him and the joy he brought us.
- Ronnie & Elsie Dimsdale, Cleveland, , Georgia
Dewey was all things good and kind and selfless. My heart breaks as Savannah's heart breaks. Love to Jessica, the family and the slumber party gang… his grandchildren. Heaven gained an Angel.
- Melodie Moore, Savannah , GA
My friend,my brother Timmy is so not believe you gone.We had so much good times together.If there's a football floating by you.its a touchdown! It's a tackle,a block..You did it all! You charmed me and all your friends! God Speed my friend!
- Phillips , Garden City , Ga
Dewey always had a friendly smile. My condolences go out to his family and friends. It is very hard to lose a loved one. I will pray for comfort and peace for his family.
- Karen (Tenney)Shelton, Forsyth, GA

A candle has been lit!
My condolences to the family.
- ANNA TOMPKINS, SAVANNAH, GA

A candle has been lit!
My condolences to the family.
- ANNA TOMPKINS, SAVANNAH, GA
Our prayers are with the family. Dewey was a truly know and person,
- Wayne Smoak , Canton , GA

A candle has been lit!
- Kelly Kilpatrick Hunt, Savannah, Georgia
Dewey was the best of the best. I never saw him without a smile … not so much for himself but for whoever he was engaged with at the moment.. Dewey was that guy, he wanted you to know you were important to him. I am grateful to have known him and he will be missed. Your family has lost a jewel on this Earth for sure, however gained such a huge angel in Heaven to watch over all of you. Sad? Yes I am but I can not think of Dewey without smiling….and that says it all. May God Bless all of you.
- Bonny Parker, Savannah, Ga
Prayers for your family.
- Gail L Allison, Savannah, GA
Dewey was an incredible man who made everyone he came into contact with a friend... a GOOD friend. Always happy to help out, share a funny story, put his arm around you when he thought you needed it. I was so proud of Dewey and how he handled losing his dear, beautiful wife. He handled it with grace, dignity and tenderness and now they are forever together. My family; Shane, Zack and I send our condolences and love to his children and grandchildren. Please know that you have a community of friends that you may have never met, but we are here. We send love, hugs, prayers for strength! The Cox family.
- Cox, Charleston , sc
We are so sorry for Dewey's passing. He was a big part of so many people's lives. A larger-than-life man. I am honored to have been able to know him all the wonderful memories of our conversations time with him. May God bless him and protect him!
- Destiny Mojica-Taylor, Savannah, Ga
The Lord Bless you and Keep you and your family. Grateful for the "media" business that our paths crossed. My family has been in this area for about seven years from South Florida. It was only a short time subsequent to arriving, I was introduced to Dewey. Dewey extended such generosity and generosity of spirit. Heaven gained another angel. Gloria Tucker Hoffman, Hilton Head, SC
- Hoffman, Hilton Head Island, SC

A candle has been lit!
Dewey was a wonderful and kind friend!
- Bruce and Patti Pharis, Chapin, South Carolina

A candle has been lit!
Warmest condolences for the loss of your father. I worked with him at Comcast where he was always professional, pleasant, and kind to his colleagues. Wish you peace and comfort during this hard time.
- Eleni Michaels, Savannah, GA
To the Dimsdale family. I am so sad to hear of Dewey's passing. We were classmates and EVERYONE loved Dewey. I saw him recently here in Savannah. He will be missed.
- Teri Skierski Grayson, Savannah, GA

A candle has been lit!
Heart and prayers to the entire Dimsdale Familt.
- Marty and Bobbie Marmolejo, Hardeeville , Sc
My deepest condolences to Dewey's family, friends and close "brothers" at InventureIT. What a lovely man, an old soul, a salt of the earth kind of guy. He had such a warm presence wherever he went and could light up a room without words. Heaven has gained a new saint.
- Catherine Blake, TOWNSEND, Georgia
Dear Jessica and Family our thoughts and prayers are with you. So sorry to hear of Dewey's passing. What a true friend to all no matter how long you had known him. Our friendship goes back to Savannah High School Days. I saw him recently and it was as if no time had passed! He will always be remembered by those who loved him! Jackie and Larry
- Jackie and Larry Fall, Savannah, Georgia

A candle has been lit!
I am privileged to be able to have called Dewey my friend. Never met a man who could smile so much and make you feel like he knew you forever. Will certainly miss you. Condolences to the family.
- Lynn Theibert , Pooler, GA
I'am so heart broken right now. I heard about Dewey this afternoon. I go way back with Dewey. Back in the Stone Age Savannah High had 7th through 12th grade. I was in the 7th. My first day at school I was walking out the back door. I was stopped by these words. Hey boy, you're going to play football for me. I know many will remember him. It was Coach Arvel Holmes. You talk about a football coach from the Hard Core days. The only words that came out of me was, Yes Sir. Coach wrote a letter to my parents. I spent 6 yrs on that old dirt field. Shortly after that day I met Dewey. I considered him like a big brother. Dewey helped me out a lot. I had never played before. It was a learning experience. Imagine two Dewey's on the same football team. And what a great name Dewey. I saw Dewey about a year ago. I was at Krogers on the Island. I was backing up in my truck. I heard and felt a bump. I looked out to see I bumped a car. Then I look and see Dewey looking at the car. His car. I said Hi Dewey. Dewey said Hi Dewey. Thankfully it was only a bump and not any damage. We talked for a bit. I'am so sorry to hear about Dewey. Dewey was a great friend. RIP My Big Brother Dewey
- Dewey Hooper, Savannah, Ga
Dewey it was an honor to be your friend… And classmate all through school… You supported me in my whole life and I couldn't have asked for a more genuine friend….i will never forget you…Barry
- Barry Johnson, Savannah, Georgia
Dewey always showed up with a smile. Anytime I had the pleasure of talking with him was a privilege. My prayers go out to Dewey's family and friends during this difficult time.
- Julia McKinney, Dalton, GA

A candle has been lit!
Sending much love and light to Dewey's family and friends ! Fly High my friend and fellow Georgia Southern Alum !!
- Kelly Kilpatrick Hunt, Savannah, Georgia
Our thoughts and prayers are with you. Dewey will be greatly missed. He was always full of humor and stories which made him a great golf buddy and friend. God speed Dewey.
- Bill Slayton, Statesboro, GA
I only met Dewey once at the St Patrick's Day parade. He welcomed my son and me. My brother, Barry Kersey spoke of him often! Such a loss. Prayers to the family.
- Leigh Johnson, Acworth, GA
So, So sorry, Brad, anything you need let us know.
- Jeff Endsley, SAVANNAH, GA

A candle has been lit!
Sending prayers to Dewey's family
- Cindi (Waters) Williams, Savannah, GA

A candle has been lit!
My heart breaks for you all for losing Dewey. He was such a kind, loving and gentle man. We had shared conversation or two about what our lives were like now that we had lost our soul mates and how we were trying to move forward with our lives. He was an inspiration to me. There are no words of comfort at a time like this but knowing that he is reunited Carolyn does bring a smile to my face because I see the BIG smile on his face!
- Nita Daniels Roughen, Eatonton, GA
Prayers for the family.Gonna miss this guy.
- james l woods, savannah, GA
Just got informed that Dewey passed away. There is not enough space to write all the memories I have. He always has been smiling. His positive influence on other people has been remarkable. I consider him one of the best friends I ever had.
- Wolfgang Ey, Hilton Head Island, South Carolina
Dewey I only got to know you for 90 days but you were just the best dude ever. I so enjoyed our dates you were so special words cannot express my grief. I'm so blessed I got to know you but feel so robbed that it was such a short time
- Lamy B. Buck, Guyton, GA

A candle has been lit!
Sympathy to Dewey's family. He was a kind person and always smiling. Johnny & Florence Groover
- Florence Groover, Savannah, GA
I met Dewey on the tennis courts the last day of his life in Statesboro. I learned that Dewey was an exceptional man in just over 3 hours that I knew him. He was warm, kind, complimentary, honest, loving, funny and just someone you wanted to get to know better. Dewey is someone you want in your corner at all times. After reading about his life, I'm not at all surprised about the gifts he had and how he used them. He was a giver. I regret not knowing him better and am envious of those who did know him and were lucky enough to have him in their lives. To Dewey's family and friends, I am so so very sorry this incredible human being has left your side. I feel so fortunate to have known him at all. He was the brightest of lights and left an impact upon me that will cause me to never forget him. My thoughts and prayers are with you all.
- linda schaper, Statesboro, GA
Although we have recently met Dewey he was always so pleasant and friendly. He was such a sweet soul and our heartfelt condolences to his family and friends. May he Rest In Peace as I'm sure he's dancing away with his bride! ❤️
- Darryl & Toni Turner, Savannah , Ga
Dewey.....A REAL Man, True Husband, Great Father, Best Friend...A Godly Man! Can't get better than that!! Jessica, Brad and Family... God Bless You All! Joyce Harvey Weimar
- Joyce Harvey Weimar, Savannah, GA
I'm so sorry for Dewey's Family. You have lost a great man. We went to Savannah High together. He was a year ahead of me, but was such an awesome guy. Anytime we ran into each other he always knew who I was. May You RIP Dewey..
- Joyce Langston Rountree, Savannah, Ga
Every time I saw Dewey he would give a hug and kiss. He would always ask me how I was doing and then we would talk. The last time we saw each other we were at a Chamber Ambassador meeting and both trying to get the same client card. I won and then said we could go together and grab a beer while we were there. I wish we had time to get there before he passed. I know he is happy to have been reunited with the love of his life, Mrs. Carolyn. He would be sad that Jessica will miss him but I know he is watching over her. My thoughts and prayers are with her now. May he Rest In Peace.
- Lorrian Heard, Savannah, Ga

A candle has been lit!
Dewey and I were roommates in college, and long-time friends. I will try to go through my old photos (everything was film back then) and share with the family. I am heartbroken as is everyone who ever knew him. His light will continue to shine. I will miss you, my friend.
- Jeff Romaine, Wellington, FL
Beautiful obituary to one of the finest men who ever lived. Will be fondly missed forever! Rest easy, sweet Dewey.
- Lindsay Simmons & David Dozier , Macon, Georgia
It is with a heavy heart I send my deepest sympathy to Dewey's family! To know this man was to love him, one of the sweetest, kindest, most thoughtful persons ever! Go Fly High my friend!
- Linda (Blades) Summerville , Augusta , Ga
Services under the direction of:
Fox & Weeks Funeral Directors, Islands Chapel
912-898-0900
A private burial will be held