Ned A Smith, 93, of Savannah, GA, and formerly of Birmingham, MI, died peacefully at his home May 12, 2022. Mr. Smith was born in 1928 in Plymouth, IN, the son of Fayne and Dorothy Smith. He graduated from public school in Plymouth and was an Eagle Scout. Following service in the U.S.Navy at the end of World War II, he graduated with honors from DePauw University and then Northwestern University School of Law where he was an editor of the Law Review and President of Phi Delta Phi.
He joined Ford Motor Company in Dearborn, MI as a staff attorney in 1955. For the next 37 years, he served Ford, first on its legal staff and later in several management positions, concluding as the CEO of a number of subsidiaries. He also represented Ford and the automotive industry on several public boards. He was a founding member and national president of the Society of Consumer Affairs Professionals based in Washington D.C. He was also a founding member and president of the Birmingham Athletic Club and a member of Orchard Lake Country Club while in Michigan.
In Savannah he was a member of the Landings Club and was active in the Landings community serving as a member of the Board and Secretary of the Landings Association. He was a devoted member, Vestryman, and Senior Warden of St. Peter's Episcopal Church on Skidaway Island. Mr. Smith had an interesting story for every occasion. A few favorites are that he was saved from drowning in 1976 by Olympic athlete Bruce Jenner, witnessed a very rotund Henry Ford II desperately trying to squeeze himself out of the pre-production Mustang at Ford, and that as a young boy sitting on his porch, watched gangster John Dillinger speed down his local main street after escaping from his notorious bank robbery up in South Bend; rapidly followed by dozens of state troopers in pursuit.
Mr. Smith is predeceased by his wife of 61 years, Marcia Y. Smith and daughter Sarah Y. Smith. He is survived by his son Wade and daughter-in-law Kathy of Savannah, as well as by his five grandchildren, Austin Smith, Grayson Smith, and Bailee Smith of Nashville, TN and Jacob Shriner and Megan Shriner Bierl (Joe) of the greater Indianapolis area, IN.
The family would like to extend a grateful thank-you to the caring nurses and loving caregiver staff of Coastal Care Partners who provided excellent care and comfort to Mr. Smith and family over the past couple years.
A memorial service will be held for Mr. Smith at St. Peter's Episcopal Church on Skidaway Island on Saturday, July 2nd, 2022 at 11am. Internment in the St. Peter's Memorial Garden Columbarium (alongside his wife Marcia) will take place at a later family service.
In lieu of flowers, donations in Ned's memory may be made to St. Peter's Church at 3 Ridge Road, Savannah GA, 31411
GUEST BOOK

A candle has been lit!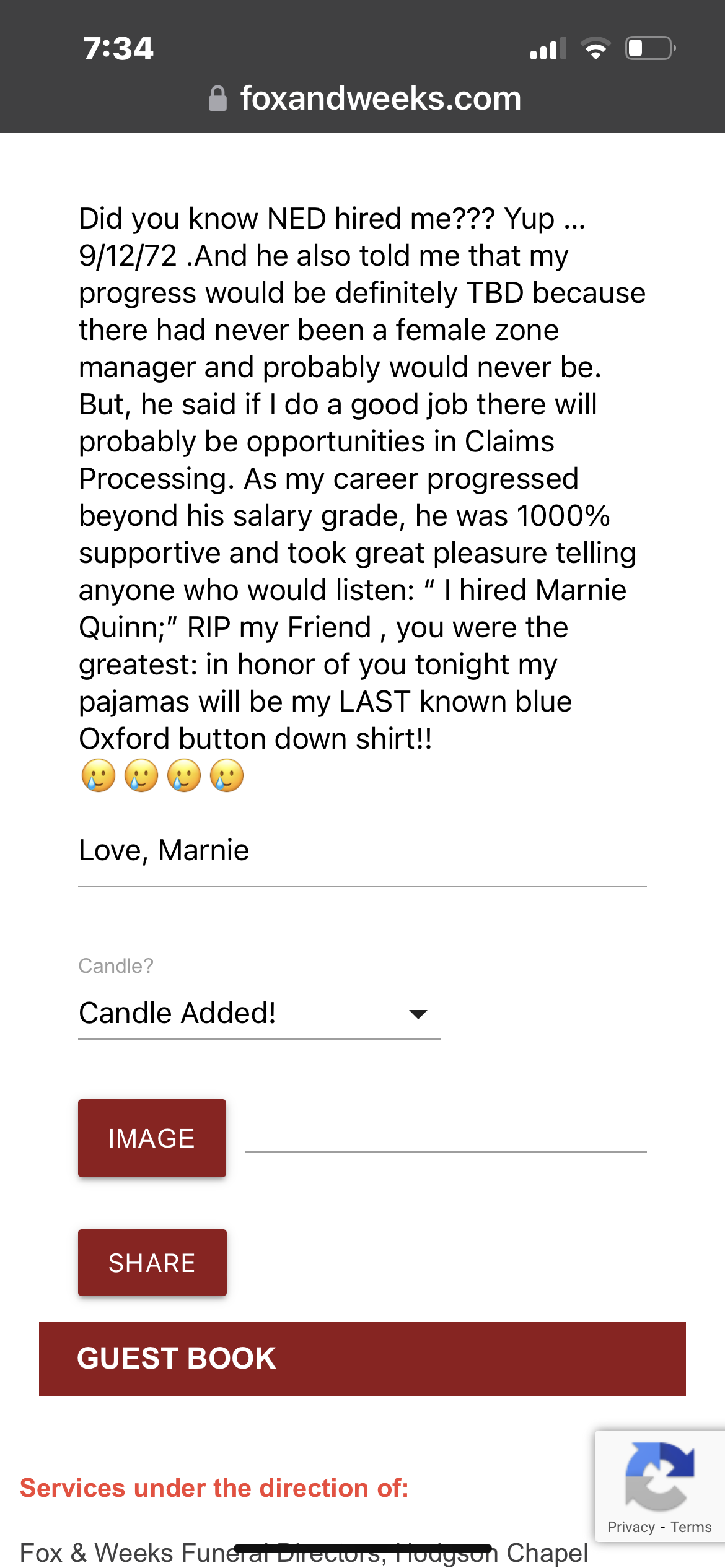 - Marnie Quinn, Bloomfield Hllls, MI
My husband, Ed, who died four years ago, and I have so many wonderful memories of being together with Ned and Marcia both here and in Savannah.........very special person and am so appreciative of having known them both....Wade, my thoughts and prayers are with you and your family........love.........and sympathy!! Carrie
- Carrie Proctor (Mrs. Edward A., Jr.), Bloomfield Hills, MI
Many thanks for his frien dship and advise while ar Ford and then again as a neighbor and Friend at the Landings--...He was a truly unique person with his many natural and learned skills about management,people and leadership and his willingness to be a mentor, advisor, and friend to those many people he encountered along the way!!
- tom wagner, SAVANNAH, GA
Mr. Smith was such a wonderful man to provide care for. He always had the most amazing stories about his time in the service and all the stories behind the memorabilia in his home. He truly taught me a lot of amazing new things. He had the most beautiful view in his home and his view with the beautiful red flowers was one of the last pictures that I sent to my mother before she passed, he always loved me telling him that story. He genuinely cared about other people and was always offering his help. I will always remember Mr. Smith and hold our memories dear to my heart. You will be greatly missed.
- Hannah Evans, Savannah , GA
We've had many years of retirement from Ford, but the memory of Ned Smith is a permanent one. He always efficient, well-grounded and legally impeccable. Also, with a "gem of wisdom" to accompany whatever the subject matter might have been. Plus -- socially, an exceptional friend who could overcome time gaps and pick up on anything and everything. In my case, always and interest in my family and the latest news -- a genuine interest and loyalty. God Bless.
- Lee Miskowski, Birmingham, MI
Services under the direction of:
Fox & Weeks Funeral Directors, Hodgson Chapel
912-352-7200
Memorial Service

11:00 a.m. on Sat, July 02, 2022

St. Peter's Episcopal Church
3 W. Ridge Road (map)


Savannah GA 31411