Celebrating the life of
Betty Joy McGee Heitmann
Passed away on May 02, 2022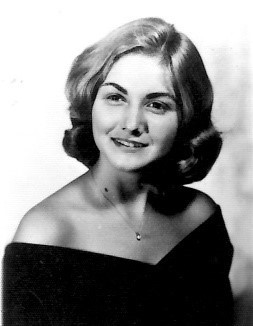 Betty Joy McGee Heitmann
December 30, 1944 –May 2, 2022
Joy Heitmann, beloved wife and mother, died peacefully at home with her loved ones by her side on May 2, 2022, after a short but aggressive battle with cancer. Joy was born in Enid, Oklahoma, on December 30, 1944, to Betty Jane and Norman Addison McGee, who was serving in the Air Force. On this day many are grieving her loss; her three siblings, John Heitmann, her husband of 55 years, daughter Kathryn, and longtime friends and caregiver, Janet Riley Clifton and Beth Maina.
After WWII the McGee family moved to Savannah, Georgia where Joy attended public schools graduating from H. V. Jenkins High School and where she was first runner-up to Junior Miss Savannah in 1962. She then attended St. Andrews Presbyterian College in Laurinburg, NC where she graduated with honors with a BS in History in 1966.
She married John Heitmann in 1966 in Savannah, after which they moved to Appleton, Wisconsin where he attended graduate school at the Institute of Paper Chemistry at Lawrence University. Both of their children, John A. Heitmann III and Kathryn McGee Heitmann were born in Wisconsin where they enjoyed many family adventures especially those involving sailboats. Returning to Savannah in the early 80's. Joy's love of history and photography led to the opening of her own studio, Preservation Photography, where she copied and restored old photographs. She brought to life many worn photographs for families throughout the area and also performed professional restoration of archival photographs for two history books; The Poe Log, a biography of Edgar Alan Poe and a History of Liberty County. In 1987 the Heitmann's returned to North Carolina and settled in Raleigh. With JT's sudden premature death at 15, all of our lives were changed but none more than Joy, John and Kathryn's.
Joy completed an MA in Public History at NC State and became an important part of the genealogy department at the State Archives of North Carolina. She caringly combined her love of reading, books and discovery through historic photos and writings to help many families with their genealogy. Joy found and communicated with every McGee family relative she could locate in an age when this was done mainly through books and letters. Once she found relatives, she reached out and developed relationships. She could always be counted on to know who "was where and how they were fairing".
Joy was perpetually involved in caring for all those around her. As a child she grew up in First Presbyterian Church in Savannah, Georgia. She visited there on frequent trips home and cared for its members. She joined West Raleigh Presbyterian when her family relocated to the area. Her time with the care ministries at West Raleigh Presbyterian was a precious time in her life following the loss of her son-JT. She completed Stephen minister training which was a beautiful way of organizing what Joy did her entire life--care for people in distress. Joy loved God and loved her neighbors and showed this gently and clearly to all.
Joy is survived by her husband, John A. Heitmann and daughter, Kathryn McGee Heitmann. Also, by her siblings and their partners, Jane McGee Coslick (Joe Inglesby), Patricia McGee Walton (Tommy) and Norman A. McGee, Jr. (Marni) and a delightful throng of nephews and nieces.
There will be a celebration of life service at First Presbyterian Church in Savannah, Ga. on Saturday, May 7, 2022, at 10AM followed by the burial at Bonaventure Cemetery.
In lieu of flowers, memorials can be made in Joy's name to the John A. Heitman, III Scholarship at Savannah Country Day or her favorite charity, Inter-Faith Food Shuttle, Attn. Development Dept.1001 Blair Dr., Suite 120, Raleigh, NC 27603, https://www.foodshuttle.org.
GUEST BOOK
It's been a long time since we've seen each other, but I still think about y'all quite often. Had so many good times with JT at the Heitman house, and I'm truly sorry to learn of Mrs. Heitman's passing. Will be praying for your family. Stephen Weeks
- Stephen Weeks, Savannah, GA

A candle has been lit!
I love you, Joy. Safe journey.
- Charlotte Walker Wilbur, Savannah, GA
My best friends from Enid , Oklahoma will be thrilled to see Joy in paradise. The Dowels brought the warm , forever , friendship as Joy knows from her loving sentimental culture. She reached out to families with confidence that all will be united in the resurrection. John 5:28,29. Joy touched the hearts of many. We will all be reaching out to her when she and JT answer Jesus call. Job 14:14. Joy is unforgettable, and so is JT. I pray that they come back together and get on with the "real life" for eternity in paradise. Rev 21:3,4 Please be comforted. JW.org "Enjoy Life Forever" Christian Love, Sandy Wirfs
- Sandy Wirfs, Monroe, , Louisiana
Joy was a special and amazing woman. I have nothing but love for Joy and her entire extended family. Joy is with JT now.
- Jay Wilbur, Singapore, Singapore
Joy was always very generous and welcoming. She showed genuine interest in others. Joy will be missed dearly.
- Eddie McGee, Greensboro, North Carolina
Janie sorry for loss
- Robert and Brenda Simpson , Tybee island, Ga
John and Janie: We are saddened by the passing of Joy. When I think of Joy I think of growing up on Brightwood Drive and having the time of my life playing with all the boys and girls.
- Ed and Ellen Henderson, Harris Neck Island, GA
Joy was a very compassionate person. She gave several times to Foundation of Hope. She will be missed. Jane C. Muhonen
- Muhonen, RALEIGH, North Carolina
Daddy and I are so very sorry to hear about Joy's sudden passing. We will be praying for you.
- JOY Cafiero SYRING, Waldorf, MD
Janie, Norman, and Tricia, my heart breaks for the loss of your beautiful sister. She was named appropriately because she brought Joy to so many during her lifetime. Prayers for all of you as well as her husband and daughter.
- Sandy Moore Jones, Augusta, Ga
John & family~ I send prayers of comfort to the Heitman's & the McGee's during these sad times. I have known Joy since elementary school @ IPDS, Sunday School & Church @FPC, then on to JHS, and finally friends on facebook. So, we have kept in touch over the years. She will be missed by so many who knew & loved this special lady. God Bless
- barbara brown wolling, savannah, georgia
Janie, Kathryn and I were so sorry to see that Joy had passed away. I remember Joy from way back. She was always a beautiful lady inside and out. You and your whole family are in our prayers.
- Frank & Kathryn Murray, Savannah, Georgia
Joy was a gentle soul, and genuinely cared about others. We are praying for John, Kathryn and all of the family, but we know she is in heaven.
- Dan and Joie and Houck, WEAVERVILLE, NC
Marsha and I were sorry to hear about Joy's passing. Even though, we haven't see each other in years, I have wonderful memories of all of you. I did talk with Joy when Gill passed away. Joy had a very calming presence. She was as sweet as her picture. My prayer is that Joy and Gill are with our family in heaven. I love all of you.
- Bob Houck, Monroe, Ga.
Services under the direction of:
Fox & Weeks Funeral Directors, Hodgson Chapel
912-352-7200
Funeral Service

10:00 a.m. on Sat, May 07, 2022

First Presbyterian Church of Savannah
520 Washington Avenue (map)


SAVANNAH GA 31405

912-354-7615