We have been made aware that families being served by Fox & Weeks are being contacted by individuals requesting payment over the phone. Fox & Weeks will not contact a family requesting payment over the phone. Please contact the Savannah Police Department immediately if you are contacted and asked to make payment over the phone. Please contact Fox & Weeks if you have any questions.
Stanley Eugene Strickland, passed away peacefully at home after a short illness on Sunday May 1, with his loving family by his side.
Born March 29, 1944 to Otis and Emily Wright Strickland in Woodbine, Georgia, Stan grew up in the family grocery business and developed an incredible and caring work ethic that defined his successful business life as founder of River Street Sweets with his children, Tim and Jennifer, and later, Savannah's Candy Kitchen with his loving wife, Tonya Strickland, and their son Rhett. Together they built a Southern Candy empire that has spread throughout the country, with millions of customers nationally and worldwide. His love and compassion for his family and employees knew no bounds! He was known and loved as a powerful mentor with a tireless energy devoted to their success in business and in life!
His passion and zeal for work was exceeded only by his love for family and every Marlin in the ocean!! Recently honored by the Savannah Sport Fishing Club, and rumored to be a frequent fishing companion of Ernest Hemingway, Stan was perhaps the most avid fisherman on the planet!!!
With a boundless competitive spirit, he teased and tormented dozens of his family of fishing buddies with his relentless pursuit of virtually every sport fish in the ocean…. The ocean he loved so passionately! The most peaceful and spiritual moments of his life were shared with Tonya and Rhett aboard the Mojito, enjoying the wonders the ocean held, sprinkled with dazzling stars, sunsets, and moonrises.
Stan leaves us with thousands of treasured memories as the most generous and devoted, husband, father, friend and mentor with whom ANYONE could be blessed!
Loved and adored by all who knew him, Stan was predeceased by his parents Otis and Emily Strickland, and Tonya's wonderful parents, Buddy and Emily Hollingsworth.
He is survived by his devoted and loving wife, Tonya; children, Rhett (Kristen); Tim (Lindsey) and Jennifer (Jen). Grandchildren, Joelle, Willie, Louis and Olivia; sister, Jean Sedgwick, loving brother and sister in-law, Debbie and Darren Hollingsworth, and many loving nieces and nephews.
Special acknowledgement and love to Stan's close and dear fishing buddy, hunting buddy, and drinking buddy, Dr. Lee Yates, who provided Stan with the most compassionate and loving care possible. Family and friends are forever grateful!
A Celebration of Stan's Life will be held 2:00 p.m. until 4:00 p.m., Saturday, May 7, at his home on Penrose Drive. Dress is casual or fishing attire.
In lieu of flowers, please make donations to Ansley Williams and Dennis "TallMan" Barr as they need the cash!!
Actually, and more appropriately, to Savannah's Waterfront for it's beautification and improvement. Savannah's Waterfront, P.O.Box 2173, Savannah, GA 31402 or go to https://form.jotform.com/221227842051144
GUEST BOOK

A candle has been lit!
Tonya words do not express how sorry we are to hear about Stan. May you know that we are lifting you and the rest of the family up in prayer.
- Jim & Becky Fergus, Peachtree City, GA
Stan was the man. He was compassionate and so giving of himself. We will miss Stan and send our love and prayers to Tonya and Rhett. It was just a few weeks ago when Stan and I spoke about Rhett and how proud he was that his son was ready to run the business. RIP Mr. Stan - we love you.
- MARK & MAXINE SUSSMAN, Savannah, GA
Heartfelt condolences to the family and friends of Stan. I met him a handful of times, and yet he made a huge impression on me. Smart, funny, larger than life, wise and deeply passionate about his business, his family, and his town. Here's to a life well spent – RIP.
- CAROL WISELY, Nokomis, FL
Sorry to hear about Stan passing. I have not seen Stan in 15 years ago. I remember the night I was on the helm of Jerry Sisco one night and Stan started screaming there is something dropping down on me with bright lights. UFO or DEA/US CUSTOMS BLACK HAWK. Stan asked if I could see the light and I said no. Stan was a good 15 miles in front of us headed to the south ledge. I always remember people kidding Stan if he was eating those expensive candy he makes and he would reply, I cannot afford those. I am eating Snicker bars. I am sorry I never had a chance to ask Stan if he was Familiar with Cabin Bluff in Candem county. I was lucky enough to go hunting at Cabin Bluff several days before getting drafted in 1972. I heard they closed down Cabin Bluff several years ago. That was a great track of land loaded with all types of wild life. David
- david hendrix, savannah, ga

A candle has been lit!
I am so sorry for the loss of Stan to Tonya and Rhett. It is a difficult road to travel. I pray that you will treasure those precious memories that you have stored up together. If I can be of any help all you need to do is call.
- Janell Hollingsworth , Guyton, Georgia
Tonya and family, Our thoughts and prayers are with you all. Our memories of Stan, Billy and the gang raising money for Children's Miracle Network will forever be with us. Stan was a funny, loving and caring person. May his memory be eternal. With love, Cathy & family
- Catherine Lamas Carter, Savannah, GA
not enough space to talk about this great man. could not have a better friend. Rest in peace. Praying for the family. Never be another Stan .
- o. c. welch iii, savannah, ga
not enough space to talk about this great man. could not have a better friend. Rest in peace. Praying for the family. Never be another Stan .
- o. c. welch iii, savannah, ga
Tonya, I am so sorry for your loss. Trey Strickland
- Trey Strickland, Rincon , Ga
Remembering Stanley and his sister, Jean when they entertained us on TV in the 50's. Knowing him as an adult, I was so proud of his accomplishments as a business man and his kind generosity to his friends from "home". Peace and comfort to his family.
- Joanna PARKER Flynn, LaGrange, Georgia

A candle has been lit!
Tonya and Family, Asking God to cover you with His deep peace and love. May Stan continue to sail on the deep blue above doing what he so loved to do.
- Kelly and Alex Hunt, Savannah, GA
Tonya and Rhett.. So so sad to hear of One of my greatest friends in my lifetime. I'll cherish those memories I had with Stan forever. I was looking forward to see him down here. God Bless , Jay
- Jay, Islamorada, Florida
I will never forget Stan's loving care of Anna after Patrick's death. He was so compassionate, so present and a true gift. ❤️
- Annie, Sunset, ME
Tonya & Rhett…May the good Lord hold you close during this time of sadness. But let us all rejoice in knowing how lucky & fortunate to have had Stan in all of our lives! What great husband..dad..& friend! GOD bless you my friend!
- Ray & Lisa Darley , Isle of Armstong , Sav. Ga
Tonya, Rhett, Tim, Jennifer and Family, we were so sorry to hear of Stan's passing. He was loved by everyone who knew him. Our thoughts and prayers are with all of you. Jackie and Larry Fall
- Jackie and Larry Fall, Savannah, Georgia
Stan had a profound impact on our family - I had the privileged to work for Stan and Tonya as did both my children . He was an amazing friend and a fantastic boss ! The drive - the passion - the laughter - his precision to details - his bigger than life persona - I feel so privileged to have known and loved him ❤️❤️❤️❤️❤️
- Monica and Michael Sullivan, Savannah , Ga
Tonya, Stan was a truly compassionate and wonderful person. I will miss him and our conversations about fishing and life. There will truly be another Stan. Sandy & Dan O Davis
- Sandy & Dan Davis, Savannah, GA
I'm blessed to have grown up across the street from this wonderful family- it goes without saying there was never a dull moment in Mayfair. As adults, Mr S. supported me in both occupations- always such a loyal generous man. My family will always treasure our memories from years passed. Jennifer and Tim, I'm so sorry for your loss and I know words don't make it better. Much love to all of you ❤️
- Wendy Hendrix Bennett, Savannah, GA

A candle has been lit!
GOD SPEED MY FRIEND, MAY HE RIP JOHN F.MELL
- MELL, Savannah, Georgia
Tonya Jean and Your Family. May Our Good Lord extend His Hands to comfort you at this time. You and Stan have been Family to us for many years. We're Blessed to have had Stan in Our Lives. He Loved Richardson Creek as much as we do. Our Love and Condolences. Dan and Debbie Shealy
- Dan and Debbie Shealy , Savannah , Georgia

A candle has been lit!
- Stephen Herb, Savannah, Ga.
One of those rare individuals that brighten everyone's day and you were always happy to meet. It was an honor to have known him. Though his passing leaves a big hole among those left behind, the memories of his generous soul and out-sized spirit will continue to enrich our lives and always bring a smile. Rusty & Roxanne Fleetwood
- William C. Fleetwood Jr,, Tybee Island, GA

A candle has been lit!
I am so sorry for your loss!! Praying for peace, comfort, and strength for your family at this difficult time.
- Lynn Odom, Savannah, GA
Stan was a gifted man in everything he said and touched and in everything he did . If we had more people on earth like him we would all live in a better world. May God be with Tonya and her family. ChasK
- ChasK, Savannah , Ga.
Stalwart, trusted, respected, mentoring, fair minded and yes, at times stubborn. Just a few traits of such a good, good man. Tonya, Rhett and All the Strickland's, please accept our deepest condolences. Jane & Michael Fleetwood
- Jane & Michael Fleetwood, Okatie, SC
I was honored to know Stan through my job at River Supply. For 30 years he was always a highlight in our day if he stopped by. I counted Stan as a friend, and will miss him. I send Loving thoughts and prayers to Tonya and family. I remember when Rhett was born, he was always a topic of conversation and pride. Rest easy my friend.
- Angell Usher, Savannah, Georgia
Mollie and I are so sad we lost Stan. We spent so many fun years as part of River Street at Sails and Rails. The love and caring that Stan and Tonya always showed to Mollie is such a great memory. Please know that our thoughts and prayer are with your family at this sad time. Love Pat
- Pat R Powers and Mollie Robinson, Savannah, Ga
Tonya and Rhett, praying for your strength during this sad time. We are all better people for having your family in our lives. Stan will never be forgotten.
- Andrea & David Howard , Savannah , Ga

A candle has been lit!
Stan was a very special Man. He will be missed.
- Linda Rice, Savannah, GA
Stan and Tonya I know you know I loved this man dearly. Please Remember all the Fun times we shared. I am here if you need me stay strong and God Bless!!!
- Dan keasler, Big Canoe, Ga
My prayers are with the Strickland family. Stan was absolutely one of a kind and I will never forget one of the first lessons he taught me when I first went into business for myself 32 years ago! He was an unknowing mentor to me in more ways than one! I pray that God wraps his loving arms around your family and brings you peace during these sad times. Tight lines Stanley!
- Robyn Quattlebaum, Savannah , Georgia
Stan was the kind of friend you never forget, his compassion, generosity and kindness knew no limits and were unparalleled. Will never forget the first time he asked me to go offshore on the Spanky 1. Got to the old Fountain Marine about midnight and asked Stan where the boat was. You're looking at it Willie he said, now lets go. Off we went in a small boat with one engine into 10 foot seas, never considered going back, and caught a bunch of fish. One time fishing on another boat we had caught two blue marlin and Stan asked me where we were and I said "between the sun and the moon". He didn't like that answer, gave him the numbers. Tonya and family our thoughts and prayer are with you, God will pull you through, you don't know how strong you are! All our love, Willie and Claire.
- Willie and Claire Weil, savannah, ga

A candle has been lit!
Oh what a bright spot in my life it was to spend time with Uncle Stanley and Tonya! He just made people happy! The days ahead will be challenging, but God will hold you fast and will surprise and overwhelm you with his goodness and great love. I love you! Theresa Bryant Martin (Pam's friend)
- Theresa B Martin, Waycross, Georgia
Tonya, Rhett, Jennifer & Tim I am heartbroken to hear of my friend's passing. I am at a loss for words as nothing seems appropriate. Stan's Big Heart was always there for so many. I will never forget him driving down Penrose to comfort me after Baine's death in 2011. Lord You now have another Great One on that team up there!!!
- Paul Weber (PW), Savannah, GA
Tonya, I am so saddened by the passing of Stan. He was such a charming, funny, sweet, wonderful person to all. I am having a hard time even thinking about Savannah and you and Rhett without him. I feel privileged to have known him. God be with you now and always. I am so sorry.
- NORA RICHARDSON, SAVANNAH, GA
Barbara and I were shocked to hear about Stan passing. We just talked to him before his birthday in late March. Stan will be missed by all that ever met him and a loss to those who have not! He was an exceptional and generous person always thinking about family and friends. And, of course "FISHING"! Tonya, we are right down the street if you or the family needs anything at all. Barbara said if you just want to have a glass of wine and talk, call. Love to all.
- Chris & Barbara Donnelly, Savannah, GA
One of our favorite people ever!! We will miss you Stan. Calm winds and following seas my friend.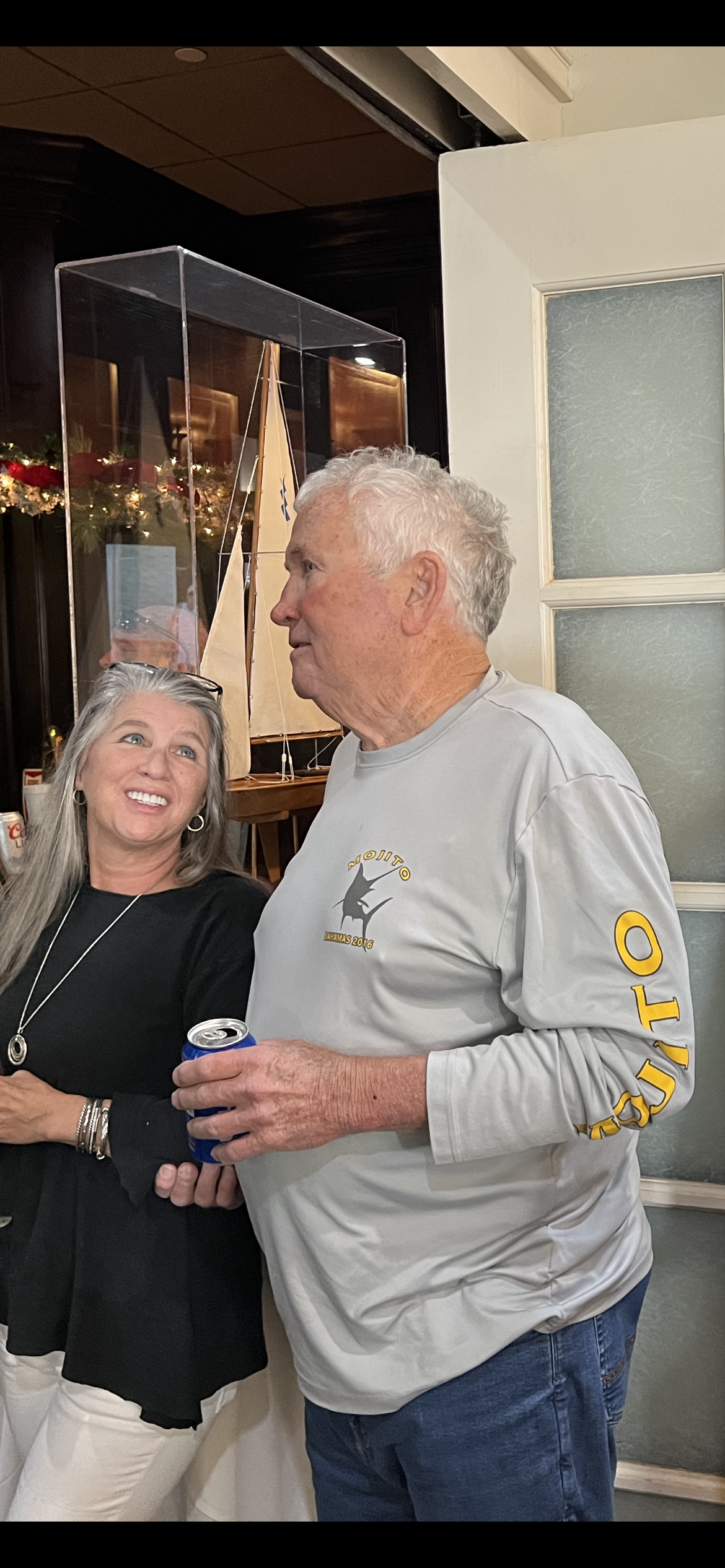 - The Wesley Family, Savannah , Georgia
This breaks my heart for the entire Strickland Family. Stan was definitely one of a kind. He touched the lives of so many people. I have some of the fondest memories over the years from the first time I fished with him in Bimini to all of the stories he would tell making us all laugh, and the most amazing food he would cook! He was always so kind ...always giving me the biggest smile and hugs. He will definitely be missed by so many....and his legacy will always remain. My heart goes out to Tim, Jennifer, Rhett, Tonya, all of his grandkids and the entire Strickland family that include loads of friends and employees. Love and hugs to all of you. My deepest condolences to you all during this difficult time of tremendous loss. Keeping you all in my thoughts and prayers. Rest In Peace Sweet Stan.
- Natalie Hendrix Tate, Savannah, Ga
His smile, work ethic, persistence and yes, directness, is what I will always cherish from our working relationship over the last 20 + years. CHEERS Stan!
- Daly McAfee, Macon, GA
I was a former employee at Candy Kitchen back in 2011-2012 and was so devastated to hear the news! Candy Kitchen was one of my first jobs that taught me a lot about myself and will never forget my time there. I'm so sorry for your loss and sending my condolences to the family. Keeping y'all in my prayers
- Rana Kurban, Ellicott City, Maryland
Prayers for Tonya and Rhett and family. Stan invited Matt and I to go fishing with he and Mike on the Spanky II. Unfortunately it was the night time changed and we were an hour late. He said glad you could make it. That's the morning I found out how good nilla wafers and milk were riding offshore in the dark. Thanks for all the sweet treats you brought down south. RIP. Doug
- Doug Ryder, Statesboro, GA

A candle has been lit!
Sending condolences to the Strickland family. Mr. Stan will truly be missed. His smile and his kind heart will never be forgotten. Rest well...we love you.
- Lynisha Lark & Romane Lark, Savannah, GA

A candle has been lit!
- Karl and Bonnie Kriscovich Christmas On The River, Hilton Head Island, SC
Tonya and Rhett, we were so sorry to hear about Stan's passing. He was such a good man and always had a big smile on his face. He was such a good natured guy. We are blessed to have known him.
- Michael and Selena Yocco, Guyton, GA
On behalf of the entire Crews organization, I would like to express our deepest condolences to Stan's family and the Savannah's Candy Kitchen organization on his passing. Stan's magnetic presence and zest for life will truly be missed and never duplicated...
- Rob Crews, Atlanta, GA
Rest In Peace my Friend I will miss you and The the times we had together. Prayers for the family.
- Scott Hilliard , Shellman Bluff , Ga
Sending love and prayers.
- Adrienne Buck, Savannah, GA
Stan is a first cousin and a friend,,, he and Tonya and Rhett have made our family proud,,, stan had a big heart and a love for family and friends,, he would always share warm fillings for his family. i always enjoyed a visit to Savannah and stan would always reward the visit with a great meal a one of the restaurants he was part of and of course much sweets from the factory and store. i have wonderful memories of spending time with Stan and Tonya,,, Rhett will do his father and mother proud , he will carry on the family name.. God bless Stan and prayers for Tonya, Rhett , Tim and Jennifer , My mother is the sister of Uncle Otis , Stans father... RIP Stan , God has a special place for you in heaven. Ray Taylor , Waycross, Ga.
- ray taylor, Waycross, Georgia
May God's love and peace comfort your family. May wonderful memories lighten your hearts. I know that Stan is going to make heaven a "sweeter" place - for sure. He was a super guy and I always respected his initiative, his professionalism as a businessman, and his humor. His love for Savannah and especially River Street was tremendous. I'll miss my friend. See you in awhile Stan…
- Jim & Rose Mary Cone, Savannah, Ga
So sorry to hear about Stan's passing and to let you know our thoughts and prayers are up for you. Been many a year since we have seen Stan or Tonya but we remember the good times from the part time work at the Candy Kitchen. Stan had a tremendous since of humor and with him around you always knew you had a friend. Same with Tonya. We will truly miss Stan but his personality with live with us forever.
- Thom and Michelle Norton, Metter, Ga
Tonya, Tim, Jennifer, Rhett and your families, We have all of you in our prayers. Our deepest sympathies.
- Brian and Vicki Hoffman , Ephrata, Pennsylvania
Fish On! Stan…with love, Robie and Cathy
- Robie and Cathy Hester, Bluffton , SC

A candle has been lit!
RIP
- Laura , Oatland Island , GA
So sorry to hear this news what a great man with an infectious smile. So many fond memories of good times we shared our condolences to the family.
- Kim and Sandy Dixon, Savannah, Ga
Miss Judy Charters "Kicking Fish Tail Since 1956!" 124 Palmetto Drive SAVANNAH, GEORGIA 31410 912 897 4921 912 897 3460 FAX Captain Judy's email fishjudy2@aol.com May 6, 2022 Saying Goodbye to Stan Strickland 1944-2022 Many Many years ago during the gas powered "Candy Man" boat era and before Stan purchased a boat that was much longer than my floating dock…. Stan purchased gas and then diesel, which means about every 30 days or so I would send him a monthly bill. Now he was always very prompt sometimes he would bring it by and sometimes Stan would say, "Come by the candy kitchen and pick it up, which by the way always meant Stan's Pralines Galore!" He would always tell the ladies to fix me up a big to go box! A sweet surprise for sure. Sandra worked in the office upstairs. As I remember she had been with Stan for a very long time. She was always so nice to me! On this particular day, I talked to Stan and he said, "Stop by the candy kitchen, see Sandra, and pick up your money!" Although it had been a while since I picked up fuel money at the office. All I could think about was sweet buttery creamy pralines! Over the years there has been dozens upon dozens of articles written in regards to Stan's pralines! It is so true when said, "It's not just a sweet treat, it's Savannah's Sweet Treat!" So our Stan did a whole bunch when it came to bringing folks with a sweet tooth or not to Savannah! I know I am rambling, but this all needs to be said for sure! Back to the story, when I arrived Stan was not there. Sandra in the upstairs office peered down from the top of the stairs and signaled for me to come up. I had never been upstairs before. When I reached the top of the stairs Sandra waved me into her office. She said, "Stan is not here, but he told me to give money for the fuel bill." She got up, opened a door, I assumed a closet, but once the door was open their sat a big old timey type safe. She then said, "The money is in here and we have to open it!" I just wish you could have seen the amazement on my face. If a camera had been present it would have been a priceless picture! And then Sandra said, "I can't see too well, I will give you the combination numbers and you open it!" Everything was happening so quickly. So therefore, as I remember, ___to the left___to the right___and back to the left one turn to the number 10 or was it 11? Anyhow, we opened the safe, she handed me a sealed vanilla envelope full of money, I thanked her and left. As I walked River Street with a box of pralines under my arm, I opened the enveloped, which by the way was full of much cash. I heard a horn blow and it was Stan driving up in his big truck screaming did you get your money? I waved and walked to the truck saying a big yes, but there is too much money. Stan said, "We will work it out!" And just like that he drove off leaving me completely dumb founded in the middle of River Street in front of the Candy Kitchen! The moral of the story is "Picking up fuel money at Stan's Candy Kitchen can turn into not only a sweet pickup, but also a memorable adventure!" Stan with that signature smile that only he can sport has never turned the fishing community down! On more occasions than I can list, Stan has offered the use of his businesses, supported our fishing schools, tournaments, the fisheries, his time, made donations, and never asked once, "What is in it for me?" And all of this was certainly appreciated for sure! And to say, "There will never be another Stan is a proclamation that lots of fishermen would have to agree with!" I cannot end this without seriously agreeing with the article The Sweet South. Remembering Stan "The Candy Man" Strickland published May 2, 2022. It was a great one for sure. And I quote, sitting down with Stan Strickland; his presence seemed to take up the entire room from the way he spoke, to how he held himself, like a Santa Clause that has connections with the mob!" I simply love this prefect description of Stan and greatly concur! Fishermen always like to close with "Tight Lines!" "Fish On!" In Stan's case, "He's gone fishing where the fish are forever biting and the seas are continuously calm!" I would like to send out my sincere condolences to his wife Tonya, his son Rhett, and all of the Strickland family! Even though Stan is no longer with us, memories of him will last forever in our hearts! Thanks for reading! Captain Judy
- Captain Judy Helmey, Savannah, Georgia

A candle has been lit!
Tonya, so very sorry. He was a true Southern gentleman, loved and respected by all who knew him. Oh how I loved it when he good -naturally berated me for being a no good Yankee! Don't I wish he could tell me one more time. Very sorry I will be unable to attend his memorial service tmro, But you can be sure all us yankees who got to know him so well in our times in Savannah will be toasting his memory. Rest in peace old pal.
- Galvin, Boston , Massachusetts
We're so sorry to hear of Mr. Stan's passing. He will truly be missed by so many. Our thoughts and prayers are with you and your family during this difficult time.
- Mike and Kim Carter, Fleming , Georgia
Dear Tonya and Rhett, Words cannot describe how sorry we are. We are sending hugs, prayers and love! Marlon and Diane Barefield
- Marlon and Diane Barefield, Buckhead, Georgia
My heart goes out to Tonya, Rhett, and all of Stan's family and friends. He was an incredible man and I am thankful for the time I spent in his orbit. When I was at my lowest, Stan helped pull me up by welcoming me back into the Candy Kitchen fold. And it was at the Candy Kitchen where I met my wife. 16 years and two kids later, we look back fondly at the time we both spent working for Stan. I am eternally grateful for the opportunity and the friendship he gave me.
- Kevin Ciccarella , Savannah , Georgia
Always smiling, adorned in his iconic sportsman persona, Stan was undeniably, the South's most astute businessman. He created an absolute Southern empire and had a good time doing it! We can honestly say without a doubt, Savannah has lost a dear part of its soul. Our hearts are deeply saddened, but knowing Stan, he's up there saving us a few more pralines and fish tales. Cheers to living his best life on earth every day and God's peace to Tonya and all of Stan's good buddies, especially Ansley. We send our love.
- Georgia & Joseph Byrd, Savannah, GA
You will be missed everyday!
- Debbie Clifton, SAVANNAH, GA

A candle has been lit!
You will be missed everyday!
- Debbie Clifton, SAVANNAH, GA
Our sincerest condolences on the loss of your father. Our prayers and love go out to you and your family....
- Keith L. Gay & wife Ann, Tybe Island, GA
Lots of love & prayers to Tonya & family.
- Steve & Fran Todd, Guyton, GA
I am so sorry to hear about the loss of your wonderful husband, and father, Stan. Please accept my sincere condolences on your loss. Fond memories will carry on. My thoughts and prayers are with you. With much love, Kathryn DeWitt
- Kathryn DeWitt, Savannah , GA
Tim, I am so sorry to hear about your daddy passing. Sending love and prayers to you and your family!
- Linda Brannen, Glennville, GA

A candle has been lit!
Stan was a friend and mentor to me for over 20 years. His often crusty exterior covered a heart of gold. As a business person, he was tough but always fair. I admired and respected him deeply--and I am a better person from knowing him. He was larger than life and I will miss him terribly. I am grateful and honored to have known the man.
- Tony G Cox, Dallas, Texas
My sincere condolences to Stanley's family I was his grandmother Wright's CNA at his home in Woodbine 1960.
- Ann M.Sullivan Weston , Kingsland , Georgia
Stan andTonya helped me pay my way through college by working in the warehouse packing candy during Christmas.. A group of elves we were. Damon, Ryan, Kelli, Justin and many others worked nights for customers. For this I will always be appreciative to the Stricklands.
- Kimberly Ramage Goodwin , Savannah , Georgia
Prayer and blessings for Mr. Strickland and family. He brought much joy and recognition to Savannah. RIP and God Bless
- David Pappas, Goose Creek, SC
Services under the direction of:
Fox & Weeks Funeral Directors, Islands Chapel
912-898-0900
Celebration of Life

2:00 p.m. until 4:00 p.m. on Sat, May 07, 2022

Strickland Residence
129 Penrose Drive (map)


Savannah GA 31410