Celebrating the life of
Jerry Lewis Miller
Passed away on April 12, 2022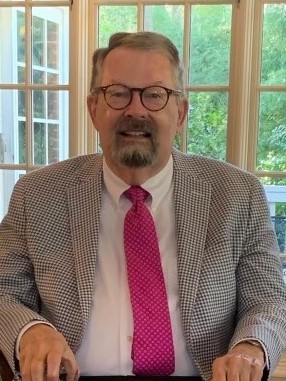 Jerry Lewis Miller died on April 12, 2022 of cardiac arrest. He and his wife, Margaret Johnson Miller were married for 43 years. He was born in Cairo, Georgia on August 24, 1943 to Hazel Muggridge Miller and John Dennard Miller. He grew up in Tennille, Georgia where he enjoyed riding his horse, swimming in the kaolin pits and searching the limestone caves for shark's teeth and treasures.
He graduated from Georgia Institute of Technology with a degree in architecture. Upon graduation in 1967 he served in the United States Air Force during the Vietnam War including an overseas assignment in Thailand. He completed his tour of duty as a Captain in 1972.
His life long career in architecture included both residential and institutional projects in Charlotte, North Carolina and Savannah, Georgia. He enjoyed golf and being active in a number of civic and social organizations. The loves of his life were his wife, Margaret and his pets, especially Red, Addie Mae and Jacob. His happy place was sitting on the balcony at our St. Simons home watching the people and dogs on the beach, and talking to the tourists.
He had a very quick wit, and was known by some for his quiet spirituality and generosity.
He is survived by his wife Margaret Johnson Miller; his niece Cathy P. Miller and her children; Margaret's siblings, Michael S. Johnson (Lynn), Richard H. Johnson (Emalee), Mary Anne Johnson Thames, John C. Johnson, Rosemary Cowley Johnson and many nieces and nephews.
Special thanks to Dr. Dana Kumjian who Jerry introduced as "my son the doctor"; Dr. Timothy Daugherty; and Dr. Mark Nyce for their exceptional care provided during his difficult medical journey.
A memorial service will be at Christ Church Episcopal on April 22, 2022 at 10:00 am.
Remembrances may be made to Christ Church Episcopal, 18 Abercorn Street, Savannah, Georgia 31401.
GUEST BOOK

A candle has been lit!
- Frank & Jessie I Pennington, Savannah, GA
Margaret my deepest sympathies jerry will be missed by many but you will know he is just in the other room and he will always be with you . God bless Cora Bett.
- Cora bett Thomad, Savannah, GA
Margaret, my deepest condolences to you and your family. May the joy and light that Jerry brought to you and so many, be a beacon of hope to all in need. I love you.
- Bertice Berry, PhD, Richmond Hill, GA
Oh, my! I am so sorry to hear about this. I have Jerry's recipe for pimento cheese in my treasured file. I hope the happy moments he created continue to comfort you during this sad time. Sending love- Erica
- Erica Scales, Savannah, GA
Margaret I am devastated to hear of Jerry's passing. He was a special man and you will never know how much I cherished your friendship to me personally and to the store. You will be in my thoughts and prayers. Love ❤️ SusanLeslie
- Susan Leslie, St Simons Island , Ga
My deepest sympathy, Margaret. Jerry was such a mentor to me and my career owed him a lot. Find strength in your memories and hope in your faith.
- Eric Johnson, Guyton, GA

A candle has been lit!
Magaret you are in my thoughts and Prayers
- Michael Donovan, Savannah, GA
Margaret, My thoughts are filled with fun times, great laughter, and much more. Having office space in the Architecture Division meant being near Jerry on a daily basis. What a gift! So honored that our families were connected for so long. Praying now that you will be surrounded with love and care and find strength through your own remembrance of such a remarkable guy. Much love ....
- Laura DeYoung Thompson, Savannah, GA
Very sorry to hear of Jerry's passing. I had hoped to catch up with him one day. He was a true gentleman and I was so fortunate to learn from him during my time in Savannah. I will always remember those days and all that he shared. Rest In Peace dear Jerry.
- Pamela Taylor Cecala, Myrtle Beach, SC
Margaret, sending prayers of comfort and peace for you.
- Lisa Dean, Savannah, Ga
Margaret: I am so sorry to hear about Jerry. He was the nicest man I knew, and he really was a Southern gentleman. And he could always make me laugh! Sandy
- Sandra Sherrill, Savannah, GA
Margaret, we are so very sorry for your loss. I remember fondly my time working with Jerry. I was so fortunate to have such a kind and generous person as my first employer. I loved Jerry's quick wit and smart sense of humor. He will be greatly missed.
- Annette Miller and Hollis Weaver, Germantown , Ohio
We will miss you Jerry but the Angels in heaven are rejoicing.
- Stephen R Waters, Port Orange, FL
Services under the direction of:
Fox & Weeks Funeral Directors, Hodgson Chapel
912-352-7200
Memorial Service

10:00 a.m. on Fri, April 22, 2022

Christ Church Episcopal on Johnson Square
28 Bull Street (map)


Savannah GA 31401

912-236-2500