Celebrating the life of
Linda Banks Waters
Passed away on April 03, 2022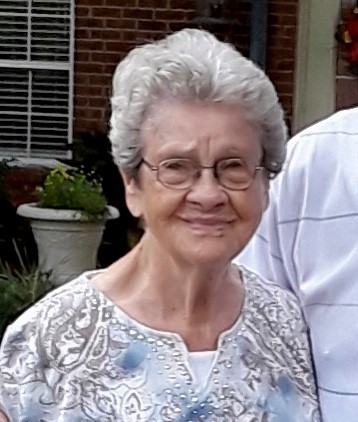 LINDA BANKS WATERS
January 2, 1926 – April 3, 2022
Linda Banks Waters, widow of Winfred Gails Waters, Sr., passed away at her son and daughter-in-law's home in Ocala, Florida on Sunday, April 3, 2022 at the age of 96.
Linda was born and raised in Glennville, GA and spent her married life in Savannah, GA. She was a homemaker while raising her three sons. When her children were grown, she worked at Belk and in the Birth and Death Records Office for the State of Georgia. Linda was a member of The Evangelical Lutheran Church of the Ascension.
Linda was very proud of the fact that she played basketball at Georgia State College for Women. After college, she moved to Savannah and worked at Union Camp where she met her husband, Winfred, to whom she was married for 64 years. In her senior years, she volunteered at Candler Hospital, Smart Seniors and the Lutheran Church of the Ascension
Linda is survived by her sons, Winfred Gails, Jr., Michael (Rose) and Lindsay (Leslie); stepson, Charles Waters (Judy); brother Ned Banks of Glennville; sister, Delores Harlow of Waycross; five grandchildren, Cory Waters, Hayley Weichler, Kevin Waters, Cherese Waters and Courtney Fletcher; nine great-grandchildren; and several nieces and nephews.
Linda was preceded in death by her parents, Ruby and Eben; husband, Winfred; sisters, Marjorie B. Durrence, Maridean B.Brewton and Dealva Banks; and brothers, Revis Banks, Larry Banks and Ed Banks.
She will be greatly missed by her loved ones and the many friends she made over the years.
Funeral services conducted by Fox and Weeks will be private per her request.
REMEMBER ME
Remember me when flowers bloom
Early in the spring
Remember me on sunny days
In the fun that summer brings
Remember me in the fall
As you walk through the leaves of gold
And in the wintertime – remember me
In the stories that are told
But most of all remember
Each day – right from the start
I will be forever near
Flor I live within your heart
Author Unknown
In lieu of flowers, it is requested donations in her memory be made to Hospice of Marion County, 3231 SW 34th Avenue, Ocala, FL 34474.
GUEST BOOK
Wow, I would have loved to have Linda on my basketball team. She will always be remembered for being all heart. She lives in our hearts and in God's memory to resurrect her to paradise as was originally intended. She "rests" briefly to awaken as Lazarus was raised from the grave 4 days later. Jesus will call, and Linda will answer. Job 14:14 She will be in good health, young and beautiful forever. There will be no more sickness, pain, or death, Rev 21:3,4 She could trust that Christ's heavenly Kingdom government will restore earth to the original condition intended. Isaiah 9 :6,7 Please be comforted. JW.org "Enjoy Life Forever" Christian Love and Prayers, Sandy Wirfs
- Sandy Wirfs, Monroe,, Louisiana
I fondly remember the Waters family at Ascension. I was blessed to have Gails as a home room teacher at Savannah Christian and good friend thereafter. I remember going to Lutheridge with Mike and Lindsay was great friends with my brothers. I wish we could see you all at a visitation. I hope to see you soon!!
- Mark V. Smith, Savannah, Ga
I remember the Waters Family very well fondly, especially Gales and Michael who were near my age. Mrs. Waters was a sweet and kind lady. Know you all will miss her.
- Wayne A. Benton, Savannah, GA
Grandma, you will be missed. We love you and will always look back fondly of all the time we were able to spend with you. You always looked out for us and cared so deeply. With love, Cory, Gaby, and Trevor.
- Cory Waters, Lodi, NJ
Linda was a truly beautiful lady, inside and out. She will be missed. Prayers for peace and comfort.
- Alice and Robert Schunemann , Snellville , Ga
She is now in the light, she is the light. The energy of the universe is now with my Mother, in my Mother, and is my Mother. The earthly life that we all know is just a birth until death. It saddens me greatly that she has moved to the next dimension but that is only my emotions speaking. I know for a fact she is in a place very few of us understand. A place of peace, of love, of ultimate understanding of who we are. I will be with you again Gails
- Gails Waters, Savannah, Georgia
So sad to hear of her passing. However, will always have the fabulous memories of growing up next door to the Waters family on Daffin Dr. Our prayers and best wishes to each of you and your family members. Linda was a second mother to me and was always so kind and caring to my wife and two boys. She will be missed Blessings to you
- Durie & Debra Andrews, Ten Mile , Tennessee
Many fond memories growing up across the street from the Waters family on Daffin Drive. Your Mom was a special Lady. Sad to hear this news, all three of you are in our thoughts and prayers.
- Steve and Kim Byrd, SAVANNAH, GA
I have loved her since I was a child and was very blessed to have her in my life as an adult.
- Nancy K Whitney, Kennesaw, Ga
I met Linda at John Wesley Villas and she was a true joy !! Such a sweet, dear lady. Prayers for you all.
- Nancy Lawson, Savannah , GA
Deepest condolences such a nice lady, wonderful memories from the daffin heights days. thoughts and prayers
- stephen C bright, savannah, GA
Linda and I worked together in the Vital Records office, Chatham County Health Dept. for several years. She was a true lady and I enjoyed every day spent with her. Know she will be missed.
- Beverly Wall, Savannah, GA
Services under the direction of:
Fox & Weeks Funeral Directors, Hodgson Chapel
912-352-7200