Celebrating the life of
Michael S. Fawcett
Passed away on March 04, 2022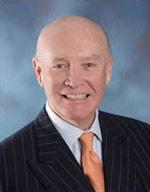 Michael S. Fawcett, 77, of Savannah, GA, formerly of Palm Beach, FL, Hamilton, MA and Pittsburgh, PA, passed away on March 4, 2022. His devoted wife and partner of 20 years, Hedy, was by his side.
Michael was born in Pittsburgh, PA, in 1944, to Harry and Miriam Fawcett ("Johnny"), both now deceased. He was the oldest of four children and shared lifelong friendships with his loving sisters Deborah P. Fawcett of Cambridge, MA, Penelope McDermott (Paul) of Hilton Head Island, SC, and Meghan Wise (John) of Green Bluff, WA.
Michael graduated from Mt. Lebanon High School in 1962 and from Hamilton College in 1966, where he played lacrosse and was a lifelong member of Sigma Phi. He married Ann Durbin of Chicago in 1966, and they gave birth to their beloved son Courtney Durbin Fawcett in 1967. Courtney now lives with his wife Heidi Fawcett in Rowley, MA, and he has been a business partner with his father for many years.
Michael earned his law degree in 1969 from the University of Pittsburgh School of Law and began his legal career at the esteemed firm of Eckert Seamans in Pittsburgh, followed by Sullivan & Worcester and Mintz Levin in Boston. Michael then started a career in new business development including a Pepsi bottling business that began in Argentina and soon spread throughout South America. He developed other successful business ventures such as Braxton Associates, Health Dialog Services and other new ventures through his own firm Meacham Woodfield, LLC. This was his passion and he never retired.
Michael married Polly Osborn in 1982, and in 1984 they gave birth to their beautiful daughter Madeleine Johnston Fawcett. Madeleine now lives with her husband Adam Atenasio and their three children, Ines, Otto, and Bingham in Ipswich, MA and Brooklyn, NY, along with Madeleine's mother Polly.
Michael loved sporting horses and dogs. He launched a world class polo team and breeding operation with his Cold Comfort Farm in Hamilton, MA, and Argentina. His team traveled worldwide to win many tournaments at Palm Beach Polo, Saratoga, Myopia Hunt Club and Argentina. His team, with this son Courtney playing by his side, won the prestigious East Coast Open among many other trophies; and had the first and only undefeated high-goal season at Saratoga.
Michael married Hedy Becker in 2008. Among their many personal pursuits, Michael and Hedy were partners in launching the first entrepreneurship program at Hamilton College designed to mentor college students seeking to launch new business ventures. They also participated in a similar program at the University of Florida School of Business.
Michael was an expert angler and golfer. He and his wife explored many new golfing, fishing, and riding adventures. Michael was a loving husband, father, grandfather, brother, law partner, business partner and mentor to many young people. Michael was extraordinarily generous in every way.
Michael was a connoisseur of fine wine, art, and literature. He had a brilliant mind and a sharp wit, he was creative, loving, hard-working and a loyal friend. Michael was a "peachy" dancer and always the most dapper of men. He loved to relax with a Cuban cigar and a glass of Lagavulin. He drank deeply from the cup of life.
Michael was a longtime member of the Everglades Club, Bath & Tennis Club, Allegheny Country Club, Duquesne Club, Somerset Club, Myopia Hunt Club, Singing Beach Club, Saratoga Golf Club, The Reading Room and the Lotos Club.
Michael was a passionate student of history and an American patriot. He was a historian who cherished the freedoms created by our founders and guaranteed by our constitution. He enthusiastically supported numerous Veteran's organizations.
Along with his immediate family, Michael was adored by his niece Lily Faught of Cambridge, MA, and his many nephews, Peter McDermott of Roanoke, TX, Bryan Wise of Pound Ridge, NY, and Andy McDermott of Bluffton, SC. He was predeceased by his youngest nephew Colin Fawcett Wise.
In addition to a private interment in Sewickley, PA, celebrations of Michael's life will be held in Savannah, GA on May 2, 2022 at 11:00 a.m. and on the North Shore of Boston in June. Additional details will be provided shortly. In lieu of flowers, the family suggests donations to the Wounded Warrior Project or the Coastal Conservation Association (Skidaway Island Chapter).
GUEST BOOK
Hedy and the entire extended Fawcett family I was deeply saddened by the news of Michael's passing. He was a mentor and a great business companion. He was always "Mon General" to me. His passing is a great loss to this world. Mon General, May God Speed, always your Colonel Mustard.
- Raymond Roland, Greenwood, SC
I am just coming to learn about Michael's passing and for this I apologize. Michael and I met in 1999-2000 and instantly connected as friends. The business that we were discussing at that point never went forward, but our friendship was forged as a result and I was the better for it. Michael was an intelligent, genuine, trustworthy, gentleman and I was so blessed to have had my path cross with his. I will miss his wisdom, guidance and mentorship. My deepest condolences to his family. The entire world shares this loss with you and my prayers are with you all. RIP Michael
- Stephen Simas, Albertson, NY
Services under the direction of:
Fox & Weeks Funeral Directors, Hodgson Chapel
912-352-7200