We have been made aware that families being served by Fox & Weeks are being contacted by individuals requesting payment over the phone. Fox & Weeks will not contact a family requesting payment over the phone. Please contact the Savannah Police Department immediately if you are contacted and asked to make payment over the phone. Please contact Fox & Weeks if you have any questions.
Celebrating the life of
Joyce Dodd Smith
August 28, 1931 - February 05, 2022
Will be remembered as a very kind, thoughtful, and generous person.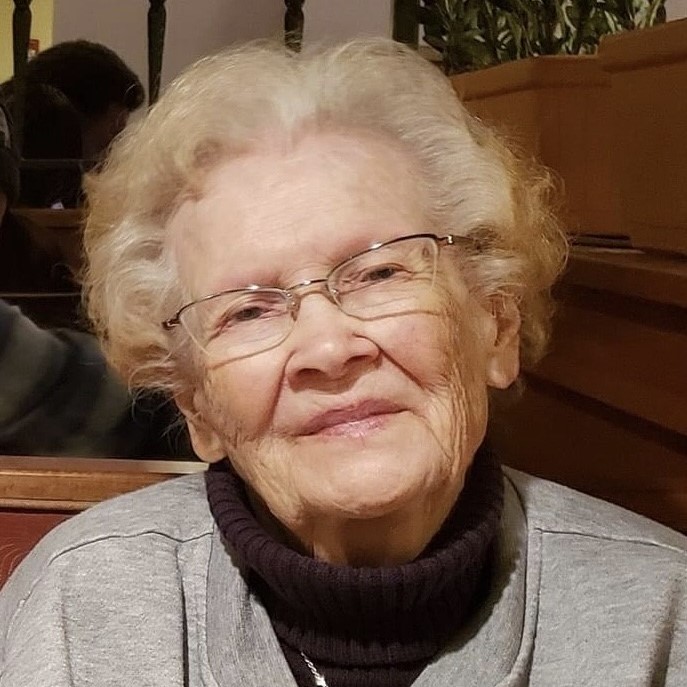 Joyce Dodd Smith, 90, of Columbia, South Carolina passed away on February 5, 2022 at the Station Exchange Senior Care Center in Richmond Hill, Georgia.
Joyce was born on August 28, 1931 in Pine Bluff, Arkansas to Isaac Henry and Lennie Knight Dodd. The family moved to Georgia in 1936. Joyce grew up in Chatham County, and graduated from Savannah High School in 1949. She married the love of her life, Robert Smith, commonly known as Robbie, on Valentine's Day, February 14, 1954. Joyce spent much of her life as a housewife, but also worked as a secretary for Palmer and Cay Insurance, along with various other jobs and volunteer work in her lifetime. The family lived in Port Wentworth, and later, on Wilmington Island.
Robbie and Joyce moved to Columbia, South Carolina in 1997 to be closer to their grandchildren. Joyce enjoyed traveling with her husband, playing Rummikub and card games, completing word search puzzles, and pencil coloring beautiful drawings. She was an avid reader throughout her entire life. Always neatly-dressed, she valued proper manners and etiquette. Joyce took great pleasure in creating personalized cards to send to family and friends, and will be remembered as a very kind, thoughtful, and generous person. She was a long-time member of First Baptist Church in Port Wentworth, Georgia and a current member of North Trenholm Baptist Church in Columbia, South Carolina.
In addition to her parents, Joyce was predeceased by her husband, Robert A. Smith, Jr., and by two brothers, James K. Dodd and Ernest Gene Dodd. She is survived by her son, Robert A. Smith, III; her daughter and son-in-law, Lisa and Cliff Woodard; grandsons, Ethan and Jared Woodard; sister and brother-in-law, Thelma Dodd and Karl Harris; 4 nephews, 5 great nephews, and 1 great niece.
There will be an informal viewing at Fox & Weeks Funeral Directors, Hodgson Chapel on Thursday, February 10, from 2:00 to 5:00 p.m. A graveside service will be held at Hillcrest Abbey East Cemetery on Wheaton Street on Friday, February 11, at 1:00 p.m. A memorial service and celebration of life may be held at a later date.
In lieu of flowers, the family asks that donations be made to Joyce's favorite charities: St. Jude Children's Hospital or the Oliver Gospel Mission in Columbia, South Carolina.
GUEST BOOK
Reunited again!
- Cliff Woodard, Columbia , South Carolina
I'm so sorry for your loss. I have many fond memories of Ms. Joyce. Prayers for your family.
- Gay Jones Quinney, Port Wentworth, GA

A candle has been lit!
Aunt Joyce was a true southern lady. She was a wonderful aunt to all of us!
- Gene and Monica, sav, ga
Lisa, you and your family have me deepest sympathy for your loss. I wish and your family peace and comfort as you grieve during this difficult time.
- Sharon Jordan, Elgin, SC
Our sincerest condolences on the loss of your sister Thelma. Our prayers for you and family.
- Angie, Ashley & Will, Savannah, GA
Services under the direction of:
Fox & Weeks Funeral Directors, Hodgson Chapel
912-352-7200
Graveside Service

1:00 p.m. on Fri, February 11, 2022

Hillcrest Abbey Memorial Park
1600 Wheaton Street (map)


Savannah GA 31404

912-234-3458