Celebrating the life of
Theresa Louise Highsmith
April 21, 1941 - January 31, 2022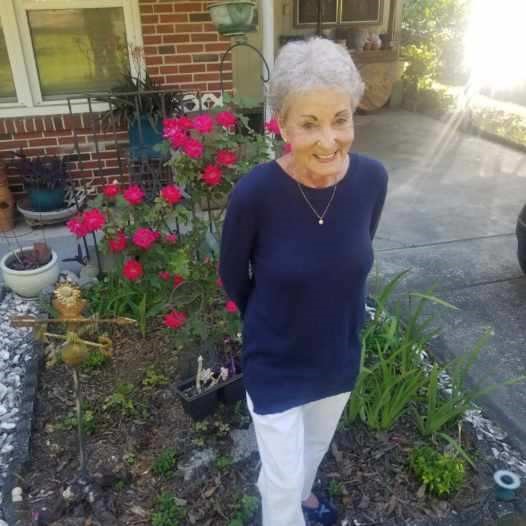 Theresa L. Highsmith, affectionately known to many as "Miss Lou", passed away Monday January 31, 2022 at the young age of 80. Lou was born April 21, 1941 in Savannah Georgia to her parents Sandy and Myrtie Sandiford. She resided in Garden City for over 50 years. Her passions in life included gardening, making videos, love of animals, and making people laugh with incredible stories from her life's journey. Never to be forgotten by her loving partner Dave, her 2 daughters, Terri and Connie, 3 grandchildren Sandy, Sam, and Karlie, and 5 great-grandchildren, along with a lifetime of family and friends.
A celebration of her life will be held at Fox and Weeks on Hodgson Memorial Drive, Savannah, Sunday February 6th, 2022 from 3:00-5:00 PM. There will be a Memorial page on Legacy.com to share your personal stories, feelings, and memories.
Remembrances may be made to the ASPCA, aspca.org/donate, or the COPD Foundation, action.lung.org.
To read obituary posted on Legacy.com.
GUEST BOOK
So sorry to hear this. Lou was in our life for a long time. May Peace be with you now and in the days to come. Pam King
- Pamela King, Pembroke, GA

A candle has been lit!
I pray this candle adds more light to your eternal journey Lou! I love you!
- Kathy, Savannah, Ga

A candle has been lit!
- BETTY JOYCE HENDRIX, SAVANNAH, GA
Sweet Sweet Miss Lou that she was!!! I can remember when I live back in Garden City going to her tanning bed just enjoying being with her she was always so sweet and always had such kind words. I just loved her. And I was so honored at Christmas time to see her at Ruth Chris with her beautiful daughters and granddaughter I was so excited to see them and I feel so blessed . When we saw her eating in December she had that big smile on her face then too. . Terry Connie and the family I am so sorry for ya'll loss she was a fabulous lady and I was so glad she was my friend. God bless you all and I'm so sorry again. All Prays !!!
- Marty and Cindy Seckinger , Guyton , Ga
Terri and Connie, I am so sorry for your loss. She was a sweet and beautiful person that you couldn't help but love. My thoughts and prayers are with you all. Pam Price
- Pamela Price, SAVANNAH, GA
so sorry about your mother I remember all the good times The years I knew her were special I do not know if you remember me I worked with Waymon
- Johnnie Joyner, Brooklet, Ga
To David, My Cousins Terri & Coni and the whole Family, I am So Sorry for your Loss of such a Beautiful & Wonderful Women! My Aunt Sissy was a big part of my life, and I will never forgot the Love and Support she gave me. I Love and Miss You Sissy!!
- Craig S Lewis, Savannah, GA
"Little" Louise, as I knew her, was my sister. She was married to my brother Joe and even though their marriage didn't last the test of time she was still my sister to this day. When I was younger I spent so much time at their house I guess Lou-Lou felt like she raised me along with Teri & Coni. She kept us giggling and she saw to it that we had good times. Those memories are very dear to my heart and will never be forgotten. Rest well, my sweet Lou-Lou, I love you and you will be sorely missed! Teri and Coni, I love y'all, too, God bless and keep you both.
- TONI HIGHSMITH CRAWFORD, BLUFFTON, SC
Services under the direction of:
Fox & Weeks Funeral Directors, Hodgson Chapel
912-352-7200
Celebration of Life

3:00 to 5:00 p.m. on Sun, February 06, 2022

Fox & Weeks Funeral Directors, Hodgson Chapel
7200 Hodgson Memorial Drive (map)


Savannah GA 31406

912-352-7200