Celebrating the life of
Garner C. Mobley, Jr.
Passed away on January 05, 2022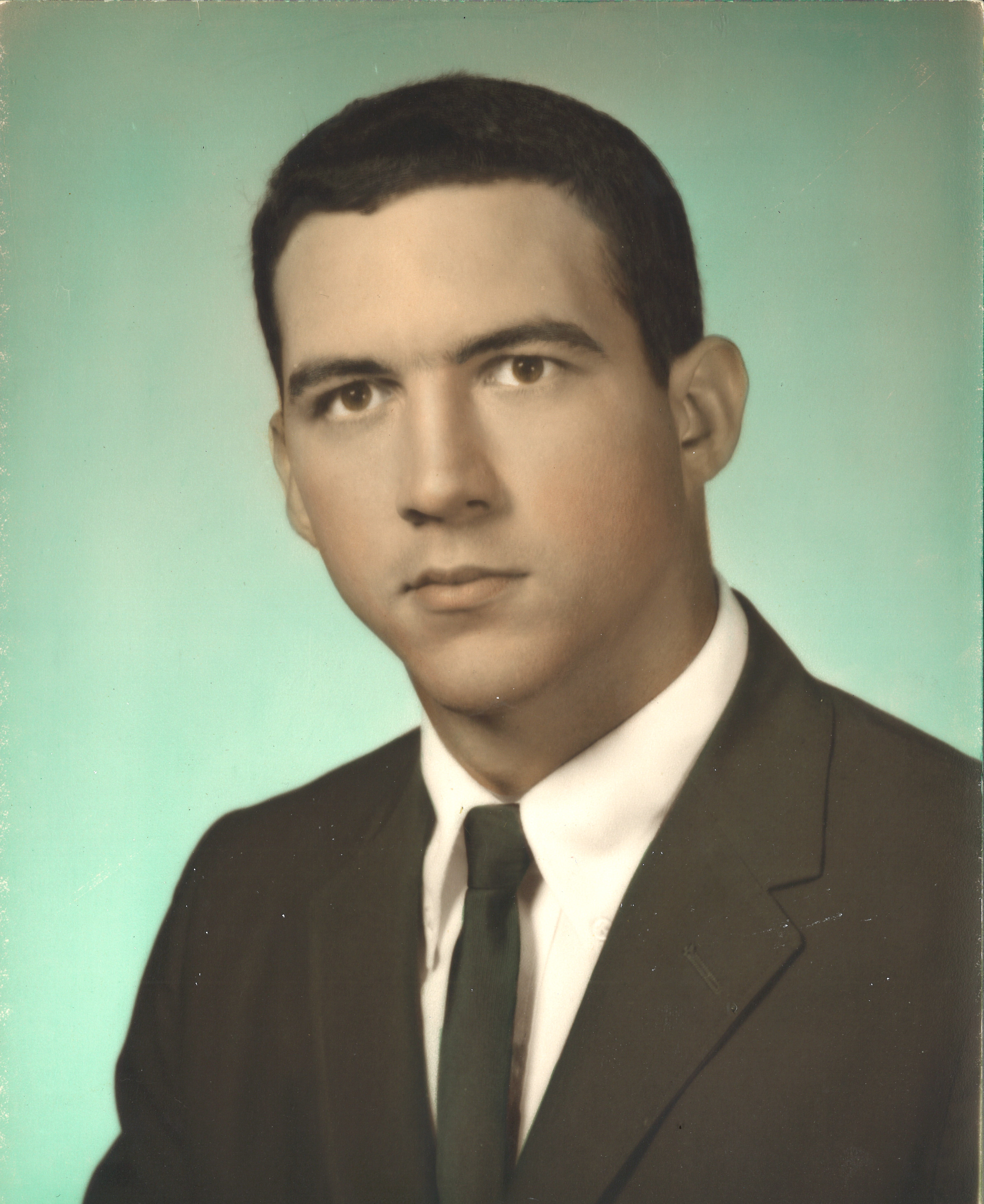 Garner Cyrell Mobley, Jr. passed away peacefully in his sleep on Wednesday, January 5th at his home on Wilmington Island.
Garner was known as "Sonny" by his friends and family and "Sonshine" to his grandchildren. Sonny was born on June 4, 1940 at the former Telfair Hospital in downtown Savannah. He attended Charles Ellis Elementary School, Washington Avenue Junior High, and graduated from Savannah High School in 1958. After his senior high school football season, Sonny was invited to play in the 1958 GACA North-South Allstars football game in Atlanta.
He began his college career at Georgia Military College on a football scholarship before transferring to The University of Georgia (UGA). During his time in Athens, he was an active member of Kappa Alpha Order fraternity. He graduated in 1963 with a BBA degree, majoring in industrial relations with a minor in psychology.
Following graduation from UGA, he enlisted in the United States Army for basic training and served our country in the US Army Reserves. That same year, Garner (as he was known in his work life) started his career with Union Camp Corporation (UCC) in the safety department at the Savannah Mill.
The next year, he began his courtship with his future wife, Donna, whom he had known since high school. After dating for nearly two years, Donna accepted his hand in marriage. They were married in January 1967.
A couple months before their marriage, Garner accepted a promotion and transferred to the UCC Montgomery, Alabama Mill as Assistant Industrial Relations Manager. In 1969, Garner was promoted to Industrial Relations Manager, the youngest manager at UCC at that time.
During their 9 nears in Alabama, they started a family and made many life-long friends. On weekends Sonny enjoyed dove shoots, deer hunting, bass fishing and Alabama football all the while remaining an avid UGA fan.
Donna, Sonny and their 2 sons moved back to Savannah in 1975. Sonny re-joined the Savannah Yacht Club and was a skilled family boater and saltwater angler. Loving a good social event, Sonny was a founding member of the Debtors Club and the St. Nicholas Society.
After 35 years, he retired as Human Resource Director for the former UCC Woodlands Division, now International Paper.
In his retirement, Sonny dubbed himself a Renaissance man. He became an avid reader, spent countless hours in his workshop on artistic home projects and on his wife's insistence, they traveled to many parts of the world.
Sonny had many life-long friends from school, football, and growing up in the Fairway Oaks Neighborhood. He was a helpful and thoughtful neighbor in their home of 46 years on Whitemarsh Island. He treasured his family, especially his three grandchildren and was the family patriarch.
He was predeceased by his parents Garner Cyrell Mobley & Madeline Waters Mobley. He is survived by his wife Donna Sapp Mobley, his sons Garner (Clay) Mobley (Stephanie) of Wilmington Island, Savannah & George (Carter) Mobley (Doris) of Atlantic Beach, Florida; his sister Barbara Mobley Wilson (Marvin) of Atlanta; grandchildren Maeve, Garner & Hollins, as well as a sister-n-law Pam Sauers (Don Hemmerle), niece, Brooker Sauers Forkin (Keith), nephew Marvin Wilson, Jr. and cousins.
Sonny has been an active member of Wilmington Island Presbyterian Church since 1976 where he served as an elder.
A memorial service will be held at Wilmington Island Presbyterian Church, with Rev. Andy Meeker officiating at 4 PM Saturday afternoon, January 8th. In leu of flowers, donations may be made to the church.
GUEST BOOK
Donna and family. Carolyn and I we're sorry to see that Sonny had passed away. Know that you are in our prayers!
- Bob White , Greensboro , Ga
Clay-so sorry about your dad. Hope that you and all of your sweet family are well. Bobby & Liz
- Bobby and Liz Davenport, Savannah , Ga
Donna, we are so sorry for your loss, you are in our thoughts and prayers.
- Donna and Reggie Adamson, Savannah, GA

A candle has been lit!
Donna, Clay, Carter and Barbara
- Tootie (Black) Tortorici and Frank, Marion, SC
Sending each of you our deepest and sincere sympathy. Our hearts are also broken.
- Tootie (Black) Tortorici and Frank, Marion, SC
What a beautifully written tribute to Sonny. So lucky to have grown up with this man who was a gentle giant in my childhood and a second father to me. Sonny and his family are in our thoughts and prayers.
- Josh McIntosh, Savannah, GA
We have known Sonny since High School. A great person and a great friend. Our thoughts and prayers go out to Donna and her family.
- Billy and Harriett Sanders, Savannah, GA
Clay, Stephanie and Family we are so sorry for your loss. Thinking of you all.
- Ashley and Rob O'Brien, Savannah, GA

A candle has been lit!
To my dear sweet friend, Donna, and her family - Tony and I are so saddened by Sonny's death and so thankful that we had the chance to have lunch with y'all last Wednesday. We are unable to attend the funeral but please know that you are in our thoughts and prayersi every day.
- Judy and Tony Field, Saint Simons Island, Ga
Donna Our thoughts and prayers are with you and your family
- Carol Ann Victor-Erwin, Savannah, Ga
Donna, please accept my sincere condolences on Sonny's death. I always looked up to him. We grew up in Fairway Oaks together and were both KAs at Ga. His parents were friends of my parents. I am holding you and your sweet family in my prayers.
- Tom Peterson, Vidalia, Ga.
My deepest condolences to your family.
- Ray Conway, Orange Park, Fl
Carter and Clay, I was so sorry to hear of your father's passing. We are thinking of you all.
- Christopher Cay, Savannah, GA
Stephanie and Clay I am sorry to hear this news. Sending hugs and love to you and your whole family.
- Kathleen G Doran, Savannah, GA

A candle has been lit!
Donna, My thoughts and prayers are with you and the family at this sad time of your life. Just remember what a great life he had and all the friends who loved him. Sorry I can't be there on Saturday but know I will be thinking of you.
- Wilma c Arnsdorff, conway, SC
Carter, our prayers go out for your dad and family.
- Brian & Leslie Kieb , 7329 Springwater Drive, NC
My prayers and sympathy go out to Donna and family. I know there are so many reminders for Sonny's family. He was such a help mate and partner to Donna. There were very few times spent together with Donna where she was not praising him for his support and creativity. He will be missed by all those whose lives he touched.
- Sherry Hendricks, Savannah, GA
Donna, you are in my prayers. Sonny was one of the kindest men I have ever known. It was always good to see him. Love to you and all the family.
- Louise Grotheer, Savannah, GA

A candle has been lit!
Donna, Robert and I both are both heartbroken to hear the news about Sonny. We have such fun and happy memories with both of you on our visits to Savannah. The parties are our home and the Jenkins reunions. He was an amazing, man, husband, Father, and friend. He will be missed by so many. We love you and sending hugs to you and prayers of comfort to you and all of our family.
- Glenda Young, Atlanta, Ga

A candle has been lit!
Such wonderful memories of such a kind man. We enjoyed getting to know you both through the years. Lost touch with many during covid and my travels but know you are in our hearts. We know you are heartbroken. Praying for peace only God can provide.
- Bobby and Lisa Barbee, Bluffton, SC
Donna, we are so sad to hear about Sonny's passing. We will keep you and your family in our thoughts and prayers through this very difficult time. Virginia and Kevin
- Broderick, Savannah, GA
Dear Donna and family, We were so sad to hear of Sonny's passing. Our thoughts and prayers are with you. We have fond memories and always enjoyed the times we spent with you all. Cheryl & Al
- Cheryl & Al Klein, Savannah, GA
Sonny ,A good man and a good Guy. R.I.P. My friend.. Larry Brown S.H.S. 1958
- Larry Brown, Savannah , Georgia

A candle has been lit!
To the Mobley Family he will be missed always brought a smile to my day
- Nathalee Drayton (Cookie), Rincon, GA
Oh, Donna. My heart is breaking for you, my dear friend. I loved Sonny, especially his laugh. He was such a kind and gentle guy. He was such a good sport on the many home improvement projects. The best kind of husband! Please call me. 912-661-3108.
- Cheryl Lauer, Savannah, Ga

A candle has been lit!
It is with heavy hearts we send our thoughts and prayers to you Donna and family. Sonny will be greatly missed. Sending you love
- Steve and Ginger Strickland, Tybee, Ga
We are so sorry to hear of Garners death. We will enjoy the many memories of our times together , the friendships we share and our bond with GMC, Prattville, Union Camp and the SYC. May you find Peace in his passing.
- John & Janice Fickett, Savannah, GA
Donna and family ….we send our heartfelt sympathy for the loss of your dear Sonny. We lift prayers for comfort and peace in the coming days as you reflect and treasure your life together ♥️
- Peggy Zeigler, Savannah, GA
In these moments of loss, words are useless. God rest his soul. Peace be with him. May peace be with you, Donna, & with all of your family. Sonny was one of a kind, never to be forgotten. God bless & my love,
- Carolyn Sheehan, Tybee Island, GA
Donna I am so sorry for your loss. May you be comforted by precious memories.
- Florrye Dunlap Grant, Chattanooga , TN
Donna and family. Very sorry to learn of Sonny's passing. You are in my thoughts. Pat Ramsey
- Patricia S Ramsey, Savannah, GA
This is sad news. Sonny was an immensely popular and respected young man at the KA house and around the UGA campus…. A class act by any and every definition. He will be missed by many.
- Jack Candler, St Simons Island , GA

A candle has been lit!
Our thoughts and prayers are with you and the family. Jeff & Mechelle Green & Family
- Donna Mobley & Family, Rincon, Ga
Tim and I offer our sincere sympathies in the passing of Garner C Mobley, Jr. Garner successfully carried out many roles: son, husband, dad, grandfather, manager, church elder, team player, friend, and neighbor. We are privileged that his path and ours converged for a 10-year period at Union Camp Corporation in Savannah, GA. Garner was a sincere and helpful person. Garner was a unique individual in heart and soul. He enjoyed many diverse activities in life and was not defined by any one endeavor. Garner's life is an example of a life well lived. Donna, our prayers are with you, your family, and Garner's (Sonny's) friends. With love from Marie Goulet & Tim Kean
- Marie Ann Goulet, Savannah, GA

A candle has been lit!
Donna and boys. I'm so sorry for your lose, I know you must miss him a lot. However we can all be glad that God blessed us by sharing him with us, and treasure the memories He gave us. I had the pleasure of working and socializing with Garner, both in Chapman then in Savannah. Also enjoyed some boating and fishing time with him in Savannah as well as purchasing a boat from him. All good memories of a true Southern Gentlemen, who I'm proud to have known.
- Dale and Jeanne McClure, Hilton Head Is., SC

A candle has been lit!
Donna, Priscilla and I were sad to hear of Sonny's home going. We have known and enjoyed knowing Sonny since we were K.A.s and K.A. Rose at UGA. Our visits a Convivium and Willy Moore's Saturday Morning Coffee gatherings were always made a special treat by Sonny's presence. Our thoughts and prayers are with you and your family. In His Love Priscilla and Bob Miles INDNJC
- Bob and Priscilla Miles, St. Simons Island, US
Uncle Sonny was the best man there ever was
- Bradley J Poole, Kingsland, GA
Uncle Sonny and Aunt Donna were like 2nd parents to me and I am glad my wife got to enjoy time with him,He was my Dads best friend,I am sorry for your loss Bub and clay Donna and family.We shared many good times together since 1975 .Rip uncle Sonny.
- Bradley,Buddy and Marcia Poole, Kingsland, Georgia
Clay and family, so sorry to read this. Thoughts and prayers.
- David Graham, Charleston, SC
My condolences to the family. I attended Washington Ave Jr High and Savannah High School with Sonny. SHS 1958
- Frank , Richmond Hill, GA
Donna: So sorry to hear about Sonny passing away. I played SHS Football with Sonny and followed him in '59 to the All State game in Atlanta. A great guy and leader. Your boys are blessed for having such a good man for their father.
- Don Hartly, Midway, GA
Services under the direction of:
Fox & Weeks Funeral Directors, Hodgson Chapel
912-352-7200
Memorial Service

4:00 p.m. on Sat, January 08, 2022

Wilmington Island Presbyterian Church
450 N. Cromwell Rd (map)


Savannah GA 31410

912-352-7200