We have been made aware that families being served by Fox & Weeks are being contacted by individuals requesting payment over the phone. Fox & Weeks will not contact a family requesting payment over the phone. Please contact the Savannah Police Department immediately if you are contacted and asked to make payment over the phone. Please contact Fox & Weeks if you have any questions.
Celebrating the life of
Gerald "Gerry" Ellis Levit
January 05, 1945 - December 15, 2021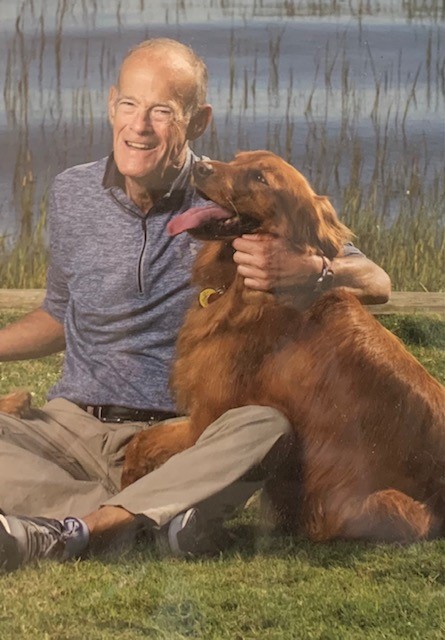 Gerald (Gerry) Ellis Levit, 76, of Savannah, Georgia, passed away on Wednesday, December 15, 2021, following a 30-year battle with Chronic Lymphocytic Leukemia.
Gerry was born in Philadelphia on January 5, 1945, to Samuel and Sara Levit. A graduate of Temple University with a degree in psychology, Gerry later worked in computer programming for the federal government. He married the love of his life, Lois Gelles, in 1968 They would later move to Columbia, Maryland, to raise their family and retire in Albany, Oregon. Soon after Lois' death, Gerry relocated to Savannah, Georgia, to be closer to his son, Ron, daughter in law, Cheryl, and grandchildren, Edith and Samuel.
Gerry had many hobbies, his biggest being classic British car restoration, specifically his Triumph TR-3. He enjoyed staying active with paddle boarding, weight lifting and yoga, and would happily demonstrate his latest yoga poses to family members. Gerry adored his grandchildren and spent hours fishing with his grandson and playing scrabble with his granddaughter.
A gentle soul with a heart of gold, Gerry was always ready to help anyone in need and give back to his community. He was proud of his cherished Golden Retriever, Ruby, whom he trained to be a therapy dog. Ruby accompanied Gerry to area schools to read and visit with students.
Gerry is survived by his daughter Sheri Levit and husband James of Albany, Oregon, son Ronald Levit and wife Cheryl of Savannah, Georgia, his grandchildren Jenna Levit, Edith Levit and Samuel Levit, his sister in law Harriet Fisher and husband John of Midlothian, Virginia, his nephew Jason Fisher, as well as his beloved dog, Ruby. Gerry was preceded in death by his parents, his wife of 41 years, Lois, and his sister-in-law, Linda Gelles.
The family would like to extend a special thank you to the staff at Buckingham South Assisted Living as well as the physicians who have worked so closely with Gerald this past year. Your compassion, care, and guidance was nothing short of spectacular.
There will be a small service for immediate family members only.
In lieu of flowers, the family asks that you give blood or donate to the American Red Cross in memory of Gerry, who received numerous blood transfusions during his battle with CLL.
American Red Cross- 41 Park of Commerce Way, Building #200, Savannah, GA 3140.
https://www.redcross.org/donations/ways-to-donate/tributes.html
GUEST BOOK
I was very sad to learn of Ron's dad passing away. There are no easy words but I do know that parents are so proud of their children and also especially their grandchildren. From what I know, he most definitely was proud of all of you! In reading this, he sounded like he lived a full life, loved and was loved and was surrounded by people who cared deeply for him. From personal experience, losing someone you love, especially a parent, is like losing a part of yourself. You miss them and you miss who you were with them. However, I was once told by a good friend that wherever a beautiful soul has been, there is a trail of beautiful memories. Certainly that is the case with your dad and those are to be cherished. Prayers for your family.
- Christian Flathman , Savannah , GA
I am very sorry for your loss. We will keep your family in our thoughts and prayers.
- Matthew Schivera, Savannah, GA
Sending Peace and love to you and you're family.
- Robin Family , Savannah , Georgia
We felt honored to call Gerry our friend and he was the first friend we had when we moved to the Landings. We thought of him more as family and most loved his kindness, gentle spirit and laid back disposition. He is so very missed and a day doesn't go by when we don't speak of him. We are thankful for the wonderful memories we hold dear and we send our sincerest condolences to all the family. Rest in peace, Gerry.
- Ellen & Cecil Pollen, Savannah, GA

A candle has been lit!
- Debbie Coolidge, Savannah , Georgia
We are so sorry for the loss of your beloved father/grandfather. We are always here for you guys if you need anything. You are in our thoughts and prayers daily.
- The Gejer Family, Warrington, PA
Gerry was a member of the Silver Striders Walking Group here in Albany. He was an inspiration to all who knew and loved him. He will be missed.
- Helen McGovern, Albany, Oregon
I will miss seeing Gerry with his beloved dog. God bless.
- Denise Considine Thompson (and Kirby the Westie), Savannah, GA
Services under the direction of:
Fox & Weeks Funeral Directors, Hodgson Chapel
912-352-7200