Celebrating the life of
Mary Elizabeth Hewit Utzinger Roeder
Passed away on November 21, 2021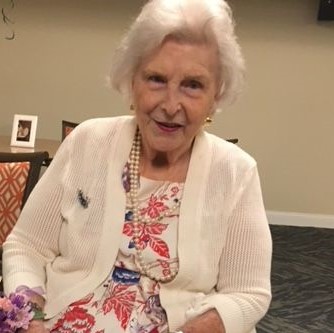 Mary Elizabeth Hewit Utzinger Roeder, businesswoman and teacher, died Nov. 21, 2021, in Savannah, GA at the age of 100.
Born in Jersey City, NJ, Mary Betty intended to study drama after high school. However, she soon met Arthur Utzinger at a church dance, and married him in 1940. They had two sons during World War II, and a third shortly after.
As a working mother, she opened a preschool in Plainfield, applying her knowledge of early childhood growth and development. When Art died suddenly in 1962, she decided, with characteristic practicality, that a widow raising three children needed to make "a man's salary." Her solution was to gain her real estate license.
In 1964 she met Kenneth Roeder, a Chatham widower with two teenage boys of his own, when he was a last-minute fill-in as "a fourth for bridge." They married the following year.
She viewed melding their five boys into a single family as one of her finest accomplishments.
She often accompanied her husband on his work as a railroad consulting engineer, including stints in South Korea, Japan and Ghana. When they retired to New Hampshire, she opened a real estate business, and also served as a hospice volunteer.
After the death of her second husband, she moved to West Chester, PA. A natural performer, she was a longtime member of the Hershey's Mill Players, and regaled her fellow church congregants with her rendition of "Diamonds Are a Girl's Best Friend," risqué lyrics and all. She preached the occasional sermon as well.
Mary Betty was, at her core, a teacher and entrepreneur. She liked nothing more than to learn a new skill and teach it to others, whether it was ballroom dancing to middle-schoolers in North Plainfield, line dancing to senior citizens, quilting, or "How to be a take-me-along wife."
Those two traits combined when she lost her vision to macular degeneration and became a paid motivational speaker for the Macula Vision Research Foundation. She traveled throughout the country urging her audiences to stop dwelling on what they could no longer do and find a new way to do it instead. She also manned the foundation's crisis hotline. Her advice lives on in her YouTube videos.
She was predeceased by two brothers, Frank and Hardy, as well as her eldest son, David.
She is survived by Richard Utzinger (Karen), Savannah, GA; Thomas Utzinger, Warren, NJ; R. Kent Roeder (Kathleen), Sparta, NJ; and John Roeder (Clarice), Dacula, GA; Pat Utzinger, Dolylestown, PA, and Linda Utzinger, Mechanicsburg, PA; eight grandchildren, ten great-grandchildren, and two great-great-grandsons.
Services will be at 11:00 a.m. on December 18, 2021 at the Crescent Avenue Presbyterian Church, Plainfield, NJ.
In her memory, donations may be made to United Church of Christ of East Goshen, PA, (www.ucceastgoshen.org)
GUEST BOOK
So sorry Mary Betty has passed on. I am better for having known her! My thoughts and prayers are with those who also loved her!
- Bunny Watts, Wilmington, DE
Services under the direction of:
Fox & Weeks Funeral Directors, Hodgson Chapel
912-352-7200
Memorial Service

11:00 a.m. on Sat, December 18, 2021

Crescent Avenue Presbyterian Church
716 Watchung Avenue (map)


PLAINFIELD NJ 07060

908-756-2468