Celebrating the life of
Jimmy N. Ubernosky
July 31, 1973 - November 18, 2021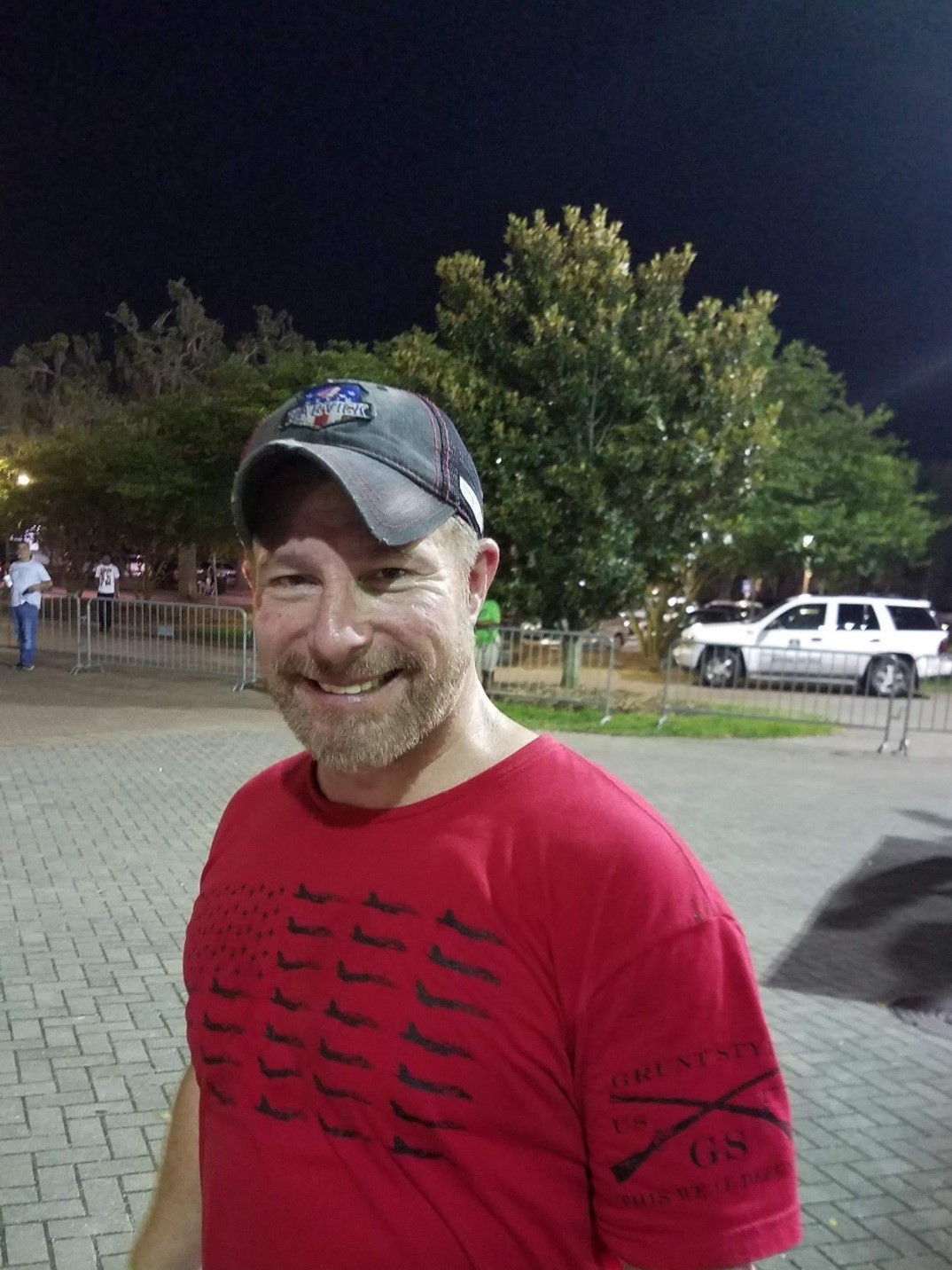 Jimmy Newton Ubernosky , US Army Ranger, Father, Texan, Friend, Mentor, and life of the party passed away November 18, 2021, in Savannah, Georgia from complications from a stroke.
Jimmy was born in Houston, TX on July 31, 1973 to the late Robert Paul Ubernosky and Barbara Jean Crenshaw. Jimmy grew up in Houston, was on the Baseball team and graduated from Spring Woods High School. Jimmy went on to have an impressive career in the US Army. Jimmy served in the mighty, mighty 1st Ranger Bn and went from Private (E1) to SFC (E7) in the same company. This was a huge feat that few have accomplished in the 75th Ranger Regiment. After leaving 1st Ranger Bn, Jimmy served as an Ranger School Instructor at 4th RTB at Ft Benning, Georgia. Jimmy served as a Platoon Sergeant in Bco 1st of the 325th Airborne Infantry Regiment at the 82ND Airborne Division at Ft Bragg, NC. After leaving the 82nd, Jimmy served with the Asymmetrical Warfare Group (AWG) and then returned to Ranger School (RTB) to serve as an RI (Ranger Instructor) at 5th RTB in Dahlonega, Ga. After serving 21 years and 23 days, Jimmy retired from the US Army. During that time, Jimmy also graduated from prestigious Military Schools and courses such as, US Army Ranger School, US Army Jumpmaster course, he earned his Expert Infantryman Badge, deployed to combat with the 82nd and received his Combat Infantryman Badge. Jimmy earned many awards during his time including the Meritorious Service Metal and the Bronze Star. After retiring from the US Army Jimmy moved to Guyton, Georgia to be close to his daughter, Audrey Ubernosky.
Jimmy was a ball of energy and if he was your friend, he was loyal to the end. Jimmy was the King of "over the top" and he walked to the beat of his own drum! Jimmy loved motorcycles and was the self proclaimed "burn-out champion" as can be attested to by anyone who happened to be in close proximity of Jimmy doing a burn out. Jimmy met "His Person" in Marjorie and they were married in 2019. Jimmy surprised everyone at the wedding when he serenaded Marjorie by playing "Can't Help Falling in Love" on the Cello. Jimmy's mom always said "God thought I was missing something in my life and gave me Jimmy". While Jimmy had many interests and passions, none were more important to him than being a Father to his beloved daughter, Audrey.
Jimmy is survived by his loving wife Marjorie Ubernosky of Guyton, Ga, his Mother Barbara Jean Randle of Texas, his daughter Audrey Ubernosky of Effingham, Georgia, his sister Wendy Lee O'Kane and husband Patrick, niece Kendall and nephew Caleb of Texas, brother Robert "Wendell" Ubernosky and wife Marcie of Texas , Glen Ubernosky and nephew Robert and niece Bea of Texas, and sister Paula Steeves and nephew Sean and niece Courtney of Texas.
Graveside service with full military honors will be held at 2:00 p.m. on December 11, 2021 in the Greenwhich section of Bonaventure Cemetary in Savannah with an epic celebration of life to follow at the American Legion in Thunderbolt, Georgia.
GUEST BOOK
Give Heaven some Hell....RLTW!
- DJ Wight, Dahlonega, GA
My thoughts and prayers are with Marjore and the entire family of our beloved jimmy may he rest in heavenly peace and his memory be forever eternal I will remember you always my friend ❤️
- Coco, Savannah, GA
What great people, and Jimmy was a real hero. I wish you and your family peace. - Justin
- Justin, Miami , Florida
I never got to meet Jimmy in person but I no the love and joy that he brought to my niece Marjorie. Rest in peace Jimmy I salute you.
- Rudy and bonnie Horst Jimmy's uncle Rudy and ant , Ellenberg , Washington state
I am so sorry for all the families loss. It is so hard when someone so young as Jimmy is taken so suddenly. I still have the picture some where, where I was cutting his hair when he was about 4 years old. He sat perfectly still with the most innocent look on his face, the entire time. He is with his Dad, Bobby now. And I am sure they are already pulling some pranks on some Angels up there. Barbara, I am so sorry for your loss. There are no words you can really say to a parent who has lost a child. If I could be there I would just give you a long strong hug for the support you are going to need to make it through this, he is your baby forever. Marjorie, I never met you but I am sure you are a very special person for Jimmy to pick you for his wife. Jimmy looked so happy in y'alls wedding pictures. To his daughter Audrey, Your Grandpa sure was proud of you, every time he got new pictures of you, he would call me over to see them. I know your Daddy was very proud of you too. He will always be watching over you.
- Cindy Roberts Harrell, Houston, Texas
You'll be missed Uboat!!! God bless you and your family, Brother. Rest In Peace. RLTW!
- Thomas Williams , Fort Worth , Texas
Rest Easy Ranger. RLTW. ATW
- Sonja Canas Held, Savannah. , Ga.
Sending our deepest condolences for your unimaginable loss of such a vibrant lovely man.
- Ferkovich , Snoqualmie , Washington
RIP brother! Prayers for Jimmy's family.
- Capt. Stan Allen , Tybee , Ga.
Please accept my heartfelt condolences with the death of your beloved Jimmy.
- Jenny Miller, Jacksonville, Florida
Thanks for always looking after me Ranger brother. I will try to live my remaining life as full as you always have. RLTW!!!
- Simpson, Atlanta, GA
Rest in peace Jimmy, you deserve it. You were a great guy and true friend to many. You are home now.
- Beverly, Rincon, GA
Services under the direction of:
Fox & Weeks Funeral Directors, Hodgson Chapel
912-352-7200
Graveside Service

2:00 p.m. on Sat, December 11, 2021

Greenwich Cemetery
330 Greenwich Road (map)


Savannah GA 31404

912-651-6843