Celebrating the life of
Lou Ellen Vincent Barnes
May 11, 2021 - November 17, 2021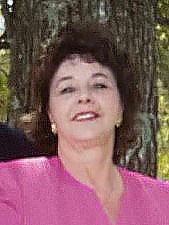 Lou Ellen Barnes, 82, died Wednesday, November 17, 2021 at Candler Hospital.
The Roanoke Rapids, NC native was born in the Spring of 1939 to the late Henry and Marian Carroll Vincent. Lou was a graduate of Louisburg College in Louisburg, NC. She was a former member of the Gold Medal All-American Girls Basketball team where she played forward.

Lou's passion was helping others, so it was only natural that she chose a career in Human Resources. She worked for Magnavox in Arden, NC. before moving to Tennessee, where she was the relocation specialist. Lou briefly returned to North Carolina before settling in Savannah and making it her home. She was a former employee of Parent-Child of Savannah, an organization that she loved; and the Savannah Morning News, where she retired after many years of service.

After retirement, Lou took great pride in caring for her yard. She was blessed with the best neighbors and friends and was an active member of First Baptist Church of the Islands. She adored her church, her church family, and her Sunday School Class. She was an excellent cook that never went by a recipe; so, if you wanted to learn to cook it, you had better watch Lou . She also enjoyed weekend garage sale shopping. But, above all, Lou loved spending time with her family.
Everyone knew that Lou would welcome them in her home with love, laughter, faith, and good food. There was always a place in her home for the many friends of her children.

In addition to her parents, Lou was preceded in death by her husband, Wallace Smith; daughter, Beverly Barnes; brothers, Billy, and Ed Vincent; sister, Fran Gudely; and her beloved pet, Daisy

She leaves behind a son and daughter-in-law, Craig and Betsy Barnes; grandchildren, Haley Barnes and Jared Gibbs; sister, Pat Leder; brother, Bert Vincent; and many nieces, nephews, and friends that will dearly miss her.

Funeral service will be held at 2:00 p.m. on Saturday, November 27, 2021 at First Baptist Church of the Islands with Rev. Brooks Cail officiating. The family will receive friends for one hour prior to the service. Burial will be in Greenwich section of Bonaventure Cemetery.

In lieu of flowers the family suggest you consider a donation in Lou's memory to First Baptist Church of the Islands, 6613 Johnny Mercer Blvd, Savannah, GA 31410.
GUEST BOOK
Such a wonderful friend. Beautiful inside and out . You will be missed every day. Love , Nell Gay
- Mary Gay, Savannah , Ga

A candle has been lit!
Our deepest sympathies for the Barnes Family and know that we pray for your peace - Lou was a great friend of our family for many years and particularly of Avery whom she would have long chats with as he was on his daily walks through the Park. She will be missed and is at peace now.
- Low Family , Savannah , GA
Lou was a very special woman. She was a catalyst in me landing my first job at the Savannah morning news. She believed in me and I'm so thankful for her caring heart. If it wasn't for Lou history would be re-written and I wouldn't have my wonderful family and blessed life in the low country. We are grateful for the memories we shared. We will surely keep her and the Barnes family in our prayers and trust and know that the Lord has a special place for Lou in his kingdom. With Love, Alan
- Alan Gallardo, Bluffton, SC
We loved Aunt Lou and will always remember her fondly. I remember her when I was a kid and she was always so fun because she was much younger than my other Aunts and Uncles. We love you LOU and will miss you. Prayers and condolences to Craig, Betsy and the rest of the family.
- Mike and Teresa Gudely, Valdosta, GA
My heart breaks knowing that Lou has departed this world but it is also filled with so much joy knowing she has been called home and is no longer suffering. Lou was my mom away from home, whom I also lost recently, so this is just a very sad hurt and pulls at all my heartstrings. Lou was so special to me and hired me on at the newspaper in 1998. A lost girl from Montana relocated to Georgia and Lou saw so much potential in me instantly and guided me along the way to the woman I grew to become today. I will always remember our talks, walks and many laughs together and so grateful that I was able to be close to her through the years sharing the same church. May she rest in peace and now get to meet my loving mom who she never met but knew everything about her! I love you sweet Lou.
- Gretchen Speerstra, Savannah, GA
I will miss Lou so very much. She was an amazing lady and always knew how to make me feel good about life. She was strong and her light will continue to shine. Fly high sweet Lou.
- Tracy Underhill , Asheville , NC
Services under the direction of:
Fox & Weeks Funeral Directors, Islands Chapel
912-898-0900
Visitation

1:00 p.m. until 2:00 p.m. on Sat, November 27, 2021

First Baptist Church of the Islands
6613 Johnny Mercer Blvd. (map)


SAVANNAH GA 31410

912-897-2142