Michael Anthony "Mike" Sowders, 64, formerly of Moores Hill, Indiana, went to be with our Lord and Savior on Saturday, August 21, 2021 at Memorial Health University Medical Center in Savannah, Georgia with loving family and Bella, his devoted dog and companion by his side.
Mike was born February 2, 1957 in Detroit, Michigan to the late Richard Sowders and Mildred "Faye" Baker. He worked as a journeyman contractor and was an avid outdoorsman who loved to fish and hunt. Mike was fiercely loyal to his faith and family which he had a deep love and affection for. Mike could strike up a conversation with anyone and enjoyed learning their story as he shared his. His beautiful granddaughter, Alyssa, was his pride and joy who viewed him as a father figure. He loved spending time with her, whether it was shooting or fishing and took pride in teaching her everything he knew, like a great father would. Their time together created a special, unbreakable bond, that she will carry with her everyday.
Mike leaves behind many loved ones to cherish his memories including the love of his life and wife of forty years, Linda "Lyn" Sowders; three well-loved children, Curtis (Jenni) Sowders, Cassandra "Cassie" Sowders and Melissa "Missy" Sowders; five precious grandchildren, Alyssa, Joshua, Ryder, Jordyn and Logan; five siblings he adored, Delora (Joe) Motto, Jerry Sowders, Richard "Rick" (Laura) Sowders, Robin (John) Hollar and Lynita (Todd) Bachman; his beloved Aunt Daisy Patterson and many nephews, nieces, cousins and friends who he cherished and loved dearly.
In addition to his parents, Mike was preceded in death by two grandchildren, Angel and Lucas.
His family finds comfort in knowing that he is no longer in pain or suffering and is at peace with the Lord. His love will continue to guide them as he watches over them from Heaven, never far from their hearts.
A private Celebration of Life will be held at a later date.
GUEST BOOK
The hurt is too great to talk about The loss to big to even imagine hes gone. All condolences to Lynn and the children. I love you all. May he rest in the arms of foregone family and our lord Jesus Christ.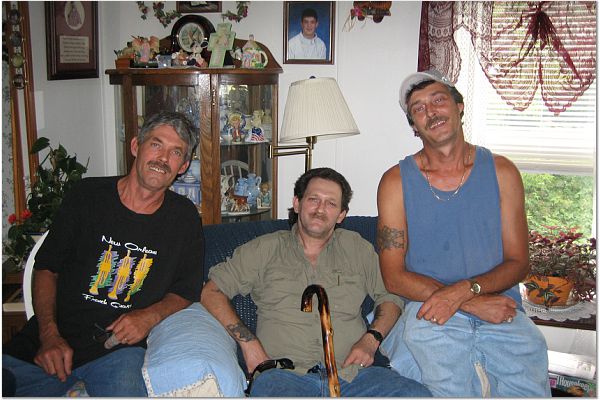 - Rick Sowders.. ie.. Lil Brother, Dry Ridge, Kentucky
Sorry for ur loss. Hugs to you all. We had some great times together. He will b missed.
- Jennifer Schultz, Rising Sun, State
We are so very sorry to hear about Mike. Our hearts are broken. Prayers for the family , especially my friend Lyn.
- Parmley , Seymour , Indiana
Sending prayers for peace and comfort. Some of my best childhood memories happened with Mike, Lyn, Cassie, and Missy. Mike was always a willing ear to my chatter. Love to you all.
- Jessica Feller and Family , Milan, In
I want you all to know that you are in my prayers. I met Mike thru Paul and could not have known a more kind and sweet person.
- Margaret Green, Covington, KY
Services under the direction of:
Fox & Weeks Funeral Directors, Hodgson Chapel
912-352-7200
A Private Service Will Be Held