We have been made aware that families being served by Fox & Weeks are being contacted by individuals requesting payment over the phone. Fox & Weeks will not contact a family requesting payment over the phone. Please contact the Savannah Police Department immediately if you are contacted and asked to make payment over the phone. Please contact Fox & Weeks if you have any questions.
Celebrating the life of
Betty Dimmick Weeks
Passed away on April 30, 2020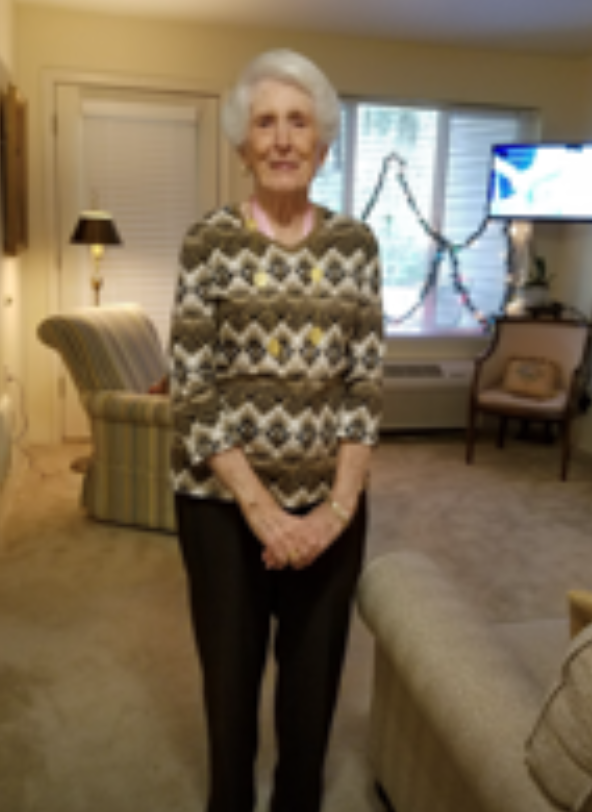 Betty Dimmick Weeks, 92, died Thursday, April 30, 2020, at Spanish Oaks Hospice.
She was born in Savannah, GA on December 2, 1927, to Walter Darry Walker and Leala Juanita Walker and attended public schools, graduating from Savannah High School (1945) and Armstrong Junior College (1947).
On June 21, 1948, she married WWII veteran Robert (Bob) P. Dimmick. Together they raised three children: Robert P. Dimmick, Jr., Nancy A. Dimmick and Walter F. Dimmick. Bob passed away 53 years later April 21, 2001.
In 2003 Betty accepted a date offered by widower Elmo Weeks (Beth Solana) to attend a party at Wesley Gardens, sponsored by their church's Fellowship Class. Their courtship was followed by marriage at Wesley Monumental United Methodist Church on June 21, 2004 and up until Elmo's death on January 17, 2016, they lived an adventurous and happy life.
Betty spent a large part of her life as a housewife, mother, teacher, artist and best friend to many. Her positive outlook, sense of humor and compassion for life were endearing to all.
We will miss her love and laughter, southern charm and spur of the moment activities. The Dimmick and Weeks families, along with many lifelong friends, certainly have fond memories and many paintings to cherish forever.
Betty was preceded in death by her first and second husbands, son Bob, Jr.(Jan), and her parents Darry and Juanita Walker.
She is survived by her children Nancy (Stan) and Walter (Mary), along with five grandchildren and three great-grandchildren, plus a half-brother, Jim McNorrill.
Also, Betty is survived by her step-children Stephen E. Weeks (Sharon), James M. Weeks (Joyce), Carl S. Weeks and Elizabeth Weeks Sellers, along with nine step-grandchildren and fifteen step-great grandchildren.
The family would like to extend their heartfelt appreciation to Betty's caregiver, Kathleen Harvey, for her compassionate care. The family is also thankful for the care provided by Spanish Oaks Hospice.
Due to the restrictions of COVID 19, the family will have a private Graveside Service in the Greenwich section of Bonaventure Cemetery.
Memorial contributions can be made to Wesley Monumental United Methodist Church, 429 Abercorn Street, Savannah, GA 31401.
GUEST BOOK
So sorry to hear about Miss Betty. She was a bright spot in granddaddy's life and was always so sweet to my boys. Her scenic paintings reflected her love for Gods world and we will cherish the ones she left behind. Love to you all, Holly Weeks Geriner
- Holly and Clay Geriner, Savannah, Ga
Our dear Aunt Betty at home now with the Lord. We have great memories of summertime visits with Aunt Betty, Uncle Bob, Bobby, Nancy and Walter. Fun times in Savannah and at Tybee. Proud to display her art in our home and dine on her recipes (especially her potato, and shrimp capellini salads). God bless you, Aunt Betty! We'll join you again someday!
- Johnny & Nancy Whitaker, Marietta, GA
I am so sorry to hear this. I well remember her from church many years ago. She was a wonderful lady who I know brought joy to both of her extended families. God Bless
- Marion Dantzler, McKinney, TX
What a bright spirit! Betty was inspirational, pragmatic and open-hearted. Tiponi Preschool and it's loving, creative experiences is just one of her legacies. I have many fond memories of our times together. May the Lord give her peace and provide comfort to all of her family.
- Veva Shuman, Savannah , GA
We shall miss Aunt Betty, her mellifluous Southern accent, zest for life, and sometimes mischievous Savannah charm as she approached each day without cynicism and expecting the best in people. Her passing signifies the end of her generation for the Dimmick-Whitaker family segment and perhaps an end of a certain, positive outlook. We are thankful for her life and wish serenity for her children, step-children and their offspring.
- Michael & Maria Whitaker, Amelia Court House, VA
So sorry for your loss. Betty will be missed. She was a great gal and always so friendly prayers sent to all of the family
- Christine Green, Savannah, GA
So sorry to hear about Betty. What a truly lovely, talented, kind lady she was. Always a smile and so much fun. She will be missed. Sincere condolences to all the family.
- Linda W. Geriner, Savannah, GA
Walter, we are sorry to learn of your mother's passing. We send our condolences to you and Mary and to all of your family. We will be thinking of and praying for you all during this difficult time. Tom and Patty Anglin
- Tom and Patty Anglin, Savannah , Georgia

A candle has been lit!
Sorry to hear of Aunt Betty's passing. She will be truly missed. Prayers for the family!
- Diane Allen Hodges, Springfield , Ga
Dear Weeks/Dimmick families: We are sad at the passing of sweet Betty. She was a true southern lady, filled with charm and "know how". She will always be missed. Our love and sympathy to you all. Sandi & Alan Beals
- Sandi & Alan Beals, Savannah, GA
I am so sorry for your loss. I knew her as Mrs Dimmick and have 2 of her beautiful paintings! I believe Mr Dimmick worked at Hercules? With my father Barron Boyd. She also was a substitute teacher at HVJ high school at times. What a gifted lady she was. Her art work has been my inspiration to be creative! Wonderful thoughts and memories and sympathies to both the Dimmick family and the Weeks family!
- Ann BOYD Farmelo, Buffalo, NY
We'd like to express our condolences to the relatives of Betty and Elmo. We had the pleasure of visiting them in their beautiful residence in summer 2013. A visit to the US we will always remember dearly, thanks to Stan and Nancy. We hope Nancy is doing well. All the best. Johan Wold and Esther Zeeman, Amsterdam
- Esther Zeeman, Amsterdam, The Netherlands
Nancy- I just learned that you lost your dear mother in April. I knew you from when you were my mother's neighbor. Carol Palmer enjoyed meeting your mother, and treasured the paintings she did for her. My mother passed in 2017. But I remember she spoke very fondly of you and Stan as neighbors. My mother enjoyed her visits with you and your mother. And we have kept the paintings in the family. Take care ❤️
- Julie Palmer Raponi, Rochester , New York
Services under the direction of:
Fox & Weeks Funeral Directors, Hodgson Chapel
912-352-7200
A private burial will be held