We have been made aware that families being served by Fox & Weeks are being contacted by individuals requesting payment over the phone. Fox & Weeks will not contact a family requesting payment over the phone. Please contact the Savannah Police Department immediately if you are contacted and asked to make payment over the phone. Please contact Fox & Weeks if you have any questions.
Celebrating the life of
Ann Mintz Wittfeld Doddridge
November 27, 1924 - April 22, 2020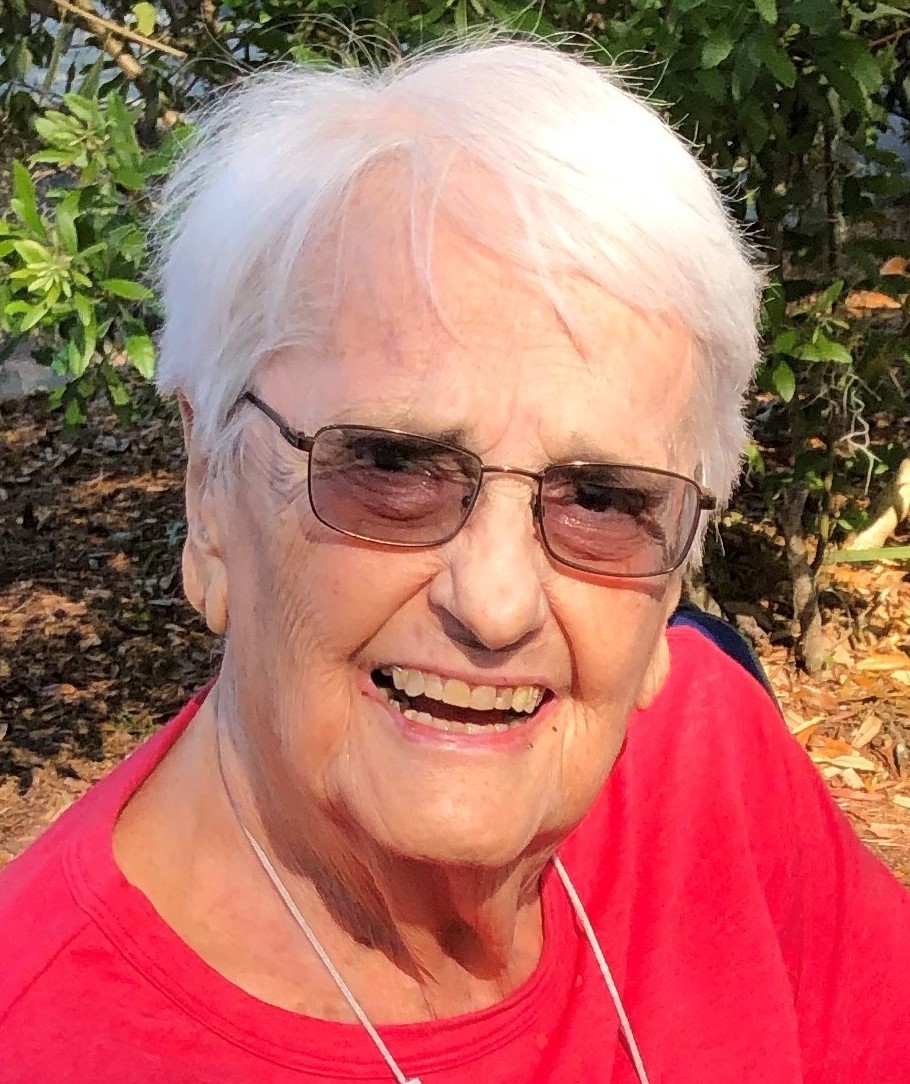 Ann Mintz Wittfeld Doddridge, 95, passed away peacefully on April 22, 2020 at her home on Isle of Hope with her family while under the care of Hospice of Savannah. Ann was born on Isle of Hope on November 27, 1924 and lived there all of her life. She was the Outpatient Billing Manager at Memorial Medical Center and retired in 1983.
Ann was the oldest continuing member of Isle of Hope United Methodist Church. She was the 3rd generation of her family in the church and there are 2 more generations of family there today as well. She was a member of the Inasmuch Circle all of her adult life and loved being a part of her church family.
She was preceeded in death by her first husband, Leonard B. Wittfeld, Sr, and her second husband, David Doddridge.
She is survived by 5 children-4 daughters- Peggy W. Jackson (George), Shirley W, Teeple (Ron), Judy W., Schoch (Norman), Nancy W. Montford (Tony) and 1 son-Leonard Bradstreet Wittfeld, Jr.
Ann had 13 grandchildren and 26 great-grandchildren. We were all blessed by Meme throughout our lives. She was truly the matriarch of our family and was a pillar of strength throughout her whole life. There was nothing that was ever put before her that she couldn't handle with God by her side.
With concern for the safety and health of family and friends, there will be no service at this time. A celebration of her wonderful life will be held at isle of Hope United Methodist Church as soon as we are able to gather safely.
Donations in her memory may be made to Isle of Hope United Methodist Church for Christ Child's Nest, 412 Parkersburg Road, Sav. 31406, or Hospice of Savannah, 1352 Eisenhower Drive, Savannah, GA. 31406.
GUEST BOOK
Nancy, thinking of you and your family . What a beautiful picture. How lucky you were to have her so long and how lucky she was to have you.
- Claire Evans, Savannah, Ga.
There are people who take up space in my heart from the moment I meet them. Ann (Meme) was one of those people. When I remember her life, joy fills my heart and a smile crosses my lips. This will always be true.
- Joan Montford, Savannah, GA

A candle has been lit!
- Joan Montford, Savannah, GA
Momma, thank you for loving me so much and always making me feel special! Thank you for showing me how to love and have faith in God! I not only lost my Momma, you are my best friend and the one I would go to for your wisdom and advice. Rest safely in the arms of Jesus! I love you and miss you terribly! Love Judy
- Judy Schoch daughter, Stuart, Fl
Ann was a sweet, quiet, consistent, gentle, and humble follower of Jesus....an important thread in the warm blanket of love that still covers me today from my days at Isle of Hope UMC. I consider her to be one of God's good and perfect gifts. She has moved from one home on an Isle of Hope to another home in the actual Isle of Hope which I am sure makes Bluff Drive look like a slum. Her splash may be over, but the ripples of her splash will have positive effects for generations.
- Rick Monroe, Savannah, GA
Nancy and Tony, real sorry about mom. Our prays are with you. Lynn and Larry Spear
- Spear Family, Savannah, Georgia
With our love and condolences Cheryl , Joel , and I will never forget the love your mom and have family have given to us over the years . God speed Meme I know you will receive a Isle of Hope welcome in heaven <><
- William Beckmann, Keysville, GA
Praying for you all as you go through this difficult time. Mrs. Ann gave such a legacy and I know you will always have so many precious memories of such an amazing lady. Love you all.
- Susan Reese Barfield , Savannah , Georgia
What a neat lady and loving family, being the picture of strength and kindness always.
- Mike & Connie Griffin, Savannah, GA
My heartfelt condolences on your loss. She was a sweet and caring lady.
- Debbie Cover Strickland , The Villages, FL
Nancy and family, My thoughts and prayers are with you all during this difficult time. Ann was a beautiful person, inside and out and she passed that on to her children. Ann will be sorely missed.
- Carolyn Beebe, Savannah, GA
Thank you all for sharing your Meme, and your lives with my family. I am sad for your loss of your Mama. I hold you all in prayer. God Bless. Joseph and Sharon Wittfeld.
- Carl J. Wittfeld III, Kansas City, Missouri
Your mom shared her strength, wisdom and love with many at times and ways you probably weren't aware of. The world has changed and she will be missed.
- Doug and Vonnie Diggles, Weldon, CA

A candle has been lit!
- Judy Schoch, Stuart, Fl
I'm so sorry to hear about Ann. I knew her when we both worked at Memorial and also knew her second husband David. She came to my church's Senior Luncheon (Isle of Hope Baptist) and Generation One. Such a wonderful lady. She will be greatly missed. My thoughts and prayers are with the family at this difficult time.
- Ann Norton, Savsnnah, Ga
Our sympathy goes out to Nancy and Tony for your loss. Ann and my father, Jack, were childhood friends and remained so throughout his lifetime. She was also a beloved neighbor for many years when my wife and I lived on Fallowfield.
- Pride Sheahan , Savannah , Ga
Nancy, our deepest sympathies to you and you family on the loss of your mother. Our thoughts and prayers are with you all.
- Charlie and Marie Roberts, Statham, Ga
Peggy, Shirley, Judy, Nancy and Brad, I have such fond memories of your mom, (and grandmother), and the many times I spent in both of their homes at IOH. Your mom was such a sweet lady and I loved her very much. (I was scared to death of your dad.) I would return home after a weekend with Shirley and my mom would ask what I did while gone. I would answer that I helped fold clothes and do chores around the house. She was always amazed that I was willing to go to your house and do those things when I was not so willing in our home. As an only child, I was fascinated by the dynamics of such a large family, the noise and constant commotion and so many personalities, and I loved being a part of such a special group. Shirley and I had so much fun roaming the island and meeting up with other friends and we respected your mom enough to always be truthful about what we were up to. When Johnie joined the scene, he too had such a fondness for your mom. It was not hard to love and admire her. Every time over the years that we ran into your mom, she was so sweet and caring and just the same as she had been some almost 60 years ago. We were always amazed at how strong, steadfast and enduring she was and what a wonderful matriarch she was of such a fine family. Please know how very sad we are at the loss for you of your mother, but know that Heaven has gained an angel. Our love and prayers to you all during this difficult and sad time. Linda (Calhoun) and Johnie Lynes
- Linda and Johnie Lynes, Savannah, GA
Hello, all you Whittfeld "kids", from way up in Maryland. I haven't seen all ya'll in a very long time, and since I received the very sad news of Meme passing (from Joyce) it seems even longer. She certainly was an extraordinary person, and I will always remember her as such a loving, kind, and cheerful Mom to all of us in her extended family (and no nonsense sometimes, too!); she was wonderful. I send you all my sincere condolences and prayers that you draw strength from the memories of good times, lessons learned from her that have served you well, and moments when you individually and collectively felt her great, unbounded love for all ya'll. You must know that she is with the Lord she loved above all, bless her. I have made a donation to the church as mentioned in the obit, an idea I'm sure would have made her very happy. Very best to each and all. Love 'ya, Jim Cook
- Jim Cook, Severna Park, MD

A candle has been lit!
MAY SHE RIP
- JOHN MELL, Savannah, Georgia

A candle has been lit!
I will always miss our precious Aunt Ann.
- Pamela Wittfeld Johnson, Converse, TX
We love and miss you everyday Momma! Celebrating your life today! Love Judy and Norm and famiky
- Judy Schoch, Stuart, FL
Services under the direction of:
Fox & Weeks Funeral Directors, Hodgson Chapel
912-352-7200
Memorial Graveside Service

11:00 a.m. on Sat, October 16, 2021

Hillcrest Abbey Memorial Park
1600 Wheaton Street (map)


Savannah GA 31404

912-234-3458