We have been made aware that families being served by Fox & Weeks are being contacted by individuals requesting payment over the phone. Fox & Weeks will not contact a family requesting payment over the phone. Please contact the Savannah Police Department immediately if you are contacted and asked to make payment over the phone. Please contact Fox & Weeks if you have any questions.
Celebrating the life of
John Richard Strieter
Passed away on November 13, 2023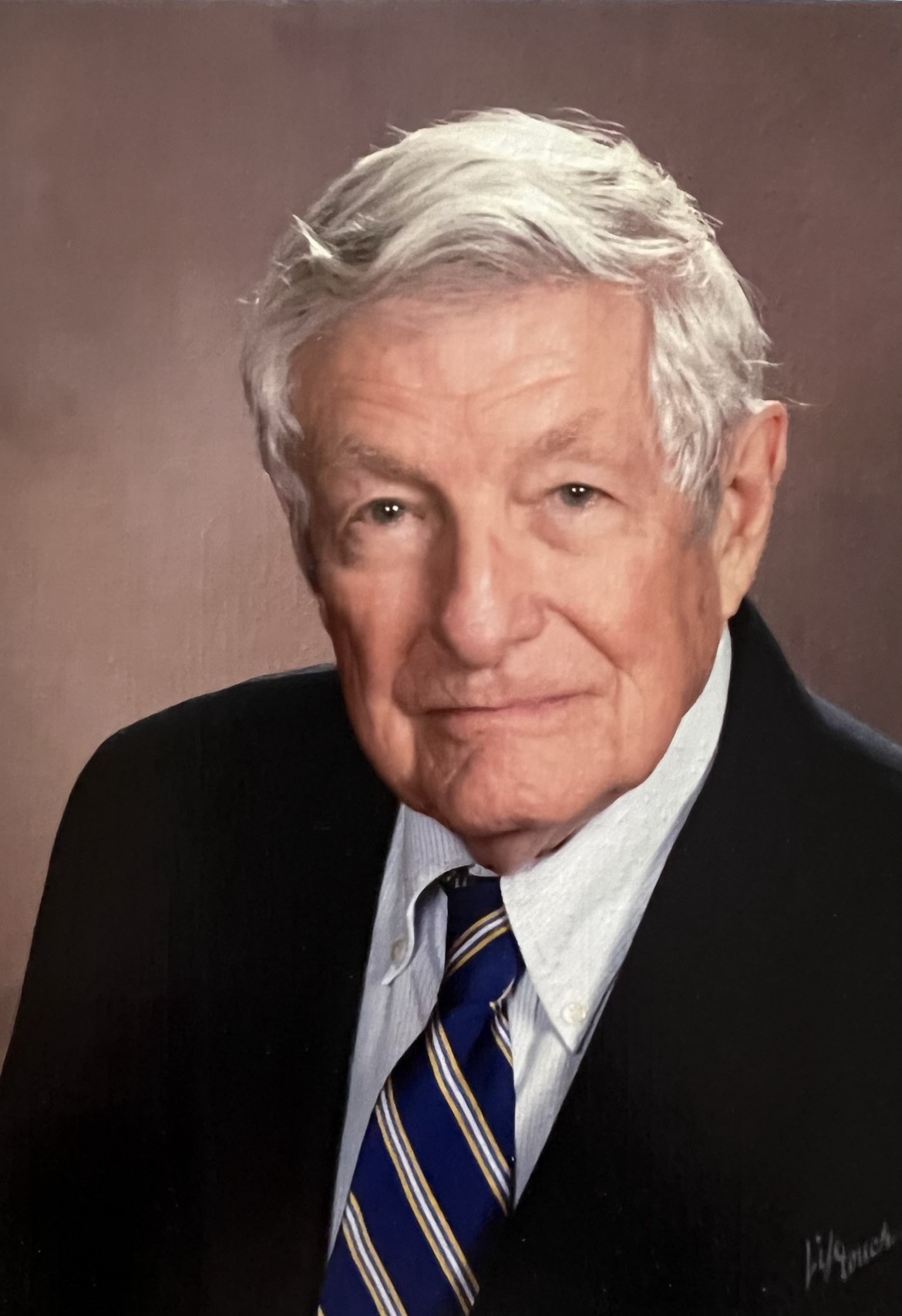 John Richard Strieter entered Heaven on November 13, 2023 in Savannah GA. He was born September 30th, 1929 in Rock Island Illinois, the son of Marie Henrietta Allenbach and Martin Ernst Strieter. He attended Immanuel Lutheran School, Rock Island IL, Rock Island Senior High School, Augustana College, Rock Island, IL and graduated from Northwestern University, Evanston, IL in 1953 with a B.S., Industrial Engineering. He served in the U.S. Army Ordnance from 1953-1955.
In 1956 he founded the Strieter Corporation and in 1966 built the Strieter Office and Professional Building at 1200 18th Avenue Rock Island. The Strieter Corporation was a pioneer in regional real estate establishing the first Planned Unit Developments (PUD) in the state of Iowa and the first residential condominiums in the IL and IA Quad Cities. Until 1979, the principle interests of the Strieter Corporation were PUD's involving residences, apartment buildings, multi-family and commercially zoned sites. Some 1500 residences and apartment units were constructed in Rock Island IL, Davenport IA, Moline IL, East Moline IL, and Milan IL.
John married Gloria Rupprecht on July 2, 1960 and they enjoyed 63 wonderful years together. After the children were grown, Gloria joined John as Vice President of Strieter Corporation.
In Davenport IA, Strieter commissioned the overall planning and obtained the option for the shopping center he named NorthPark. He sold the option to General Growth Management which developed the plan for NorthPark Mall that became Iowa's largest mall.
He was Vice-President of Brittany Builders Inc. in Bethesda MD, which he established and partnered with his brother Capt. Robert M. Strieter who served as President.
Since 1979 Strieter was the North American importer and distributor for the Swareflex wild animal highway reflector system to reduce nighttime deer road kill. He later developed and received a patent for the Strieter-Lite system which was a modified Swareflex system that together were installed in some thirty-six states and provinces in the U.S. and Canada. He served as a consultant for the D. Swarovski & Co., Wattens, Austria for many years.
Activities in civic affairs include the 32nd president of the Quad City Symphony Orchestra and a board member for ten years, Chairman of the development council for Augustana College for which he served on the board of directors for nine years. He was a trustee for Franciscan Hospital and director of the Economic Council for the Quad-City Development Authority, chairman of the industrial division of the Illinois Heart Association and president of the Homebuilder Association of Rock Island County.
John was devoted to the Lutheran Church, Missouri Synod and served as president of the Voter's Assembly, chairman of the School Board, Foundation board member and an elder at Immanuel Lutheran Church and School, Rock Island IL. He was a member of Trinity Lutheran Church, Davenport IA and was an active member of the choir.
John had an unshakeable faith and always gave credit to his Heavenly Father. Each morning he would thank God for all he provided including the home, the yard and his family. John knew the goodness of God. John put family first and was generous with his time and attention. Close relatives would say John was the "glue" for the family. He kept in touch for birthdays and holidays and visited relatives often. He was a man of integrity and optimism.
He was a perfectionist in his handiwork around the home and in the yard. He had a tool for everything (two of them in-fact) and taught his children practical skills and a work ethic that included satisfaction and joy. He was a devoted steward of his beloved family home and property in which he lived and doted on his entire life.
He was an avid tennis player winning many club and city tournaments. He took up downhill skiing with the family and he had a special love for boats, sailing and water. He had a pilot's license and for a period enjoyed flying for business and leisure.
Preceded in death by his parents, brother Captain Robert M. Strieter, sisters Virginia Strieter Wittmann Hull and Doris Strieter Hasselbring.
John is survived by his wife Gloria Rupprecht Strieter (Savannah GA), children Lisa S. Willams (Chris) Bernardsville NJ, Vicki S. Hodges (L. Inman) Savannah GA, Mark E. Strieter (Tony Machado) New York NY and four grandchildren Danielle Marie Williams, Morristown NJ, Kyle Strieter Williams, Madrid Spain, Klara Strieter Hodges Geriner, (Tillman Weeks Geriner), Savannah GA, Emily Strieter Hodges, New York NY
Memorials may be made to Augustana College, QC Symphony Orchestra, Trinity Lutheran Church, Davenport IA, Immanuel Lutheran Church, Rock Island IL, Blackhawk State Park, Hauberg Estate or the RI Historical Society.
Celebration of Life service May 18, 2024 Trinity Lutheran Church Davenport, IA 11:00 am; Visitation at 10:00 am
GUEST BOOK
I am so sorry to hear of John 's passing. He was a wonderful neighbor and we all had lots of fun together. He was an outstanding community member. Wishing you all peace and comfort at this time.
- Ellie Wilson Klingbiel, Moline , Illinois
John was blessed to be a child of God and now experiencing the glory of Jesus. We know the family will miss him greatly...but great memories. We enjoyed our outings and tennis. Prayers for the family.
- Doug and Ellen Campbell, Rock Island, IL
Our sincere condolences to you Gloria and the family. We understand your loss, but also understand your great pleasure of the longevity and quality of your life together. You ill now live near your family who will give you wonderful comfort.
- Dr Mike & Anna Fields, Rock Island, Ill
Gloria, I'm so sorry to hear of John's passing, but I know you shared a long and productive life together. We miss you in the neighborhood, though I am glad that you are with family now. My condolences to you all.
- Ann Balderson, Rock Island, IL
John and Gloria are some of the most wonderful people that one can have as special friends. I met John and Gloria when they brought their vehicles into Reynolds Ford for service. Always brought a smile to my face when they drove through the service door. They also brought me some wine back from the Vanderbilt estate- I had told Gloria that my wife and I really enjoyed the wine from the estate! I stopped by their Rock Island home to pick up the wine just after we had a terrible wind storm that went through the QCs. John and I walked the property so he could show me the trees that had been damaged. I'm really going to miss his down-to-earth discussions we had. What a great guy. Hope to see Gloria in May for the Davenport services- Bill Hoyt
- William Hoyt, Geneseo, Illinois
Dearest Gloria and family, We are so sorry to have learned of John's passing. Our prayers are with you and may or dear Lord Jesus wrap his arms around you and bring you peace and comfort. Gloria, I would love your address, please. My email is above. With love, Jim and Rose Ann Hass
- Jim and Rose Ann Hass, Rock Island , IL
Gloria and family, We were saddened to hear of John's passing. You have our deepest condolences and we are keeping all of you in our thoughts and prayers. John was a true gentleman.
- Beth Martinez/Lighthouse Homecare, Bettendorf, Iowa
Services under the direction of:
Fox & Weeks Funeral Directors, Hodgson Chapel
912-352-7200