We have been made aware that families being served by Fox & Weeks are being contacted by individuals requesting payment over the phone. Fox & Weeks will not contact a family requesting payment over the phone. Please contact the Savannah Police Department immediately if you are contacted and asked to make payment over the phone. Please contact Fox & Weeks if you have any questions.
Celebrating the life of
Mary Ann Collins Haslam Butler
Passed away on October 30, 2023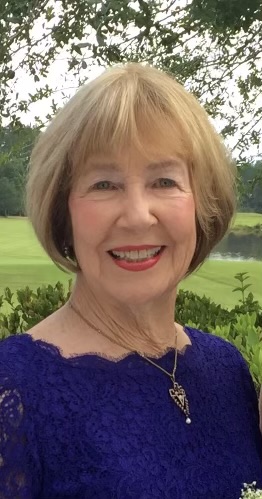 Mary Ann Collins Haslam Butler, 91, passed away peacefully on October 30, 2023. A native Savannahian, she was born on June 23, 1932 to Cecilia Cassidy Collins and James Joseph Collins. She attended Blessed Sacrament School and graduated from St. Vincent's Academy in 1950. She married Lincoln Nelson Haslam in 1952 and they had five children. After he died in 1974, she married Charles "Buddy" Butler in 1977 combining her five children with his five children. They were married for 35 years until his death in 2012.
Mary Ann loved her family, friends, Irish heritage, Catholic faith and the city of Savannah. The one day that she got to enjoy everything she loved was St. Patrick's Day, her favorite holiday. She started the day by going to mass and singing in the choir and then she spent the rest of the day at LaFayette Square cheering and watching the parade. Many times the parade was held up by people coming over to get a hug from her. Everyone knew her as Mimi and she never met a stranger or had a bad day. Her joy and her love of life will be her enduring legacy. It is impossible to describe Mimi's light, her joyous personality and how much fun she was, but everyone who knew her is better for having spent time with her. She loved people and had a gift for making you feel special. For 49 years, her house on 45th St. bustled with family and friends. There was always something happening and Mimi was the center of it. She was eternally happy, so she would not want our tears. She would want all of us left behind to laugh, love and celebrate life everyday. She would want us to remember all of the happy times we had with her and to throw her one last party with lots of dancing in the kitchen.
Mimi was a devout Catholic and volunteered tirelessly in the Catholic community. She was a fixture at Blessed Sacrament School serving as room mother, working on the annual bazaar and teaching Vacation Bible School. She was on the Board of St Mary's Home and was a steadfast supporter of the Carmelite monastery. St. Vincent's Academy held a special place in her heart. She was a member of the Alumnae Choir and the Basilica Cathedral of St. John the Baptist Deaconry Choir. She was a Eucharistic minister at Blessed Sacrament church and on their school board. In 2015, Mimi was awarded the Bishop Gartland Award by the Diocese of Savannah for her service to the Catholic church.
She was a lifelong Savannahian and immensely proud of her city. She never lived anywhere else because why would you want to? For her, Savannah was the greatest city in the world. She was a tour guide for Gray Line Tours, a docent at the Green Meldrim House and the Scarborough House for years. She was such a charming and vivacious guide that she was frequently hired to give private tours to international travelers and VIPs visiting the city. She was the epitome of a gracious southern lady with a healthy dose of Scarlett O'Hara thrown in. She was preceded in death by her parents, her two husbands, her loving sister, Cecilia Collins Courtenay, and her granddaughter, Meredith Knox Thompson. She is survived by her ten children, Lincoln Nelson Haslam, Jr. (Stephanie Williamson), Catherine Butler Gregory (Keith), Mary Ann Haslam Goodgame (James), Helen Butler Dickinson (Richard), Maureen Butler Thompson (Christopher), Charles Elton Butler, III (Janet), Nan Carmel Haslam, Christopher O'Keefe Butler (Anne), Megan Haslam Hayes (Stephen) and Andrea Haslam Harris (Charles). She is also survived by her two brothers, James Joseph Collins, Jr. and Stephen Campbell Collins (Adele).
Her seventeen beloved grandchildren were her pride and joy. She doted on them endlessly and lit up whenever she was around them which was often. She is survived by her grandchildren Emily Guerard Thompson, Mary Nelson Goodgame Barnett (Matthew), William Kirk Gregory, James Robert Goodgame, IV (Sally), Christopher Duncan Thompson, Jr. (Twyla), Ryan Butler Gregory (Mary Catherine), Taylor Gregory Evans, Francis Aloysius Kelly, IV, Charles Pinckney Butler, Eleanor Grace Duffy, Mary Campbell Kelly, Bruce Robbins Butler, Margaret Cassidy Hayes, William O'Keefe Butler, Charles Lee Harris, Jr., Stephen Daniel Hayes, III and Collin Nelson Harris. She is also survived by her 10 great-grandchildren, many nieces, nephews and her Collins cousins who she adored.
The family would like to thank all of Mimi's dedicated caregivers at Spanish Oaks and from Sabrina Mason and L.I.F.E. Caregivers. Your compassion and kindness were a blessing not only to Mimi, but our entire family.
Visitation will be from 5:00-7:00pm with a Rosary at 6:30pm on Thursday, November 2, 2023 and a Mass of Christian burial on Friday, November 3, 2023 at 11:00am both at Blessed Sacrament Church. Burial will be at Bonaventure Cemetery, Greenwich section. Pallbearers will be her grandsons.
Remembrances may be made to Blessed Sacrament Church or St. Vincent's Academy. Please sign our guestbook at www.foxandweeks.com or www.savannahnow/obituaries.
GUEST BOOK
She was a cross between Grace Kelly and Scarlet O'Hara. Grace Kelly's elegance and grace was always present for the world to see and enjoy and one could say the same for Mimi. Both shared a beauty that was displayed with a style that will never be forgotten. As for the Scarlet O'Hara comparison, I'll only say this to all who knew and loved her, there was no one who could walk into a room with more southern charm and a magnetic personality than Mimi . The task of writing her obituary will be arduous at best as endless stories will start to add up and it could end up resembling a book. I like so many others will miss her, so I urge you to take the time to read or listen to the lyrics of Bob Hope's "Thanks For The Memories ". She was a treasure. My heartfelt condolences to the Haslam/Butler families. Kind regards, John & Megan McCarthy
- John McCarthy, Savannah, GA
One of the most beautiful person inside and out that I have ever met - always a beautiful smile. Miss her - Susie and Dave Harvey
- Susie Harvey, Savannah, GA
Maureen and all, We are so very sorry to hear of your Mimi's passing. So many wonderful memories of she and your Daddy with all their many friends. We hope all the happy times will help you. Always, Helen Marie and Michael
- Fleming, Savannah, Ga
"May the angels lead you into paradise; May the martyrs greet you at your arrival and lead you into the holy city, Jerusalem. May the choir of angels greet you and like Lazarus, who once was a poor man, May you have eternal rest." With love and prayers.
- Jane Patricia Harte, Savannah , Georgia
May God bless this marvelous lady. Our greatest sympathy to all her family. She was surrounded by such love by so many all of her life. She and my Mother were very close in school & after. Tom & Maureen - Maggie & Katie OBrien
- Tom OBrien, Savannah, GA
Years ago, after much talking and convincing, I finally succeeded in persuading my dear cousin Buddy Butler's adorable wife that she would make THE MOST wonderful tour guide ever to share Savannah, Georgia with our guests. It did not take long to train her because "Scarlet," as I called her was a natural and had every person on every tour eating out of her hand and begging for more. After we worked on the history, she was ready to "wow" all those visitors to our fair city. Can you begin to imagine how those "Yankees" fell head over heels in love with her! Beautiful and so truly Southern every word that came out of that lovely mouth just dripped a buttery Southern accent. Honestly, she could have BEEN Scarlet O'Hara! To say that she gave fabulous tours is an understatement! Those tourists always away feeling they had been with the most incredible Southern woman and had the most awesome experience ever...AND THEY HAD! Let Heaven experience your delightful presence, Scarlet!
- Loretto Lominack, Savannah, GA
The mold was broken with the passing of Aunt MaryAnn. I know the phrase, "One in a million" is used a lot, but it should have been created for this Southern Charm. She was always dressed to the hilt. She was beautiful inside and out. Aunt Mary Ann had a knack for making you feel like she really was happy to see you. I always loved cutting up with her at parties. She was kind and genuine. She will be missed very much. Reading her obit I was very impressed, but I will remember her as the lady that could make me and my siblings laugh at the naughty and the nice things she could come up with. Rest in peace beautiful, southern, lady. I'm sure your wings were waiting for you To all the family…… I know how much y'all will miss Aunt MaryAnn. I'll keep you all in my prayers. Della and Steve
- Della and Steve Latimer, Savannah, Ga
One sweet lady, may she Rest in Peace!
- Bob White, Greensboro , Ga.
Warren and Myself sending our thoughts and prayers to all the family. What an Amazing Angel Heaven has Gained. Love Warren and Beverly Clemens
- Beverly Butler Clemens, Snellville , Ga
My thoughts and prayers are with all of the family at this difficult time. I have many wonderful memories of our times together! May her memory be eternal. With my love and deepest sympathy, Irene Miltiades Purdy
- Irene Miltiades Purdy, RICHMOND, VA
Mary Ann was a lovely lady, I enjoyed working with her as a docent at the Green-Meldrim House . She always greeted people with a beautiful, gracious manner.
- Jane W. Pressly, Savannah, GA
A life well lived. Condolences to all the family. May her memory be a blessing.
- Virginia Ward, Tybee, Ga
All said in her obit is true. What a wonderful woman, who has such a wonderful family! Ditto what Susie says: She was so beautiful, inside and out! God bless you all as there ain't nobody like Mama!
- Sandy Shea Davis, Savannah, GA
My heart is heavy for this amazing family. Prayers for all.
- pace creech, Savannah, GA
Mimi could pronounce the word "Darlin" better than anyone! Her Southern accent and charm were known city wide. My sympathy to Carmel and Nelson and the rest of the family. Much love, JW
- Janice Wallace Sauers, Savannah, GA
Betty and I are so blessed to have known Mary Ann. She introduced herself years ago when we started attending Blessed Sacrament Church. Through the years we have shared many laughs. We will miss her. May perpetual light shine upon her.
- Billy S. Wilson, Jr., Savannah, GA
Our love and sympathy go out to all of you in the loss of your Mom. We have so many fond memories of Mimi and Isabelle at the Haslam/Fall parties on Tybee Island! She was always the life of the party! Thinking of all of you at this time. Larry and Jackie
- Larry and Jackie Fall, Savannah, Georgia
Mimi was such a wonderful lady, and I am so grateful for the opportunities I had to visit with her. I remember the first time we met, and the impression she made on me. She was SO joyful, oozing with pride and warmth. We were immediate friends. My son, Matt was soon to marry her precious Granddaughter, Mary Nelson. and she couldn't be more excited about all the festivities about to take place. I thought, "What a darling of a Grandmother"! Mimi let it be known that she was a proud, third generation Savannahian, and went on about the love she had for her family, and community. Our family will certainly remember this lovely, lovely, lady. We send our heartfelt condolences to her loved ones, and may her sweet memory always be a comfort and a blessing.
- Shelley Barnett, Atlanta, Georgia
So very saddened to hear of Mary Ann's passing. I remember her fondly from the years that Nelson Haslam and my father (Ernie Friedman) practiced law together, and the later years when she had the house on 10th Street at Tybee, across the street from my parents. She was a wonderful person and will be missed. May her memory be a blessing to all who knew her.
- Stephen Friedman, Tybee Island, GA
Mimi was a wonderful human being. Very gracious, kind, vivacious and always the hit of a good party. Mimi was the epitome of a Southern Lady. She will bring a new dimension to heaven May God bless her and her entire family
- Tom McCabe, St. Simons Island, GA
One of my very very favorite people. When I did her hair and my daughter was just a little baby, infant really, she held her and played with her in the salon. This is a picture of her showing me how she held her children I remember her saying and showing me. Mary Ann was wonderful in every way and may her spirit and love and joy of life live on through all of us. I'm so blessed to have known her…Zoey, myself, and the salon are all so blessed and touched by one bright shining light in this world, Mary Ann. I loved talking with her and hearing her stories through the years. Much much love and peace to all her family and daughters. Sending my love, Kim
- Kim Swann, Savannah, Ga
Our thoughts and prayers are with the Haslam/Butler family during this difficult time. Mimi will always be remembered for her personality and her joy for life.
- Anne and James Byerly, Kansas City, MO
Nelson and family; Please know that Your Mother meant a lot to me. She was always a delight to see and visit with while staying the summers on Tybee. I feel your great loss of such a lovely person Mary Ann was. Know that your entire family will be in my prayers hoping that you will see the gift of comfort that only God can send. I am truly sorry for your loss. Mike Hosti And Our Family
- Mike Hosti, Tybee Island, GA
Aunt Mimi will be missed by all but especially me. I used to love to come over to her and Uncle Buddy's house and just walk around in awe. She was such a southern belle and I looked up to her. Aunt Mimi Please tell all the family who went before us how much we miss them and we will miss you. May Perpetual Light shine upon you and may you rest in peace. Love Jenny
- Jenny Aliffi Maddi , Doug Maddi, and Neville Butler Aliffi-Maddi , Claxton, GA
Nelson,Mary Ann,Carmel,Megan and Andrea, Mimi was the definition of a "Southern Lady" what a Beautiful woman she was inside and out! I have so many fond memories of Aunt Mimi. She was always so much fun and I loved being with her. She touched so many lives and I'm thankful she was a apart of mine♥️ you will all be in my thoughts & prayers. I will always hold each one of you close to my heart. Love you all… Helen Courtenay-Selman
- Helen Courtenay-Selman, SAVANNAH, GA
Mimi was such a lovely and energetic lady. She was so kind, sincere and humorous. Mimi had such a magnetic personality that was so easy to love. Our condolences to all who knew her and our deepest sympathy for Mimi's family.
- Eddie & Debbie Rappe, Savannah, Georgia
Aunt Mary Ann was one of my favorite people. We truly loved her. She kept me laughing and smiling every time I got the pleasure of seeing her. She was loved by so many. We will miss her and we will keep all of you in our thoughts and prayers. Let the perpetual light shine upon her. With Love, Tommy and Teresa Abernathy
- Tommy and Teresa Abernathy , Midway , Ga
The joy I felt as a child knowing we would be visiting, or getting a visit from, Aunt Mary Ann and Uncle Buddy is something I hold dear to my heart and will never forget. Her kind and gentle nature put you at ease and her vivacious bigger than life presence made us all want to be around her. I know Uncle Buddy, my parents (Cheatham & Joan) and all the other beautiful souls who have passed before us are celebrating her arrival with a St. Patrick's Day style parade. All our Love to the Haslam and Butler Families.
- Paul Hodges, Largo, FL
Aunt Mimi was one special Lady! My thoughts and prayers go out to all the family~ I always was in awe of her, her charm, personality, her style! Everything! God speed Aunt Mimi - you just show heaven the southern way of doing things !
- Terri and Richard Davis , Decatur , Ga
Farewell to this special lady... Aunt Mary Ann was the personification of a Steel Magnolia. She is loved and will be missed.
- Ethel and Rodney Tuttle, Savannah, GA
I am sure the pearly gates were swung wide open...Oh sweet Mimi!! My memories go back so far....having been in Carmel's class from 1st-12th grades....and living in the streets between 49th and 45th streets...many a fun time was had....and luckily...Mimi turned a blind eye often...in later years....we always chatted about the "old times" and the "Good Bye House Party" cemented the memories!! In most recent years...Mimi always smiled and as I reminded her that I was Reenie....the old stories emerged all over again...as we lose the elders of our childhood village....one by one...it really hurts...May Mimi's most warm and bright light shine down on all of her loved ones...family and friend...for eternity! Rest Easy Mimi!
- Maureen O'Connor Simmons, savannah, ga
What a special lady and true Savannahian. My sincere condolences to the Haslam/Butler families, you will be in my thoughts and prayers.
- Klair Kenney Snellbaker, Fort Myers, FL

A candle has been lit!
- Patti Corcoran Pharis , Chapin, SC
Thoughts and prayers go out at this time to all the family.Love Warren and Beverly. So sorry to not be able to attend .
- Clemens Family , Snellville , Ga.
Megan, I am so sorry to hear of the passing of your darling Mother. Sending love and prayers to you and your family. Suzanne Feuger Altare
- Suzanne Altare, Trinity, FL
May our Lord bless and comfort you and your family during this time of grief. Our deepest sympathies go out to you and your family.
- Erica Davis , Savannah, Georgia
Dear Haslam and Butler families, My thoughts and prayers are with you all. I can only imagine you will often have a smile on your faces as you recall beautiful memories of her Southern charm, kindness, humor, and a life dedicated to family. I will always remember her endless smile and kind heart. Especially when I first met her, with our wonderful 'Uncle' Buddy, she told me I could call her 'Mimi'. I was thrilled and honored, from that day forward she was always sweet charming Mimi to me. I am grateful for the beautiful memories and the lovely photos I have a her, Uncle Buddy and my parents when she and Uncle Buddy came for a visit to Tampa. God bless and much love to you all, Teresa Hodges Chiavacci (Bob)
- Teresa Hodges Chiavacci, Tampa, FL
Services under the direction of:
Fox & Weeks Funeral Directors, Hodgson Chapel
912-352-7200