We have been made aware that families being served by Fox & Weeks are being contacted by individuals requesting payment over the phone. Fox & Weeks will not contact a family requesting payment over the phone. Please contact the Savannah Police Department immediately if you are contacted and asked to make payment over the phone. Please contact Fox & Weeks if you have any questions.
Celebrating the life of
Nancy Gamble Bromley
Passed away on October 22, 2023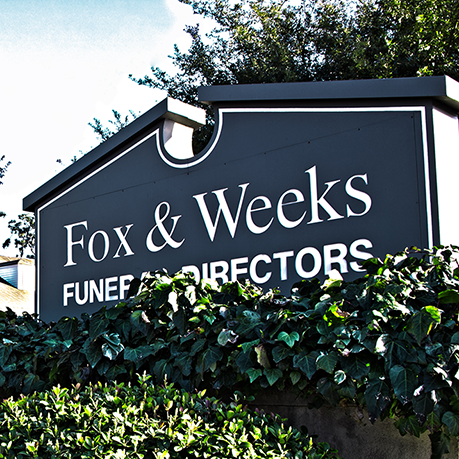 For livestreaming of the service, please click on the following link.
https://my.gather.app/remember/nancy-bromley
Nancy Gamble Bromley, died peacefully at home on Sunday, October 22, 2023. A Memorial Service will be held Friday, October 27, 2023 at 4:00 p.m. at Isle of Hope United Methodist Church with The Rev. Meg Procopio, and Rev. Stephen Grantham, officiating. Burial will be in the church garden.
In honor of Nancy's colorful and full life, we would request that everyone try to wear something colorful to the funeral service in her honor.
NANCY CATHERINE BROMLEY
Nancy Catherine Gamble Bromley was born on September 25, 1951, in Nashville, Tennessee and grew up in Maryville, Tennessee. She was the daughter of Moses 'Mose' Houston Gamble, Jr, a well-respected attorney, and Mary Neal Gamble, a nurse. She adored her father and admired her mother.
Nancy graduated from Maryville College with a degree in English Literature. Shortly after graduation, she married Marc Bromley and initially lived in the Amelia Island Plantation working for the Sea Pines Company. In 1976, they moved to Atlanta, Georgia where Nancy continued her paralegal practice with Powell Goldstein and Frazer. In 1979, Tyler was born, and Eric arrived in 1983.
After Tyler and Eric were born, the boys added sports, school activities and fun that only boys can add to your life. Nancy always made time for them like she did for her grandchildren in the more recent years. While living in Atlanta, Nancy was very involved with her church, Dunwoody Baptist, as well as in her community. She was actively involved with nonprofits, including A Million Matters and Dress for Success. She also graciously volunteered her time to Creative Therapy, a rehab company specializing in hippotherapy for special needs children. She incorporated her love of horses and children, volunteering countless hours and assisting with administration efforts.
Nancy continued to live in Atlanta until 2013 when she moved to Savannah to build her dream home and be closer to her Savannah grandchildren on a more permanent basis. Nancy cared for her grandchildren on a regular basis, including driving carpool for school and sports, and watching all of the children's activities. Designing and building her low-country home, on the water on Burnside Island, was one of the happiest times of her adult life.
Nancy's friends were especially important to her. She had groups of friends from college, church choir, her Bible study group, and places she lived like Maryville, Atlanta, and Savannah. She was generous with her time to those who needed help. Her grandchildren were a priority and watching them grow and gently helping to guide them was important to her.
Nancy never met a book she didn't like! Reading was her place of peace. For several years she volunteered at The Village Library on Skidaway Island helping residents find a good read. Dogs were also a big part of her life. The unconditional love and joy they brought was deeply appreciated by her.
Nancy's faith was unwavering. She embodied the Christian faith with her patience, ability to forgive and unique talent of making the best of difficult situations. She was a loyal and enthusiastic member of the Isle of Hope United Methodist Church where she enjoyed sharing her talent of singing with the church choir and congregation.
Nancy left this world on October 22, 2023, which was much too soon for all who knew her. Nancy, or Mimi as she was known to her grandchildren, is now with the Lord. She is survived by sons Tyler and Eric Bromley, daughters-in-law Jennifer Bromley and Jennifer Capouya, grandchildren Emma, Liza Grace, Brooks and Reagan Bromley and sister Gale.
A service will be held at the Isle of Hope United Methodist Church, Friday, October 27 at 4 PM ET and she will be interred in the Memory Garden at the church.
In remembrance of Nancy's love for her church, education, books and animals, donations can be made to the Isle of Hope United Methodist Church, Maryville College Fund, The Village Library on Skidaway Island or to an animal charity of your choice in her honor.
GUEST BOOK
I was sorry to hear about Nancy's passing. She was in my BSF group a couple of years of ago and I just treasured getting to know her. It was evident she loved the Lord and she adored her family and spoke so lovingly of you all. My heart hurts for your loss, but I look forward to seeing my sister in Christ again.
- Holly Weeks Geriner, Savannah, Ga
I lived next door to Nancy, Houston, and Gayle as a child, spending many overnights in the big house, weekends at the family farm, and making frequent walks to the County Library. Church for us back then was New Providence Presbyterian. We played on their yard and various neighborhood lots with the freedom of the fifties.
- Linda Jones Berkemeier, Portland, Oregon
Dear Eric and Family, Susan told me this week of your mother's unexpected death. I want you to know how very sorry I am to hear this sad news. I remember that Nancy and I had lunch on at least one occasion when I was in Atlanta for work many years ago and I very much enjoyed getting to know her. She impressed me as a kind and caring mother who cared deeply for her boys and, I'm sure, later on her grandchildren. I know you will greatly miss her. I hope you and the family will take comfort in her remarkable life described in her obituary. She gave a lot and I'm sure she received the blessings of sharing such love with her family, friends, and others. Peace be with you and your family at this sad time and may her memory be a blessing. Love and best regards, Nancy Weller
- Nancy Weller, Austin, Texas
Oh Tyler, I am so very sorry to hear this news. Love to your family and the kids.
- Kelley and Bill Sparks, Savannah, GA
We are all heartbroken to hear the news of Nancy's passing. Nancy, Marc, Tyler and Eric were a big part of our lives many years ago when our kids were much younger. We shared good times and valued friendship. We will always love those memories and extend our greatest sympathies to the family.
- The Glennon Family - Chris, Tom, Scott and Mike, Dunwoody, GA
Services under the direction of:
Fox & Weeks Funeral Directors, Hodgson Chapel
912-352-7200
Memorial Service

4:00pm on Fri, October 27, 2023

Isle of Hope United Methodist Church
412 Parkersburg Road (map)


Savannah GA 31406