We have been made aware that families being served by Fox & Weeks are being contacted by individuals requesting payment over the phone. Fox & Weeks will not contact a family requesting payment over the phone. Please contact the Savannah Police Department immediately if you are contacted and asked to make payment over the phone. Please contact Fox & Weeks if you have any questions.
Celebrating the life of
Elmer Rios, Jr.
November 18, 2001 - October 14, 2023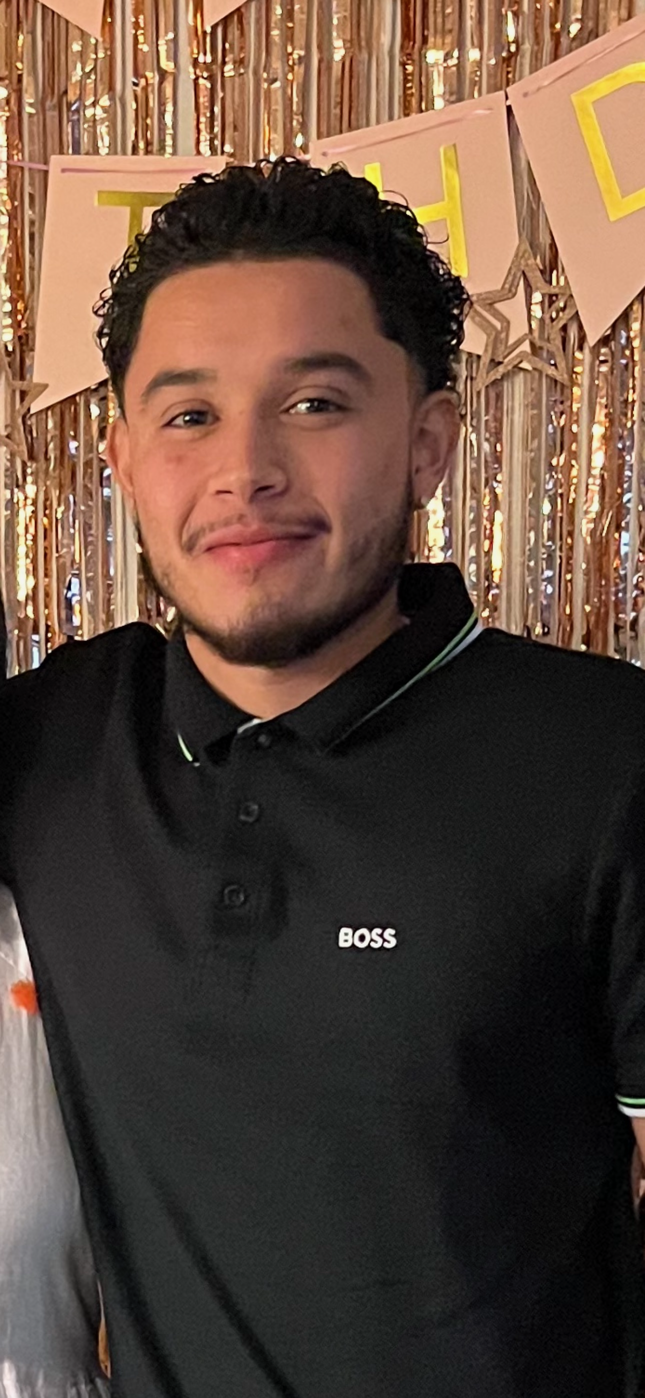 Elmer A. Ríos Jr., estudiante universitario y contratista local, falleció inesperadamente el Sábado 14 de Octubre de 2023 a la edad de 21 años.
Elmer nació en Charlotte, Carolina del Norte, el 18 de Noviembre de 2001. Elmer y su familia se mudaron a Savannah, GA, el 7 de Julio de 2013. Elmer estaba trabajando para obtener su licenciatura en Administración de la Construcción en Georgia Southern University.
Elmer era estudiante de tercer año en la universidad, jugaba fútbol intramuros en GSU y era copropietario de una empresa de construcción local. A Elmer le encantaba conocer gente nueva y hacer amigos, escuchar todos los géneros musicales, además de viajar y probar nuevas comidas.
A Elmer le sobreviven su madre, María Elena; papá, Elmer; hermana mayor, Elva Sofía; padrastro, Noé; hermanos menores, Bryan y Emerson; y su perrito, Neo.
Elmer A. Rios Jr., a college student and local contractor, passed away unexpectedly on Saturday, October 14, 2023 at the age of 21.
Elmer was born in Charlotte, NC on November 18, 2001. Elmer and his family moved to Savannah, GA on July 7, 2013. Elmer was working towards his Bachelor's degree in Construction Management at Georgia Southern University.
Elmer was a junior in college, played intramural soccer at GSU, and was a co-owner of a local construction company. Elmer loved meeting new people and making friends, listening to all genres of music, as well as traveling and trying new foods.
Elmer is survived by his mom, Maria Elena; dad, Elmer; older sister, Elva Sofia; stepdad, Noe; younger brothers, Bryan and Emerson; and his dog, Neo.
A visitation will be from 11:00 until 4:00, Wednesday November 1, 2023, followed by a Mass of Christian Burial Service at Fox Weeks Hodgson Chapel.
GUEST BOOK
Our deepest sympathies to the family, you are in our thoughts and prayers, may peace and comfort be with you throughout your time of grief. Deidrick Cody and Tracy Kennedy
- Deidrick Cody and Tracy Kennedy , Garden City , Ga
Jr you will always be remembered and loved by many individuals that we're graced by your joy and care and wisdom for others. Thank you for showing me the importance of Family. Te amo Jr
- Kelvin Rios and Kaylee Reyes, Charlotte , NC
Our hearts and prayers go out to Noe Vidal and family, may God keep and comfort you during this devastating time
- Eddie C. Puckett, Jr, Port Wentworth, GA
Nuestras muestras de condolencias para toda la familia, no podríamos describir el dolor que les causa la irreparable pérdida de su amado hijo, que en Dios encuentren consuelo, Dios tenga en sus brazos a Elmer Jr.
- Rosa Maria e Hijos, Pineville , NC
To The Family, Our Deepest Condolences. Elmer We Love You & You Will Truly Be Missed
- Henderson Family, Savannah, Georgia

A candle has been lit!
he was such a nice person…i didn't know him personally but my brothers did and they use to always hangout and play soccer but he was always just such a nice caring loving happy to be around person
- addy zazueta, savannah , ga
Our heartfelt and deepest sympathy. We are saddened to hear about Elmer passing away. Sending many prayers to his family and friends. Rest in heavenly peace.
- Donaway Family, SAVANNAH, GA

A candle has been lit!
- Donaway Family, SAVANNAH, GA

A candle has been lit!
I am deeply saddened by the loss of a friend, brother, son and loved one. Elmer always had a way of brightening up any room he walked through. I will miss your smile and laugh. I'm praying for your family during this hard time. I will always love you and think of you.
- Jennifer Estrada Littlejohn , Savannah , Ga
Elmer, cuanto sentimos tu partida de este mundo. Dejas recuerdos en nuestros corazones que jamas olvidaremos. Que Dios te tenga en su gloria en el cielo. Fortaleza y conformidad a tu familia y amigos. Siempre recordare la ultima vez que nos vimos en Home Depot y le enviaste saludos a Joshua. Descansa en paz.
- Familia Martinez-Gonzalez. Israel, Maria, Joshua & Gabriella, Savannah, Georgia
Our prayers and condolences are extended from Elmer's TRIO family at GSU! We love him and his time and interaction with us will never be forgotten. Elmer was given the I'mPossible Award at our annual awards brunch in April. He was not able to attend but came by on Monday, October 9 for a scheduled appointment. His TRIO Advisor, Ms. Willingham was able to present his award to him. We want the family to know that we believed in Elmer and the goals he had sat for himself! We recognize his hard work and dedication to his academic success! We wanted him to know that nothing was impossible as long as he believed in himself. We believe he did! We also know that with God, ALL things are possible! God bless you!
- Corine Ackerson-Jones, Savannah, GA

A candle has been lit!
La familia Rico manda sus condolencias para la familia de Elmer.. He was truly a one of a kind beautiful soul! I know you're resting in paradise my dear friend. Please watch over us. You will never be forgotten, We love you.
- Jaret Rico, Savannah, GA
Services under the direction of:
Fox & Weeks Funeral Directors, Hodgson Chapel
912-352-7200
Visitation

11:00 a.m. until 4:00 p.m. on Wed, November 01, 2023

Fox & Weeks Funeral Directors, Hodgson Chapel
7200 Hodgson Memorial Drive (map)


Savannah GA 31406

912-352-7200