Fox & Weeks presents York Children's Foundation grant to volunteer dental clinic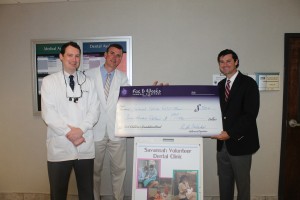 Fox & Weeks Funeral Directors was honored to present a York Children's Foundation grant in the amount of $500 to the Savannah Volunteer Dental Clinic for Children in March. The Savannah Volunteer Dental Clinic for Children is a non-profit program utilizing a network of volunteers from Savannah's dental community actively p
articipating in the preventative and therapeutic oral health care of the Coastal Empire's underserved, uninsured children. Founded in 2008 by Dr. Felix Maher, DMD, the clinic has grown to serve more than 550 children and has a volunteer staff of nine general dentists, six dental specialists, eight dental hygienists and six dental assistants. The clinic is partnered with Savannah Technical College, Armstrong State University and the Medical College of Georgia, and dental students, dental hygiene students and dental assisting students assist in the treatment of patients as part of the clinical rotations.
The purpose of the York Children's Foundation is to award grants to non-profit organizations dedicated to supporting children, and any organization in the Coastal Empire with the primary purpose of providing for children's needs is eligible to apply for a York Children's Foundation grant. Fox & Weeks is the only funeral home in the area actively participating in the York Children's Foundation program and has now distributed more than $10,000 to local non-profits serving children's needs since 2012. Each time a family purchases a casket at Fox & Weeks, a portion of the cost is donated to the York Children's Foundation in the name of the deceased and the accumulated funds are distributed quarterly to area non-profits chosen through an application process. The York Children's Foundation is affiliated with the Mathews International Corporation casket division and has delivered millions of dollars in grants throughout the country since its introduction in the early 1990s. To qualify for a York Children's Foundation grant through Fox & Weeks, an application must be submitted and an organization's activities must be primarily directed towards the welfare and benefit of children. Go to
York Children's Foundation
to learn more about this incredible program!