Fox & Weeks honored to partner with Hospice Savannah for Senior Safari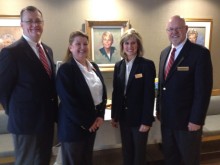 Fox & Weeks was honored to participate in serving a Mother's Day tea at Hospice Savannah on September 19 as part of the Greater Savannah Coalition on Aging's Senior Safari.
the Greater Savannah Coalition on Aging is a unified network of individuals and organizations whose purpose is education and advocacy for the senior community. The Greater Savannah Coalition on Aging was founded in 1985 and incorporated in 1989. Realizing the numerous issues concerning older adults and the lack of education available on these issues led to the unification of our efforts.
Senior Safari is an annual event that takes place each September, and mem

ber organizations of the Greater Savannah Coalition on Aging host themed parties around the city as a fun, inexpensive way for seniors to get together. This year's theme is "Our Home for the Holidays" and each event incorporates a particular holiday theme.
Fox & Weeks has been privileged to sponsor Hospice Savannah's Senior Safari events for the past three years, and this year was another wonderful chance to give back to the community. Funeral director Robin Hattaway attended with Holly Weeks Geriner, Tonya Carey and Alan Tanner.