Joe Ebberwein honored with Gartland Service Award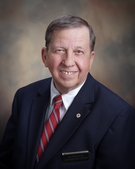 Fox & Weeks congratulates longtime member of the Fox & Weeks family Joe Ebberwein for being honored as a 2016 recipient of the Bishop Francis X. Gartland Service Award from the Diocese of Savannah.
Every year since 2000, the Diocese of Savannah has recognized long-standing service to the Catholic Church in south Georgia by conferring the Gartland Service Award on honorees nominated by their pastors. In this way, the Diocese expresses its gratitude to those who serve within it. The Gartland Award pin bears Bishop Gartland's coat of arms and his motto Vincit Veritas Truth Prevails.
Bishop Gregory J. Hartmayer, OFM Conv., bestowed the Gartland Awards on 103 nominees on Sunday on the Solemnity of Christ the King in the Cathedral of Saint John the Baptist. The award is named after the first Bishop of Savannah, who died of yellow fever contracted from those to whom he ministered, in 1854.
Joe is a graduate of Benedictine Military School (Class of 1953) and a communicant at the Cathedral of St. John the Baptist, where he sings in the men's choir. He is retired from Georgia Ports Authority after a lengthy career in the shipping business. He is past Grand Knight of Knights of Columbus, Savannah Council No. 631 and a former board member of the Savannah Economic Development Authority. He is a member of the Savannah Pilots Association, where he served as a commissioner, past president of the Brokers & Forwarders Association of Savannah, member of the Propeller Club – Port of Savannah and a member of the Hibernian Society of Savannah.