Fox & Weeks funeral assistant Jeff Mills is Volunteer Firefighter of the Year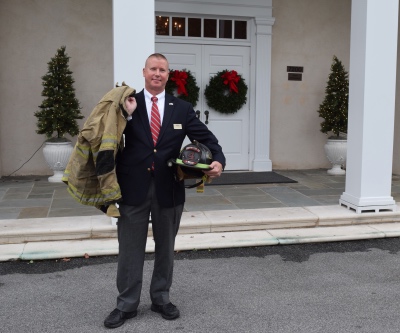 Fox & Weeks funeral assistant Jeff Mills was recognized as the Islands Fire Department's Volunteer Firefighter of the Year in November.
Mills, 55, has been with Islands Fire Department for more than 20 years and has been a funeral assistant with Fox & Weeks for two years. Mills came to Savannah when he was stationed at Hunter Army Airfield, and now his son, Jeff Mills, 30, is a Lieutenant with the Southside Fire Department and captain of the volunteers.
"I look at what we do as teamwork just like what we do at Fox & Weeks," said Jeff Mills, Sr., who lives on Talahi Island. "Everybody deserves that award, because everybody gives what they can."
The Islands Fire Department is a volunteer organization that protects an estimated 24,000 people living in an area of 18 square miles located east of Savannah, Ga. The department operates out of three stations that protect residential and commercial areas. The department was founded in 1956 and consists of 30 volunteer members. Islands Fire Department responds to many emergency calls that include structure fires, brush fires, vehicle fires and vehicle extrication. Go to Islands Fire Department to learn more.